The Numbers
International tourism in some regions is set to return to pre-pandemic levels in 2023, despite global economic challenges and geopolitical uncertainty, the United Nations' World Tourism Organization said in a report Tuesday.
Here are the major takeaways from UNWTO's report:
International tourist arrivals could potentially reach 80% to 95% of pre-pandemic levels in 2023.
In 2022, more than 900 million tourists traveled across the world, double the number in 2021.
The Middle East saw the best rebound in tourism in 2022, at 83% of pre-pandemic levels.
Europe recovered nearly 80% of its pre-pandemic tourism levels with 585 million tourists arriving in 2022.
Both Africa and the Americas saw tourism levels reach to about 65% of pre-pandemic levels.
Asia and the Pacific only recovered about 23% of tourists, owing to stricter COVID protocols.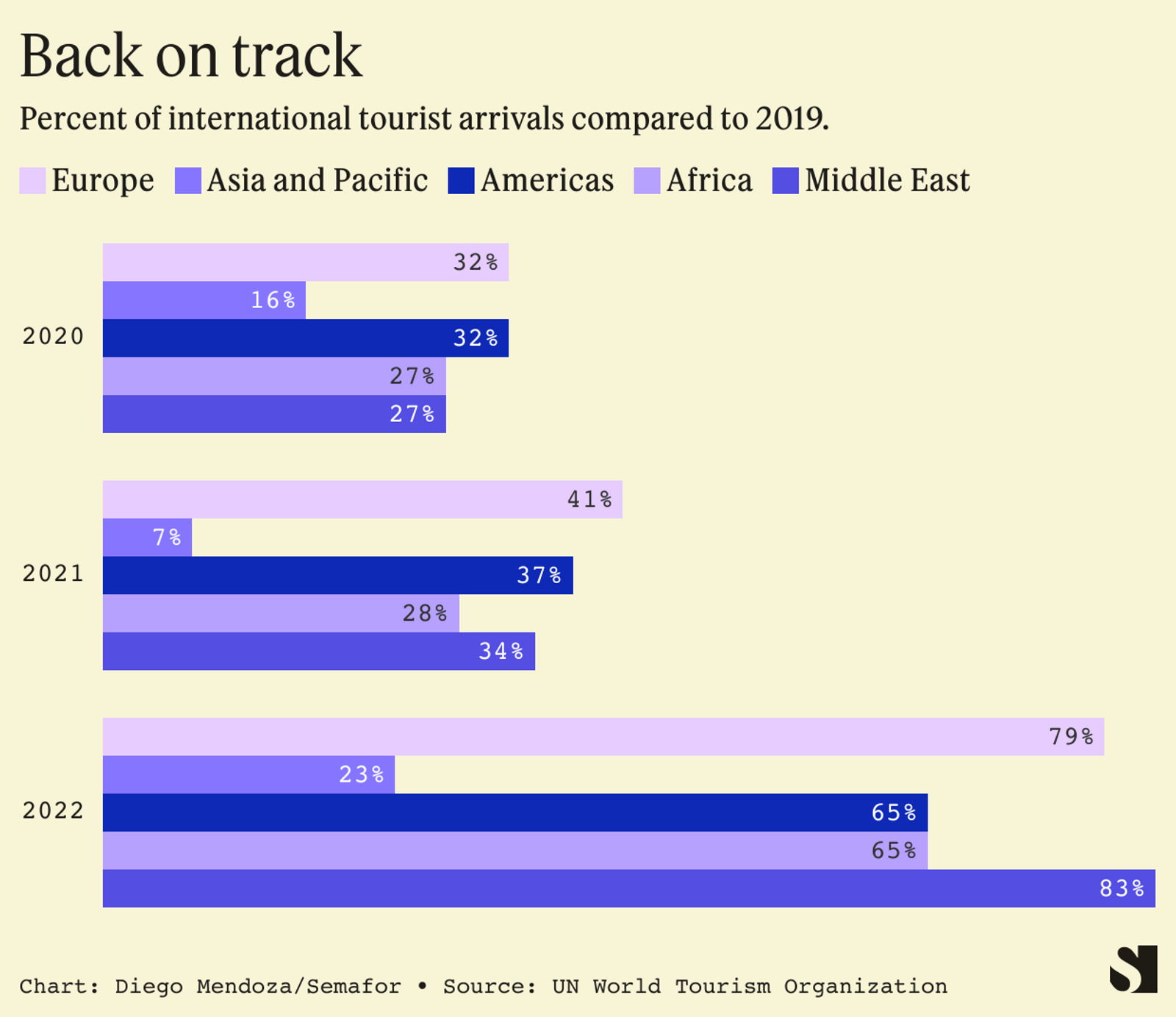 Know More
Tourism in Asia and the Pacific is expected to recover significantly with China —the world's largest outbound market in 2019 — finally reopening its borders, the report states. However, the numbers could be impacted by several countries — at least 32 in January — imposing travel restrictions on China.
The report also notes that a strong U.S. dollar and demand from American tourists will contribute to increasing arrivals, particularly to Europe.
However, the agency reported that because of high inflation and energy costs triggered by the war in Ukraine, tourist spending could be impacted as travelers look to save more money during trips.

Step Back
International tourist arrivals fell by 74% in 2020 as the world grappled with the virus and the lack of vaccines, according to data from the UNWTO.
The agency estimates the toll on the economy was equivalent to a loss of USD 1.3 trillion in export revenues, more than 11 times the loss during the 2008 financial crisis. It put more than 100 million tourist jobs at risk.

The View From The Caribbean
Tourism-dependent Caribbean island nations were hit particularly hard in 2020. According to the World Travel and Tourism Council, the drop in arrivals equated a combined $33.9 billion loss in GDP for the region in 2020. Among Caribbean nations, St Kitts and Nevis saw the biggest dip to their GDP, shrinking by more than 72%, the report found.