The News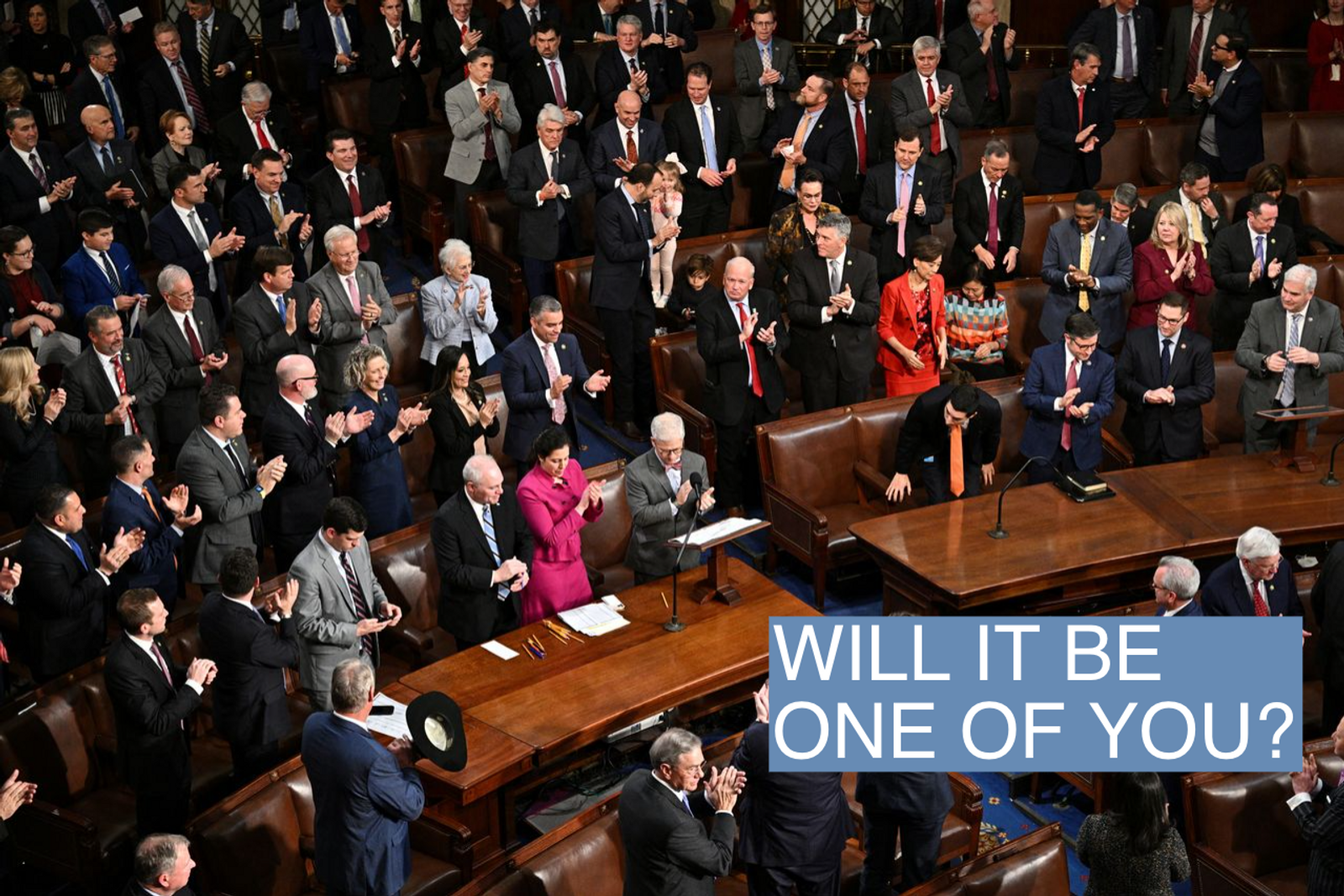 The House Freedom Caucus captured the world's attention by holding Kevin McCarthy's speakership hostage, but in a divided government any five members can team up to block Republican leaders' plans.
That's why it's worth keeping an eye on the relative moderates who are making rumblings of their own. They have the power to stall legislation or, if they work with Democrats, to try and get bipartisan bills to the floor through procedural workarounds — if they have the guts to buck leadership themselves.
The more centrist wing has its own rolling group chat of policy ideas, messaging strategy, and even some spicy memes on secret text chains.
One 55-member chat group on Signal consists of mostly Main Street Caucus members — a group of pragmatic Republicans revived by Rep. Don Bacon, R-Neb. last Congress. Members say it's not unusual to see about 100 messages a day. Then there are the smaller looser threads, where representatives try to keep their sanity. Sample meme: "We never had this kind of chaos when I was speaker. – George Santos."
Some are clearly relishing the attention, with some early warnings to leadership, and especially their conservative colleagues, that their votes should not be taken for granted. Here are five outspoken members who've taken on the role of quasi-spokespeople for the Mod Squad.
Don Bacon, R-Neb.
Bacon, a former U.S. Air Force Brigadier General, was the first person to threaten a collaboration with Democrats if McCarthy holdouts got their way and has repeatedly warned against allowing them to drag the party to the right. He publicly admonished the group of 20 members calling them "terrorists" and "the Taliban."
Over the weekend, Bacon urged Democrats to negotiate over spending cuts tied to the debt ceiling vote, but warned his side to keep their expectations in check.
"We have to realize we control the House with a four-seat majority, the Senate is run by the Democrats with a one-seat majority, and the president [is] obviously from the Democrat Party," he said on ABC's "This Week" on Sunday. "So, we can't get everything we want either."
Brian Fitzpatrick, R-Pa.
The Bucks County Republican co-chairs the Problem Solvers Caucus with Democratic Rep. Josh Gottheimer, D-N.J. Last year, the two were influential in getting bipartisan support for President Bident's infrastructure bill over strong opposition from McCarthy. Now he tells Semafor they're discussing a discharge petition — a procedural maneuver that would allow the minority to force a vote on a bill — to increase the U.S. debt limit if conservatives threaten default. "We cannot allow ourselves to default," he said.
Tony Gonzales, R-Texas
"If you do a little research on what a retired master chief is, it'll be crystal clear why I'm going to be a pain in the ass," Gonzales, a sophomore from Texas, told reporters. He was the sole Republican to vote against the new rules package, arguing concessions meant to appease HFC holdouts gave the right flank too much power and could impact military spending. Gonzales, whose massive border district is majority-Hispanic, has also warned the caucus against pursuing "anti-immigrant" legislation.
Nancy Mace, R-S.C.
Mace rose to prominence after January 6th with her cable news condemnations of the party's most MAGA members and has frequently called out Reps. Marjorie Taylor Greene ("batshit crazy" via emojis), Lauren Boebert (her "racist tropes" against Ilhan Omar were "disgusting") and Matt Gaetz ("fraud") in unusually personal terms.
She openly expressed frustration with the members who tried to block McCarthy's speakership, telling reporters their rebellion was "about ego and fundraising a bunch of other bullshit" rather than policy or conservative principles.
A rape survivor who talks openly about her experience, she's also made headlines by warning Republicans not to overreach on abortion by imposing bans without exceptions for rape or incest.
Mace's critics have questioned her willingness to follow through ever since she voted against Trump's second impeachment after condemning his role in the Capitol riot. The first week of the new Congress did little to dispel their views: She threatened to break with the party on the rules package over "backroom deals," but ultimately voted yes, and went on MSNBC to criticize an early series of votes on abortion, even as she voted for them. Mace has said her critique is less about individual bills, than emphasis: She wants leaders to focus more attention on legislation that can actually pass the Senate rather than show votes.
Mike Lawler, R-N.Y.
Lawler has been less outspoken than the rest, but the freshman has emphasized his eagerness to work with the other side.
"Obviously, in this split government, we're looking to get things done," Lawler told Semafor in an interview. "That's the important key for all of us that are in these districts, you know, we want to see results. And, you know, obviously, we're gonna have to work not just within the conference, but across party lines, with the Senate and the Democrats."
Lawler bested former DCCC former Rep. Sean Patrick Maloney to clinch a seat in Central New York, giving him one of the most Democratic-leaning seats in the majority — and a target for Democrats to pressure on key votes. His seat on the House Financial Services Committee could make him a key go-between with Wall Street as the debt ceiling fight heats up.