The Scoop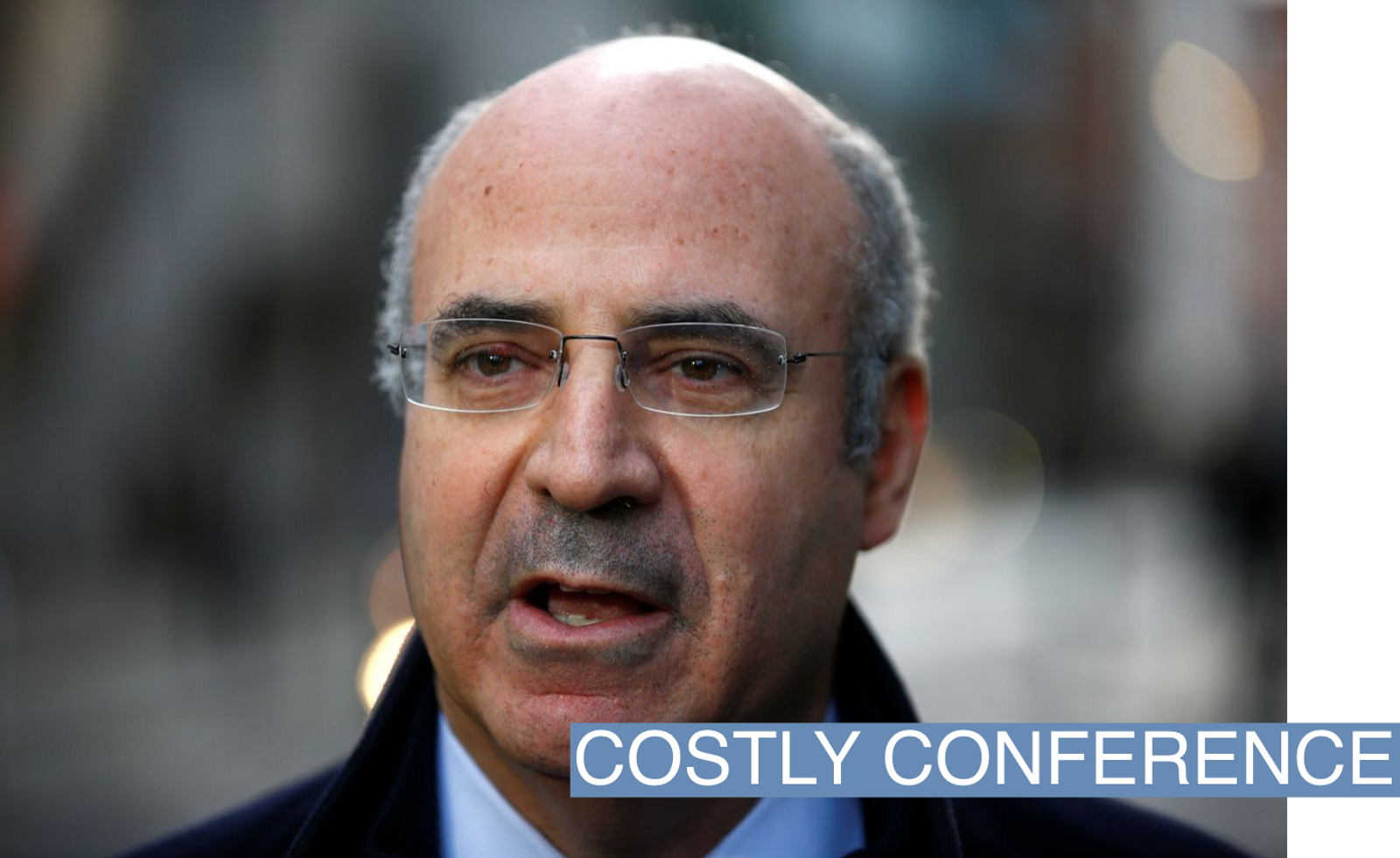 The financier and anti-Putin activist Bill Browder is skipping the World Economic Forum after 27 years as a regular in a dispute about its expense — though he's still coming to Davos to make the case for cracking down even harder on Russian assets.
Browder said the Forum wanted to charge him $250,000, more than triple what he paid in the past. He believes he should be admitted for free, as a human rights activist.
"Even though the forum was expensive, it cost about $70,000, I continued to pay just so I could show up and challenge the Russians," he said.
Forum uber-spokesman Adrian Monck replied that Browder had come in the past as CEO of his company, Hermitage, and that they save free tickets for people with "considerably less resources."

Steve's view
Browder's longstanding role at Davos has been to raise issues many of its attendees would like to ignore, the presence of brutal and autocratic governments and their connections to the businesses and nonprofits that populate the event.
In the 2000s, Browder noted, the World Economic Forum would regularly roll out the red carpet for Russian leaders and give them a platform to promote investment in Russia.
"I started to go there specifically to publicly challenge the government officials at the forum for asking people to invest in Russia, and to tell everybody how dangerous that was, and what a criminal place it was so that they would avoid it," he said.
In 2011, Browder confronted Russian Deputy Prime Minister Igor Shuvalov at a public session. He asked how Shuvalov could promote Russia as a safe and credible investment when Browder, once the largest investor in Russia, had become victim of a corruption scheme and seen his lawyer arrested, tortured and killed. In future sessions, the Russians still got the platform but they eventually took no questions at all and eventually made the sessions off the record.
This year, Russian oligarchs, corporations and political leaders were not invited to the WEF. There will be no Oleg Deripaska party overflowing with magnums of Dom Perignon and buckets of caviar capping off the week. But Browder won't be there either.
Nonetheless, this week Browder is meeting with various world officials, media, and global influencers to make the case that $350 billion in frozen Russian central bank assets should be provided to Ukraine for its needs.
And the forum's indifference to the activist may prove his point. Browder has written two books, Red Notice and just last year Freezing Order, detailing the complex corruption scheme inside Russia that has enveloped and coopted institutions in other countries, including the U.S., and the longstanding public indifference to their actions. The Russians are now barred from Davos, but Browder's loud denunciations of the system still aren't particularly welcome.

Room for Disagreement
The WEF's Monck said in an email: "Bill participated previously as CEO of Hermitage Capital Management. He's very welcome to re-engage with the Forum's work. Invitations to activists and civil society figures tend to prioritise people with considerably less resources."

Notable
The New Yorker in 2018 asked how Browder had become the focus of the Kremlin's global wrath, and concluded it was in part how effective he is. "What was unique here was Bill Browder," a U.S. Senator says of getting the Magnitsky Act through.
Vanity Fair got at another aspect of his unusual skill: "Among reporters, Browder's PowerPoint presentations are considered works of such flair and originality that David E. Hoffman, the former Washington Post Moscow bureau chief and author of The Oligarchs, still keeps a box of them in his garage."
Browder heatedly disputed a 2019 Der Spiegel story suggesting that he'd distorted the story of Magnitsky's death. Here's the original story, his detailed and furious letter, and Der Spiegel's response. His broader allegations about Russia's conduct towards its enemies abroad, which were once seen as wild-eyed, are now universally accepted in the west.