The Tweet
A seemingly innocent Disneyland Resort tweet has reignited a debate among those who celebrate Lunar New Year: whether it's appropriate to call the holiday that, or instead refer to it as Chinese New Year.
Over the last week, dozens of Twitter users have replied to the post, the vast majority of them chastising Disney for calling it Lunar New Year.
"Chinese New Year! Call it Chinese New Year!" one user wrote. "Chinese New Year! I've loved Disney since I was a kid, but you guys keep breaking the hearts of Chinese kids!" posted another.
It's worth nothing that many of the Twitter accounts that were pro-Chinese New Year appeared to have been created recently, with barely any followers.
Other users appeared to defend Disney, explaining why many see Lunar New Year as more inclusive.
"Saying chinese new year means they forget Vietnam or Korea, who also celebrate it," one user commented. "It's not an exclusive celebration in China, so maybe they tried to include all, not only chinese."

Step Back
Over the centuries, ancient Chinese society developed several different calendars -- the lunisolar of which became the most influential one and used by China and other neighboring societies, such as Korea, Vietnam, and Tibet.
To date, the Lunar New Year for these countries remains the most important holiday, all of whom have adopted their own spin on it. The official holiday length is typically 15 days, with most celebrating the first and last day of the holiday.
Some even have different names for it. In China, for example, the common name is the Spring Festival, referring to the belief that the New Year marks the changing of the seasons.
As Western countries are having more conversations on inclusivity in holiday greetings, many have pushed for people to use Lunar New Year to reflect the celebrations of these various cultures and societies -- not just China's.

The View From Weibo
Following the recent restrictions put on Chinese travelers visiting South Korea, many users on Weibo, China's version of Twitter, echoed the nationalistic commentary seen on Twitter and criticized Western media for highlighting Korean Lunar New Year traditions instead of Chinese ones.
"The Chinese zodiac has been stolen, the Chinese knot has been stolen, and the traditional Chinese lantern has also been stolen," posted one account, referring to ornaments and decorations hung during the celebrations. "The Spring Festival of the Year of the Rabbit is about to begin, and it will become Korean New Year."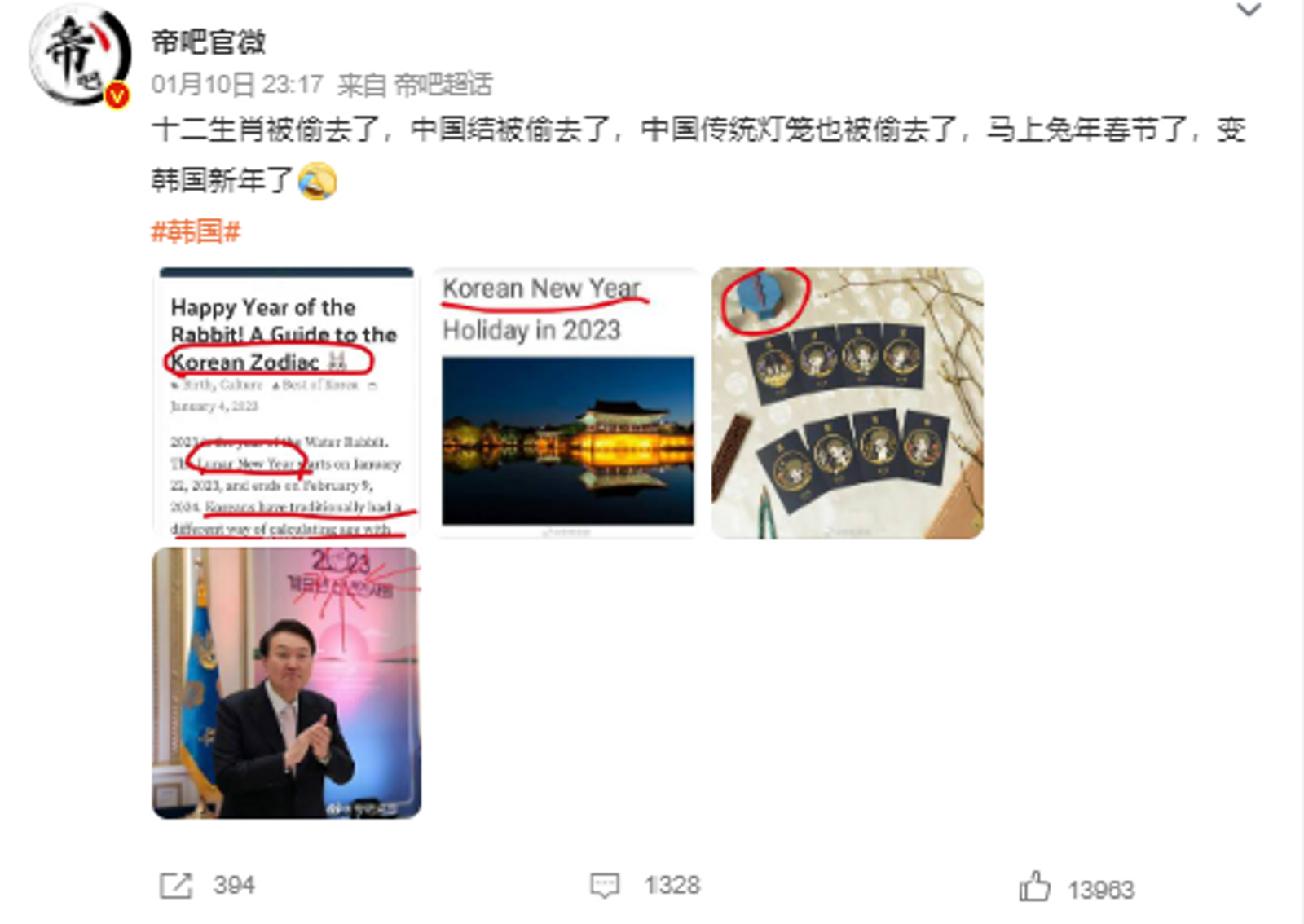 Others appeared unaware that Lunar New Year in Korea is also an integral cerebration of their culture.
"I just learned that Korea also has a Spring Festival holiday, and when did it start, in recent years?" posted another user. "How old is it? 50 years?"


The View From Vietnamese-Australians
While many other cultures will be celebrating the Year of the Rabbit in the upcoming weeks, Vietnam's Zodiac substitutes the rabbit for a cat.
The cat has been absent from many Lunar New Year celebration promotions in Sydney this year, ABC Radio Sydney reports, despite a plea from Vietnamese-Australians to make the symbol more visible.
This year's celebrations are more like "missing Year of the Cat," Thang Ngo, a food writer and former local council member for a Sydney neighborhood, told ABC Radio Sydney. "It means that the Vietnamese community is invisible and it actually does hurt," he said.
It took Sydney more than two decades to change the name of the event from Chinese New Year to Lunar New Year after years of lobbying to make the festival more culturally inclusive, despite opposition from some members of the Chinese community, the station reports.

Notable
In a 2022 GQ Australia piece, Christian Harimanow argued that while it is not inherently wrong for people to call the holiday by the country's name when specifically referring to its distinct traditions, saying "Chinese New Year" is like referring to January 1 as "Roman New Year" because the Gregorian calendar was originally adopted in Rome.