The News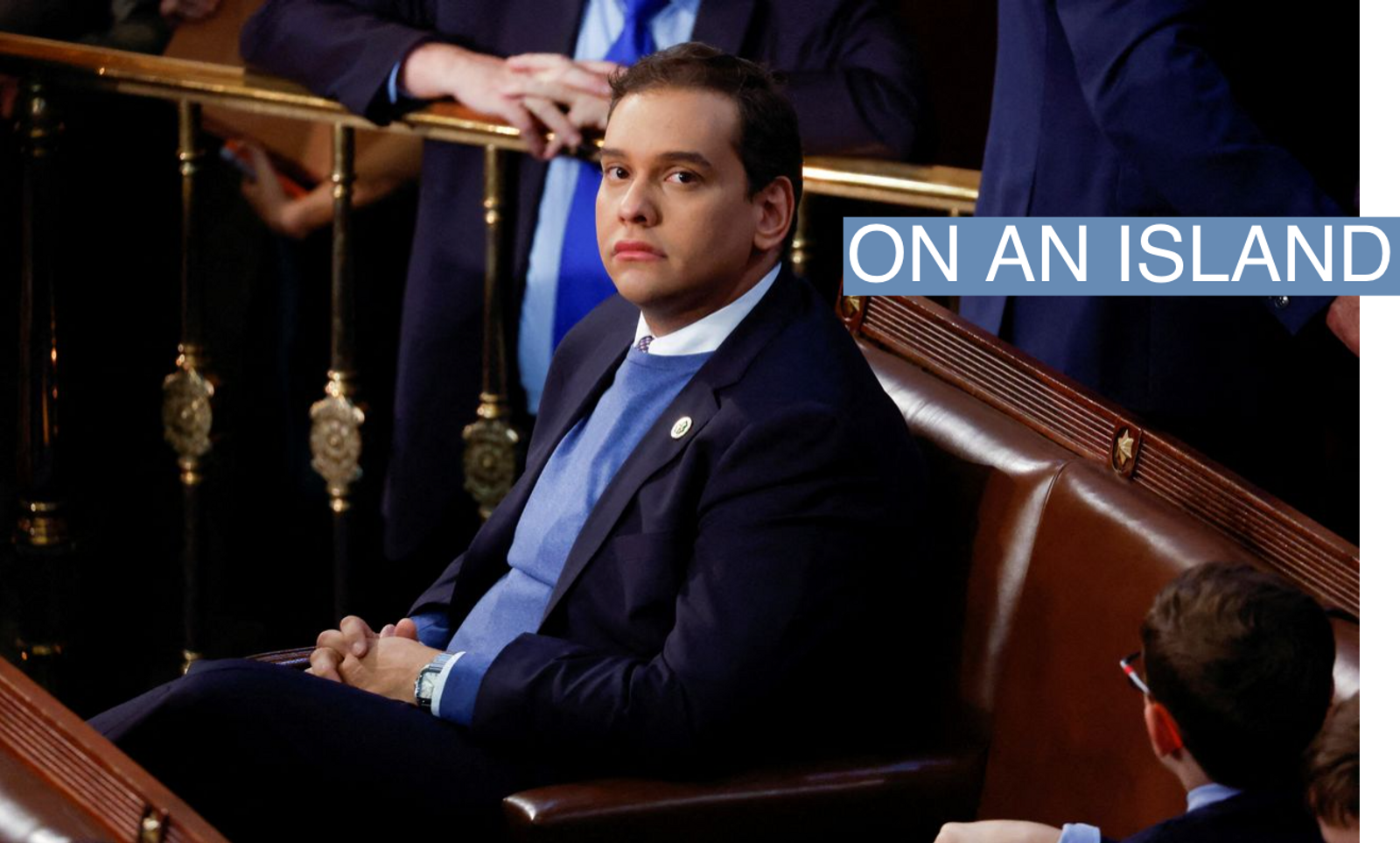 Two New York Democrats, both pegged as rising stars in their party, have found a new favorite hobby together: Needling George Santos.
On Tuesday, Reps. Dan Goldman, D-N.Y. and Ritchie Torres, D-N.Y. walked to Santos' office to deliver an ethics complaint to the disgraced freshman lawmaker, in person, with more than a dozen reporters present.
Goldman, a former prosecutor and impeachment counsel, opened the door to see Santos sitting just a few feet away at his desk in a small room reserved for the new rank-and-file member. He awkwardly dropped his complaint off by the entrance, which concerned Santos' seemingly abrupt financial success before his campaign, then left immediately to address reporters.
"What we are asking the ethics committee to investigate is very specifically his financial disclosures, which are highly suspicious and seemingly miraculous if they are to be believed," Goldman said.
"The million dollar question is 'Where did all the money come from?'" Torres added.
Santos later told reporters he had done "nothing unethical," according to ABC News.
Combined, the two have either tweeted or retweeted content related to Santos about 50 times since the New York Times unearthed numerous alleged falsehoods in Santos' biography. Goldman has called for Santos' resignation while Torres has said Santos should not serve on committees with "access to sensitive information."
They're not alone among Democrats. Minority Leader Hakeem Jeffries, also a New Yorker, has brought up Santos regularly. And on Tuesday, four members with national security backgrounds wrote to Speaker Kevin McCarthy with concerns about assigning Santos committees that would give him access to classified material.

Kadia's view
While there's nothing unusual about a party trying to highlight a scandal-plagued member on the other side, Democrats — and especially New York Democrats — see Santos as an unusually juicy target given the specific circumstances of the House.
One, because of their narrow majority, leadership can ill afford to discipline or disavow members whose votes are badly needed even as almost no one is defending Santos. McCarthy stayed quiet on Santos during the holidays and speaker's race, but said this week that the matter would be handled "internally."
Democrats have tried to keep up the pressure as a result. "Kevin McCarthy has been silent about the lying and law-breaking of George Santos because McCarthy desperately needs his vote," Torres tweeted last week.
Two, scrutiny around Santos comes as Republicans have made changes to the Office of Congressional Ethics that watchdog groups warn could impact its ability to investigate members of Congress who've been accused of ethics complaints.
While Goldman and Torres acknowledged their complaint on Tuesday was with the House Ethics Committee — a separate body run by an even number of members from both parties — they tried to link the two issues.
"We see the House Republican Conference refilling the swamp with the fraudulence of George Santos, eviscerating the Office of Congressional Ethics at a time when George Santos has entered Congress with an ethical cloud hanging over him," Torres said on Tuesday.
Then there's the New York angle. Democrats in the state suffered a genuine red wave centered on Long Island, making Santos welcome news for up-and-coming politicians like Torres and Goldman who are eager to rally their depressed base and claw back Republican gains.

The View From Long Island
While McCarthy has unique considerations, New York Republicans may be starting to take a harder line against Santos as discrepancies in his biography draw reported interest from federal prosecutors.
At least one Republican member, Rep. Nick LaLota, R-N.Y. representing Long Island has called for an investigation. The Nassau County Republican chair, along with other party officials, will "deliver the strongest statement" from them yet regarding Santos Wednesday morning, according to a press release. They've already said he should not run in 2024.
Should the party disavow Santos, I'm told one Republican name to watch is newly-elected New York State Senator Jack Martins.