The Scoop
Crypto exchange Coinbase has for years tracked how the company is portrayed in the press and online, and that "sentiment" measure has fluctuated depending on the price of cryptocurrencies and other factors.
One thing remained constant for years: Its competitor, FTX, the exchange founded by Sam Bankman-Fried, was a notch higher, according to people who've seen the analysis. (Bankman-Fried is an investor in Semafor.)
That changed only recently, when FTX collapsed dramatically and Bankman-Fried was indicted on several federal criminal charges related to allegedly stealing customer funds.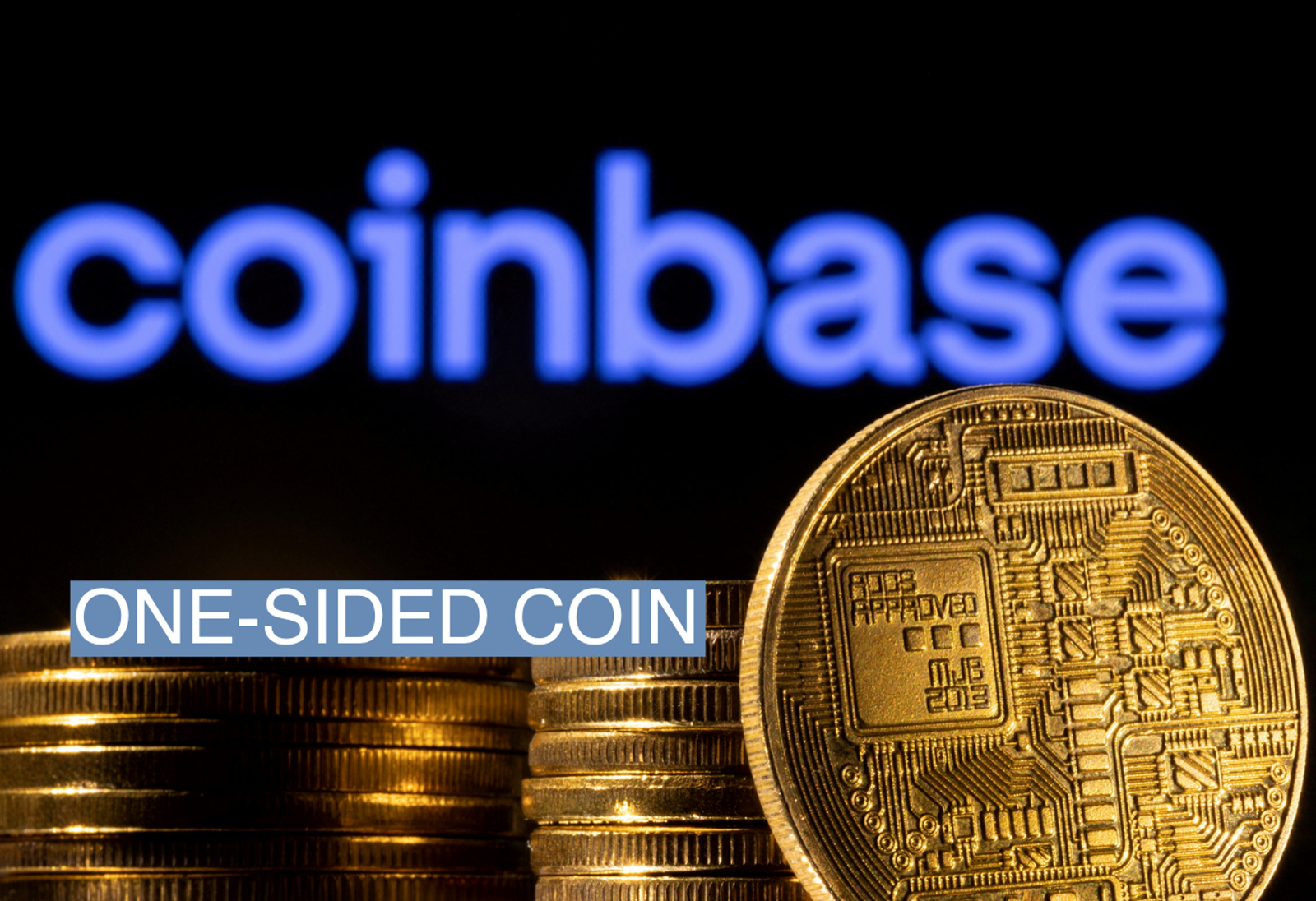 Reed's view
Last August, when the crypto markets were in freefall, The Wall Street Journal and The New York Times ran almost identical articles on the same day. They were deeply-reported features about how Brian Armstrong, Coinbase's CEO, apparently mismanaged the company and caused its stock price to plummet.
Both articles called into question Armstrong's management decisions, linking them to Coinbase's plummeting stock price. They both had juicy anecdotes from inside the company, but neither proved with strong evidence that the company's sinking valuation was due to Armstrong's "failures" or because his initiatives "floundered," rather than the market downturn. They focused on the fact that Armstrong, like many other tech CEOs, hired too fast during the boom years.
The most remarkable thing about these two articles: Both compared Armstrong's management unfavorably to that of Bankman-Fried, who since then has been criminally charged with defrauding customers.
"The company is at risk of squandering its head start, as nimbler competitors like FTX and Binance continue expanding despite the downturn," The New York Times said.
While the article cited Coinbase's drop in revenue, disclosed in its audited financials, it got FTX's revenue from Bankman-Fried, who provided in an email a ballpark figure that showed FTX was hardly affected by the "crypto winter."
The Wall Street Journal mentioned FTX had a comparatively low headcount of 300 people, which in retrospect should have been more of a red flag than a sign of leanness.
It's easy to criticize the imperfections of daily journalism after the fact, and I worked at the Wall Street Journal for 12 years and I'm sure had my own share of stories I missed. And The New York Times raised questions about the potential for consumers to get in over their heads trading on FTX.
But the Armstrong profiles illustrate a broader phenomenon, reflected through the coverage of the two firms: The way in which CEOs position themselves in America's polarized political and cultural conflicts, particularly on Twitter, cascades into coverage of often unrelated questions about their companies.
While Bankman-Fried awaits a federal trial slated for October, Armstrong is having a more ordinarily challenging winter. Coinbase is currently retrenching amid the crypto downturn, laying off staff while its stock price falls and dealing with regulatory headaches.
In retrospect, the difference between the companies are blindingly obvious.
FTX was formed in Hong Kong and then moved to the Bahamas, which helped it avoid U.S. regulations and oversight. Not much was known about how the company was  organized or how much money it made, other than what it said publicly or leaked to journalists. The auditing firm for its international operation was little-known and unorthodox.
Coinbase subjected itself to U.S. laws and the kind of scrutiny that comes with being a publicly-traded company.  Armstrong also surrounded himself with adults. Coinbase's CFO had the same job at OneWest Bank. Its chief policy officer comes from Goldman Sachs and served for nearly 10 years in government, including on the National Security Council. Its board includes former federal prosecutor turned venture capitalist Katie Haun and the former CFO of Cisco.
But the larger contrast is more superficial. Armstrong never figured out the media, and approached journalists with the suspicion now endemic to Silicon Valley. He was selective about giving interviews, and took to Twitter to snub reporters and financial regulators.
When protests erupted in the summer of 2020 against the murder of George Floyd, a Black man who was killed by a police officer, and many companies took official stances in support of the Black Lives Matter movement, Armstrong insisted that his employees refrain from discussing politics at work.
"We don't advocate for any particular causes or candidates internally that are unrelated to our mission, because it is a distraction from our mission," Armstrong wrote in a controversial memo that served as a major turning point for his public image and caused some employees to quit.
These were deliberate decisions Armstrong made, often against the advice and outright pleas from his public relations staff, according to people I interviewed over the past week. (Through a Coinbase spokesman, Armstrong declined to be interviewed.)
His disdain for the mainstream press invited more negative coverage from those journalists, which in turn fueled even more mutual disdain. After he took to Twitter to defend his executives against an anonymous letter criticizing his executive management team, columnist Charlie Warzel said in the Atlantic that it was a "poor and ineffective management style that is usually only thinly disguised by the executive's cult of personality."
But reporters appeared to be enamored with Bankman-Fried.
He was a public relations natural. He picked up the phone when reporters called. He leaked stories. He constantly talked about his plan to give away almost all his money and gave millions to Democrats. He was vegan. He drove a Toyota Corolla. He trash-talked crypto. He later admitted hiding his political donations to Republicans because he knew they wouldn't go over well with reporters. (Are we this easy to figure out?)
Bankman-Fried's well-cultivated persona added sheen to his business. The Wall Street Journal compared Bankman-Fried to Warren Buffett. The Financial Times telegraphed his plans to one day acquire Goldman Sachs.
The coverage of the two CEOs is really a microcosm of tech coverage at its worst: Reporters at war with or enamored by the people they cover, and readers paying the price in the form of two-dimensional coverage. And what they missed was a contrast between two companies that couldn't be clearer in retrospect.

Room for Disagreement
The role of the press is to hold the powerful to account, and that includes scrutinizing their stances on social issues and other controversial views on social media.
Nathaniel Popper, who previously covered crypto for The New York Times and has written a book on the subject, told me that after his article about Armstrong's memo was published, current and former employees at Coinbase came out of the woodwork to tell him stories about discrimination.
Popper investigated the claims and reached out to Coinbase for comment. He later wrote an article about how 11 Black employees left over "what they said was racist or discriminatory treatment."
People at Coinbase believed Popper would ignore what they perceived as exculpatory evidence that the company provided and chose to inform its employees about the impending article in a memo, frontrunning Popper's story and further complicating the company's relationship with the media.
Popper, whose story was thorough and accurate, said that this is simply how reporting works. Ultimately, he notes, Armstrong chose to put himself in this position. "Brian is slotted into this media narrative about what tech bros think," Popper said. "He became the face of how Silicon Valley thinks about things."