The News
A popular animated Chinese TV show has sparked debate about whether educational themes should override high-quality production values.

Know More
中国奇谭 or Chinese Strange Stories has received more than 52 million views on Bilibili, China's equivalent of YouTube, since it premiered on Jan. 1. It also has a 9.5/10 ranking on Douban, a film and book social media site.
The cartoon is anthological: each episode uses a new animation style to depict different traditional myths and folktales, with demons and spirits often causing mischief in the human world. As described on its Bilibili profile, Chinese Strange Stories "surveys the past and present, and looks forward to the future... showing Chinese-style imagination and carrying Chinese national culture and philosophy."
But the show has generated a backlash among parents. On Tuesday, screenshots of one review began circulating across Weibo, China's version of Twitter.
"What does such a show even try to teach children? To be scared of the world from an early age?" the parent wrote. "If it's only going to torment my kid, even a little, I don't want my child watching it."
Since its upload, posts with the hashtag #家长炮轰中国奇谭# (Parents bombard Chinese Strange Stories) have had more than 14 million views on Weibo, with thousands of users rushing to the show's defense.

The View From Weibo
Weibo users rebuffed parents' reviews that the cartoons are explicitly meant for kids, with many writing that high-quality animated shows can offer artistic insights for adults.
"Who said that cartoons must be for children, as this animation is obviously for adults?" wrote one user. "Why can't they be satirical, of black humor, making you think about reality, or even just meaningless?"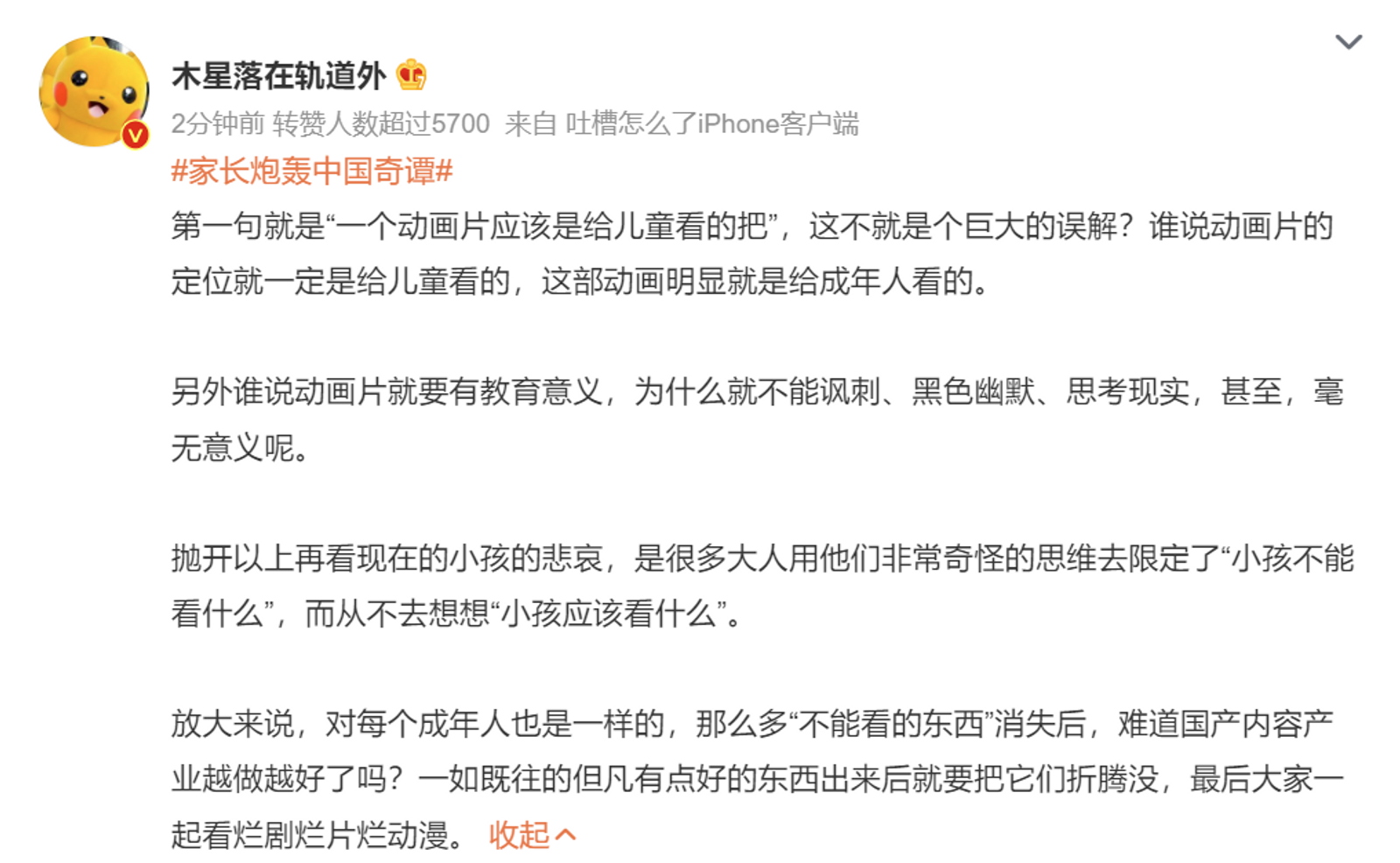 Others noted that the show was a rare piece of high-quality Chinese entertainment, blaming a conservative society for the declining standards of Chinese film and TV production.
"It's not easy to have a high-quality Chinese animation, and the self-righteous parents have started to point fingers again," wrote one user. "Take care of your children, keep your mouth shut, care about nurturing, and you're doing good."

Some users said the parents had completely missed the point of the show, sharing clips where characters talked about themes of traditional Chinese values like filial piety.


Step Back
Despite having one of the world's largest entertainment industries, many observers have noted that Beijing in recent years has begun to crack down on the type of media that can be produced domestically while limiting foreign production from entering the market, a move that has starved China's media market from high-quality talent and resources.
Last year, China also enacted new guidelines that prohibit cartoons from making reference to what Beijing considers obscene content, including violence, blood, and vulgarity. This led to many popular Japanese manga series — which are generally tailored to children — to be pulled from streaming services.

Notable
Chinese production companies are reassessing whether hiring A-list celebrities still makes sense under Beijing's ongoing media crackdown, a Sixth Tone investigation found. Into the mid 2010s, producers would tend to hire celebrities that could bring in the most traffic. But high-profile actors and actresses have been arrested or charged with financial crimes in recent years, causing producers to distance themselves from some of China's biggest stars.