The News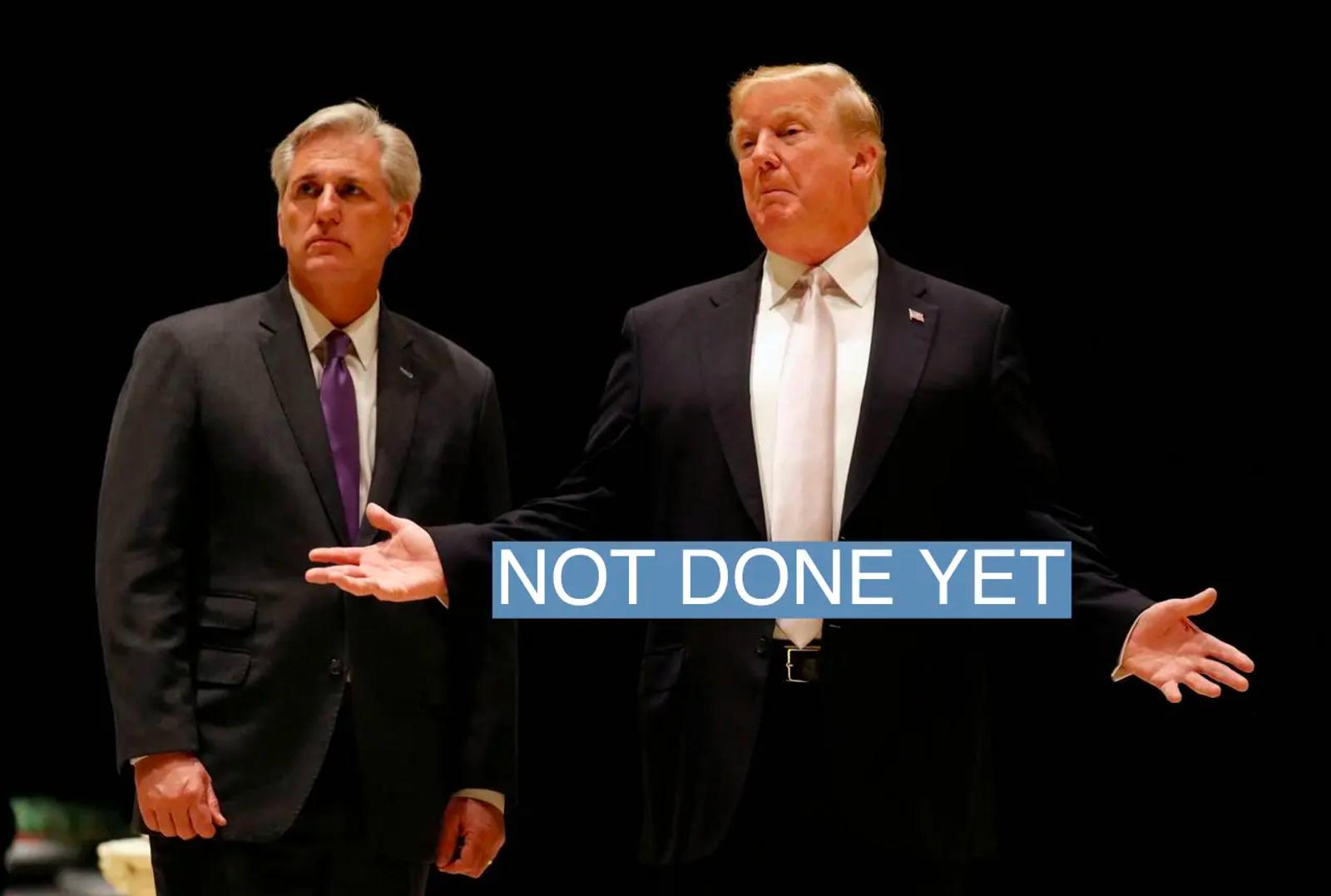 Kevin McCarthy was barely elected Speaker of the House of Representatives early Saturday morning — after allies including former President Donald Trump lobbied the party's farthest right members.
"I don't think anybody should doubt his influence. He was with me from the beginning," McCarthy said of Trump at a press conference after 2:00 a.m.
"He really was helping get those final votes."

Shelby's view
As Kevin McCarthy gasped for oxygen this week, some of my colleagues on Capitol Hill began writing the obvious story: That if Donald Trump couldn't get his most loyal supporters to back his candidate, his time had really passed.
The night's iconic image would have been Getty's image of Marjorie Taylor Greene, R-Ga. haplessly holding up a phone with "DT" on the line, as another Republican, Montana Rep. Matt Rosendale, ignored them both.
Certainly it seemed earlier this week that Trump's efforts were floundering. Rep. Lauren Boebert, R-Colo. publicly rejected her "favorite president," saying on the House floor that he was wrong and should tell McCarthy to "withdraw." Rep. Matt Gaetz, R-Fla., weighed in too, telling Fox News that Trump's endorsement was "Sad!" and failed to change his view on the situation. He even nominated him for speaker on the eleventh ballot, splitting the difference between flattery and trolling.
And yet when McCarthy's luck turned, key members gave Trump at least some credit.
Rep. Byron Donalds, R-Fla. who switched his vote to McCarthy on Friday, told Semafor that Trump "played a good part in" moving some of the holdouts. At the same time, Donalds noted that the situation was "a process of the members of Congress."
Trump placed quick calls ahead of the 15th ballot — just before midnight — to Reps. Andy Biggs, R-Ariz. and Gaetz, a source familiar with the situation told Semafor (Biggs voted for Ohio Rep. Jim Jordan on the 14th ballot, while Gaetz prompted an outcry by voting present and dooming the effort). After the call, Biggs switched his vote to present, while Gaetz again voted present for ballot number 15 after signaling his cooperation to McCarthy. Trump also called Georgia Rep. Andrew Clyde earlier Friday, who came around for McCarthy too.
The frantic energy on the House floor just after midnight wasn't all Trump's doing. Conservatives secured long-sought gains from McCarthy over wonkish procedural and committee matters.
McCarthy didn't mention Trump in his late night victory speech. And Trump didn't even take credit in his statement on Truth Social.
But the political obituaries will have to go back in the file for now.