The Numbers
The Biden administration has proposed significant hikes in application fees for employment-based visas, as well as for green cards and citizenship.
The application fee for the U.S.'s popular H1-B high-skilled worker visa would jump 70% from $460 to $780. The cost of applying to sponsor a temporary agricultural worker would more than double, costing $1,090.
And a new $600 surcharge to fund the nation's asylum program would be tacked on to applications from companies looking to sponsor immigrants for work visas or permanent residency.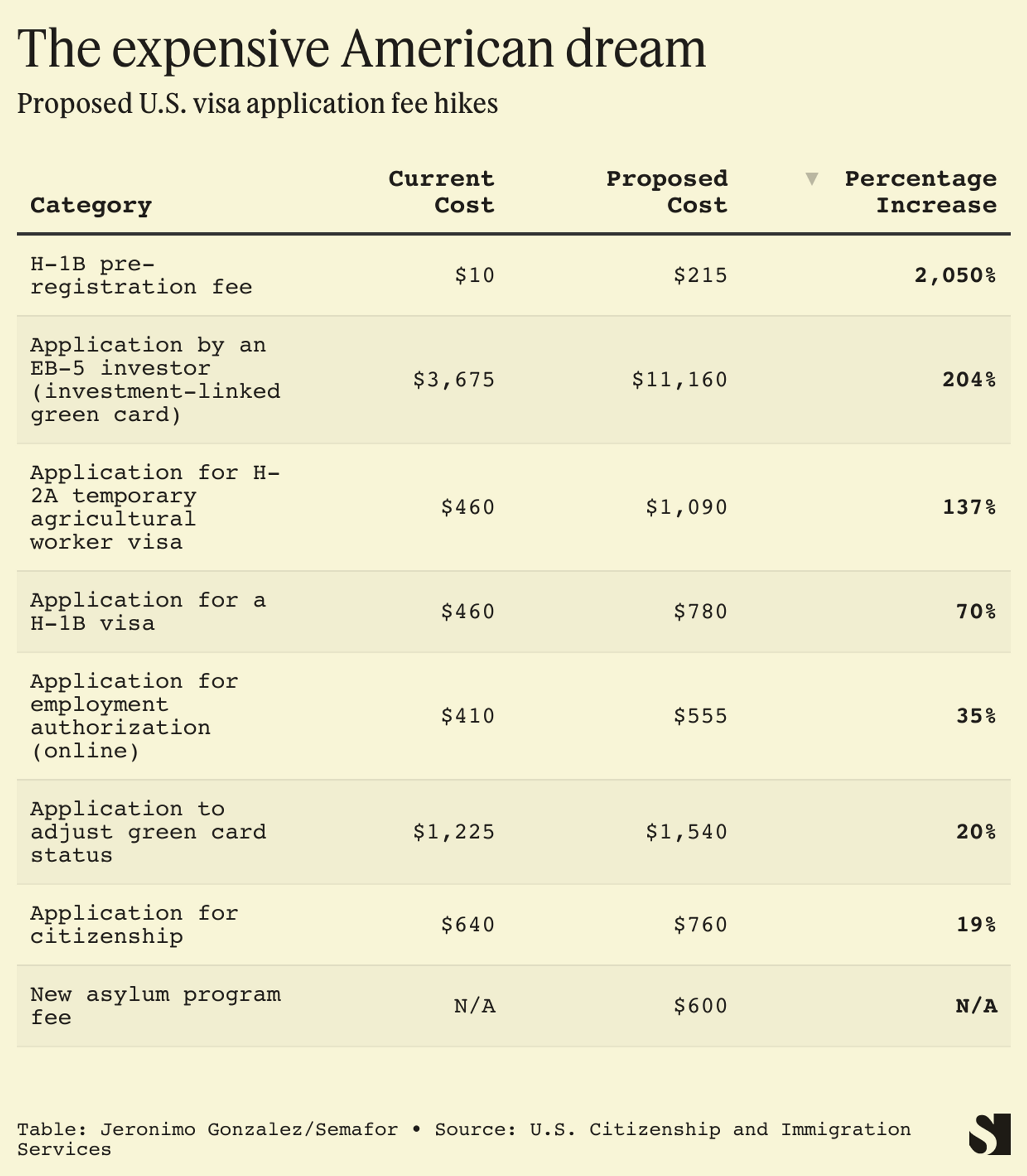 Know More
Fees for people to apply for a green card and citizenship could also increase under the new plan, a 200-page report released Tuesday shows.
One of the largest proposed hikes applies to international investors looking to immigrate to the U.S.; the cost for that application could jump from $3,675 to $11,160.
With the new $600 asylum program fee, officials would also lean on companies that sponsor workers to cover some of the costs associated with asylum processing.

Step Back
The U.S. Citizenship and Immigration Services said the higher fees would help the agency make up revenue lost during the pandemic and prevent major application backlogs.
The USCIS said it saw a dramatic drop in new applications at the beginning of the pandemic, leading to a 40% reduction in revenue.
Caseloads are now rebounding to pre-pandemic levels, but "workforce attrition has reduced the agency's capacity to timely adjudicate cases," according to a statement.

The View From India
In fiscal year 2021, which ran from October 2020 to September 2021, the U.S. approved just over 400,000 H-1B visas for high-skilled workers. About 300,000 of those employees were from India, according to an agency report.
The pre-registration fee for H-1B visa applications would increase from $10 to $215 under the new proposal. Immigration attorney Kripa Upadhyay told The Times of India that in the past, some employers have filed dozens of $10 registrations "in the hope that even half of those would be approved."
"Raising the registration fee amount, I hope, negates this scourge of multiple frivolous applications that adversely impact deserving employees and employers," Upadhyay said.

Now What?
The USCIS will spend the next 60 days receiving public comment on the plan. Companies that sponsor workers' visas and are upset with the new rules could try to challenge the new fees in court, Cornell University professor Stephen Yale-Loehr told CBS News.
The agency "might not legally be able to force employers to pay for asylum-related costs," he said. "Employers might sue to block some of the new fee increases if they don't seem justified."