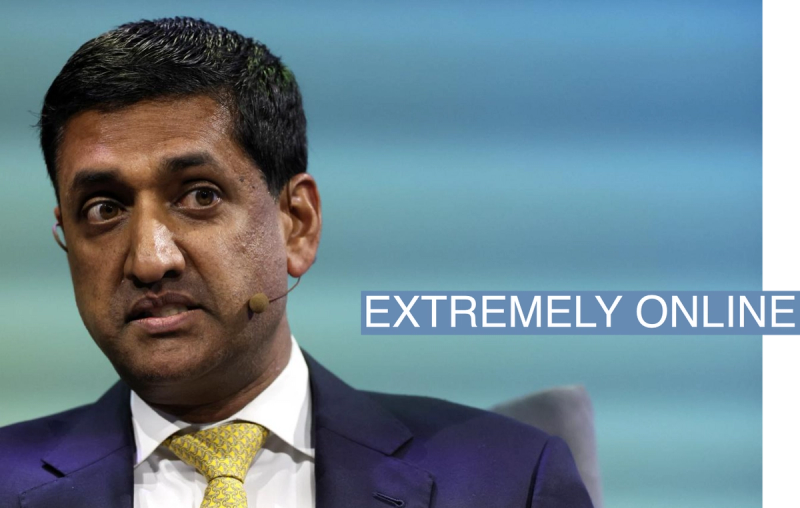 REUTERS/Brendan McDermid
In 2020, Rep. Ro Khanna, D-Calif. emailed Twitter higher-ups to complain about their decision to suppress a New York Post story on Hunter Biden's laptop just weeks before the election. What he didn't know at the time is that his correspondences would be released this month — and come off well to Republicans, who shared much of his criticism.
The exchange was published as part of "the Twitter files," a series of posts from reporters who'd been given access to internal company communications by new CEO Elon Musk.
Khanna has not been blown away by the leaks so far, telling Semafor there's no "shocking smoking gun." But the broader conversation about speech on the Internet is one he is very happy to have, including with an incoming House Republican majority that plans to investigate Twitter. He's already drafted an Internet Bill of Rights for his colleagues, and published a book about the ways the tech industry needed to adapt to democracy.
I talked to Khanna about what Congress needs to ask Twitter, and what a more accountable, speech-friendly social network would look like. Below is our conversation, edited for length and clarity.
Americana: Elon's reaction to emails between Democrats and Twitter, asking them to take down tweets that contained naked photos of Hunter Biden was: "If this isn't a violation of the Constitution's First Amendment, what is?" But you think the photos should have been deleted.
Ro Khanna: Yes. To violate the First Amendment, from a legal perspective, requires the government acting to suppress speech. President Biden, at the time, was not part of the government. And it's very common for campaigns to advocate for their point of view. We ask for a correction, we ask for something to be taken down — we exercise our First Amendment rights. There was no evidence that there was any threat of government action or sanction. It's perfectly fine that they didn't want to have sensational pictures out there.
Americana: In your book, you suggest that Congress should pass a law requiring social media platforms to take down speech if there's a court order saying that the post is inciting violence. Is that about as far as you want Congress to go?
Ro Khanna: It would be consistent with the First Amendment, obviously, because it's a court order. I do think we can require more transparency. If we had an Internet Bill of Rights, and if we required the people in big companies to respect individual data, then it would be harder to have sensationalism and conspiracy theories growing online because you wouldn't be able to target people susceptible to that. Facebook knows that it's causing eating disorders and potential suicide among teenage girls — that can be regulated under the First Amendment, because it's about public safety, and there's a compelling state interest.
Americana: One of your ideas for fixing social media is gamifying it, having people get points toward verification or status for constructive debate or criticism.
Ro Khanna: Right now, all these social media people are engineering for attention, right? What if they were maximizing for other things, like really wanting to encourage debate? If you don't know someone, and you give them an opposing point of view, the research shows they're more likely to dig into their own point of view. If you're a friend of someone, and you give them an opposing point of view, the research shows they're likely to at least consider it.
You could encourage people to amplify or be rewarded for posts that are considered thoughtful, civil exchanges of opposing viewpoints. That can be crowdsourced, just like we crowdsource Uber drivers. I don't have a monopoly on these ideas, by any stretch, but there are creative ideas about how to improve public debate without suppressing speech.
Americana: You also suggest having civil rights organizations like the NAACP and the Southern Poverty Law Center monitoring digital platforms and flag content. Those are groups that a lot of conservatives don't trust right now.
Ro Khanna: The question is, what are the appropriate guidelines? Even Elon Musk is saying that he doesn't want to amplify pain. Maybe one of the guidelines should be if you're an account that's predominantly spewing hate, and targeting individuals with hate, that is something that isn't really contributing to constructive speech in the public square, even though it may be technically protected by the First Amendment.
If someone were to get up in a town hall of mine, and say: "Ro, the New York Post has an article that says that President Biden is compromised by foreign influence because of the dealings of his family," I would vehemently push back on the facts, but I would not ask that person to be escorted out. If someone got up and started on an antisemitic rant, I would ask that person to leave.
Americana: Elon has been very open about who he's letting back on and not letting back on, but he hasn't exactly been consulting with the groups you're talking about. How is he doing so far?
Ro Khanna: It's too early to say. The fact that he's saying free speech is going to be an underlying value, we should applaud that. The fact that he's saying that we shouldn't have bots, we should applaud that. The fact that he doesn't want the amplification of hate speech, we should applaud that, and we should be documenting it. Is there really an increase of anti-Asian hate speech and anti-Black hate speech and antisemitism? We should know.
There's this rush to judgment about Elon, which is biased by partisan views, but Twitter was a pretty tough place before Elon was there, and it's pretty tough right now.
Americana: What's the conversation about all this with your fellow Democrats right now? Is anyone asking, 'Hey, should we still be on Twitter?'
Ro Khanna: It's kind of like people who say: "Ro, don't go on Fox News, don't give them a platform." I say: They've got millions of viewers, they don't need Ro Khanna in order to have a platform. Twitter, absent some event we can't foresee, is still going to have millions of people on it. I would love there to be more choice in terms of social media platforms, but this idea that Twitter is not going to matter, at least in the short term, is unrealistic.
Americana: Different topic: When are you going to decide what to run for in 2024?
Ro Khanna: I'm going to be supporting Joe Biden for president. If [Sen. Dianne] Feinstein were to retire, I've said I'd take a look at running for Senate. It would be foolish not to take a look at it. But the most likely scenario is that I will be running for reelection to the United States House of Representatives. As Elon Musk has shown, you can become a consequential figure in the House if you have your emails leaked.