Scientists use AI to discover a superbug-killing antibiotic, the EU's tech regulations could divide ͏‌ ͏‌ ͏‌ ͏‌ ͏‌ ͏‌
| | | |
| --- | --- | --- |
| Brussels | Minsk | Mexico City |

| | | |
| --- | --- | --- |
| | May 26, 2023 | |

Flagship
The World Today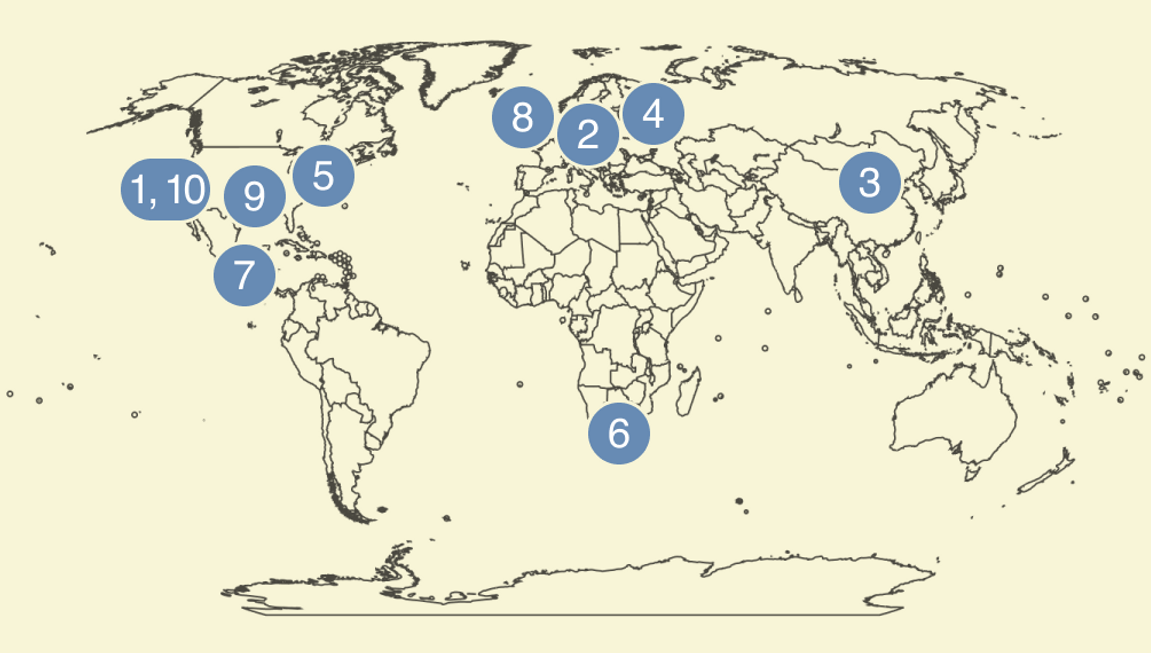 AI discovers new antibiotic
EU rules spook tech firms
China's anti-US mood hardens
Russia moves nukes to Belarus
Jan. 6 militia leader jailed
Rwanda genocide suspect held
AMLO targets DeSantis
UK migration hits record
Tesla is world's biggest seller
Tarantino trails final film
PLUS: Taking questions on the debt ceiling, and a Disney adaptation of a classic Asian American graphic novel.
AI discovers new antibiotic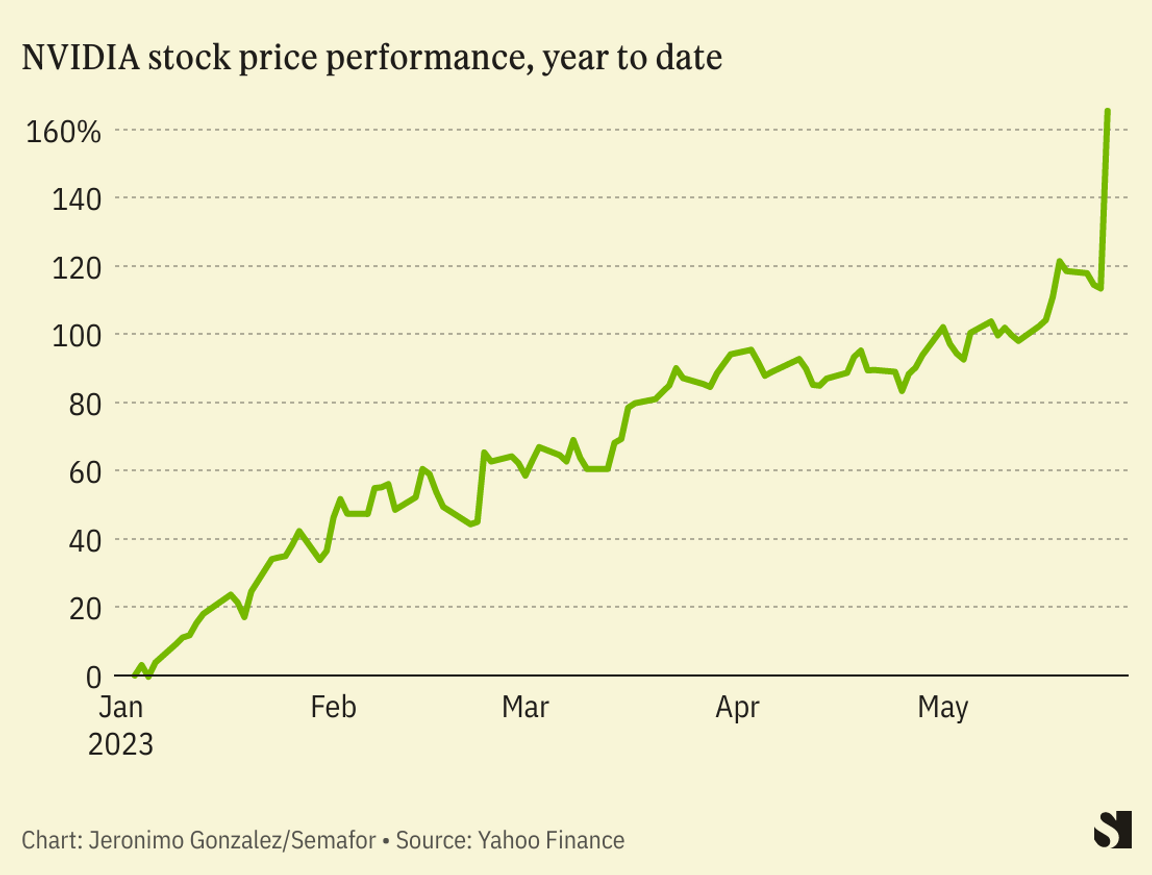 A new superbug-killing antibiotic was discovered using artificial intelligence. Abaucin destroys the bacterium Acinetobacter baumannii, which is resistant to most existing antibiotics and designated a "critical" threat by the World Health Organization. The AI studied existing antibiotics, then was given a list of 6,000 other compounds and told to find some that could attack A. baumannii. In 90 minutes it returned a shortlist which scientists tested. Scientific discovery is one of AI's most exciting applications, a DeepMind researcher told Flagship recently. Interest in AI drove shares in the chipmaker Nvidia up 24% yesterday, pushing it close to a $1 trillion valuation: Nvidia is the main supplier of chips used by AI companies such as OpenAI.
EU regulations threaten tech scene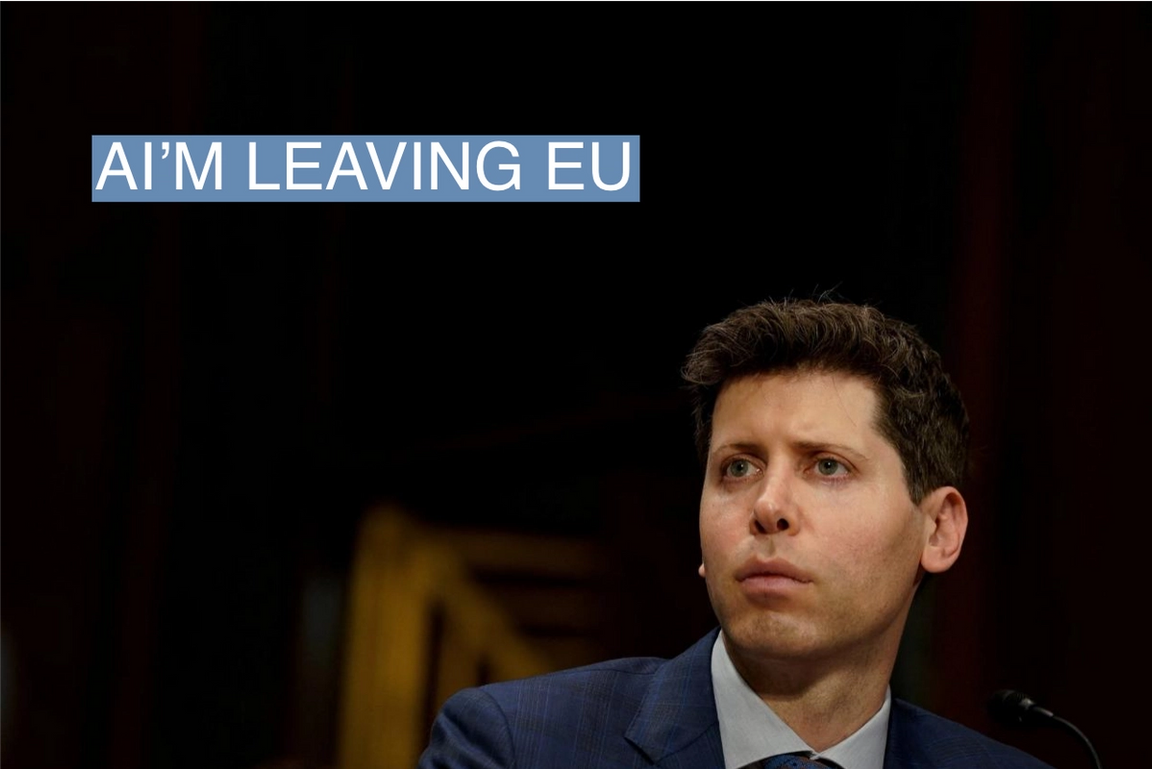 REUTERS/Elizabeth Frantz
OpenAI's Sam Altman said the company might pull its services from the European Union due to regulation. The EU plans to limit the use of general-purpose artificial intelligence systems like OpenAI's ChatGPT. The bloc is getting more aggressive on tech, fining Facebook owner Meta $1.3 billion for data misuse. Many big tech companies are considering limiting their services in Europe to avoid exposure, noted Ben Thompson's Stratechery newsletter. Smaller firms often can't afford complying with EU laws as it is: Several regional U.S. newspapers' websites opt to block European users rather than comply with the region's data regulations. "Costs will go up," Thompson wrote, "and it's plausible that some services — particularly those related to AI — simply aren't available."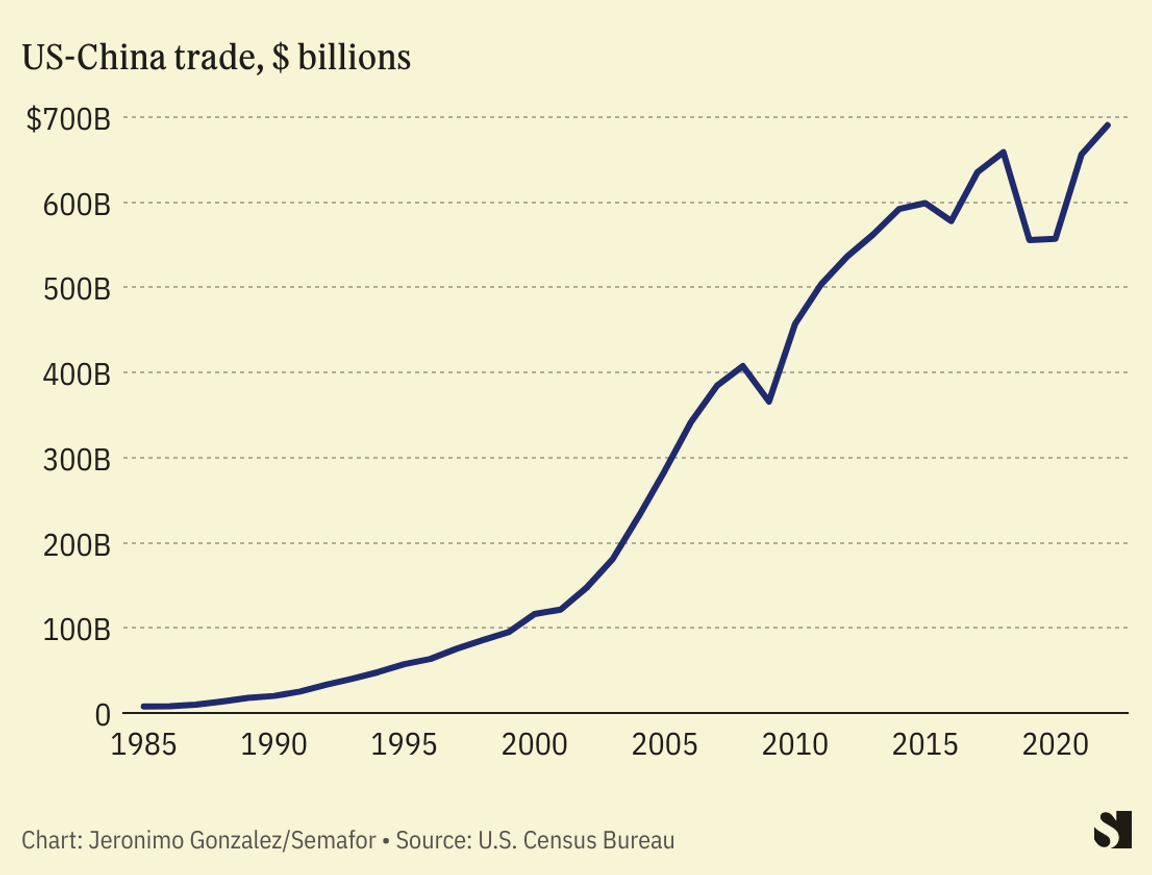 China's commerce minister met with his U.S. counterpart on a visit to Washington, D.C. The talks — described by the U.S. as "candid and substantive" — came soon after U.S. President Joe Biden voiced optimism of a coming thaw in ties. Yet Beijing's rhetoric has only hardened: A Chinese foreign ministry report last week argued Washington's "coercive diplomacy endangers the whole world," and the state news agency Xinhua yesterday described the U.S. as "the biggest source of risk for the world economy." Anti-U.S. sentiment is pervasive throughout the population, too: A new Tsinghua University poll shows 80% of Chinese blame the West for Russia's war in Ukraine, and just 12% of respondents said they liked the U.S., compared to 58% who liked Russia.
Russia moves atom bombs to Belarus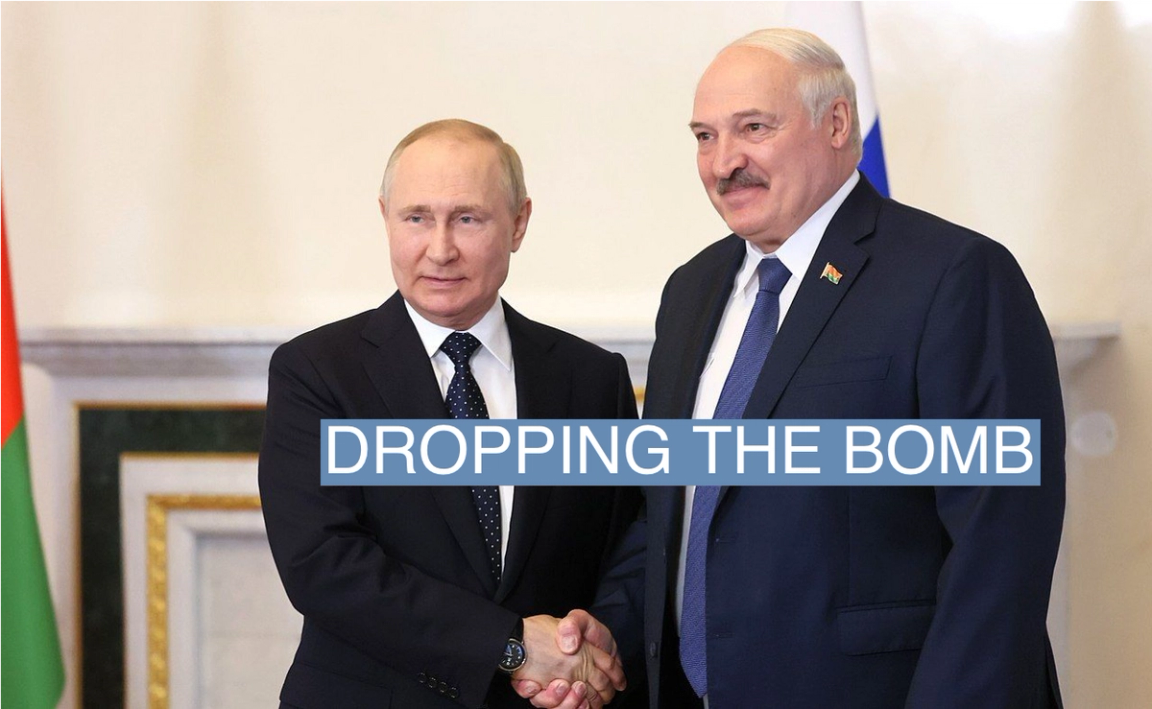 Russian President Vladimir Putin and Belarusian President Alexander Lukashenko. Presidential Executive Office of Russia/WikimediaCommons
Russian nuclear warheads are being moved to Belarus, Minsk said. Russian President Vladimir Putin announced in March that Moscow would deploy "tactical" nuclear weapons, which have a smaller yield than "strategic" ones but are often still equivalent to tens of thousands of tons of conventional explosives, in Belarus. It marks the first time since the 1991 fall of the USSR that Russia has kept atom bombs outside its borders. The U.S. denounced the move but said it had seen no sign that Russia was planning to use any nuclear weapons. A former Russian diplomat urged the West not to respond: "Escalation may be tempting, but it is both unnecessary and potentially dangerous," he wrote in the Bulletin of the Atomic Scientists.
Far-right militia founder jailed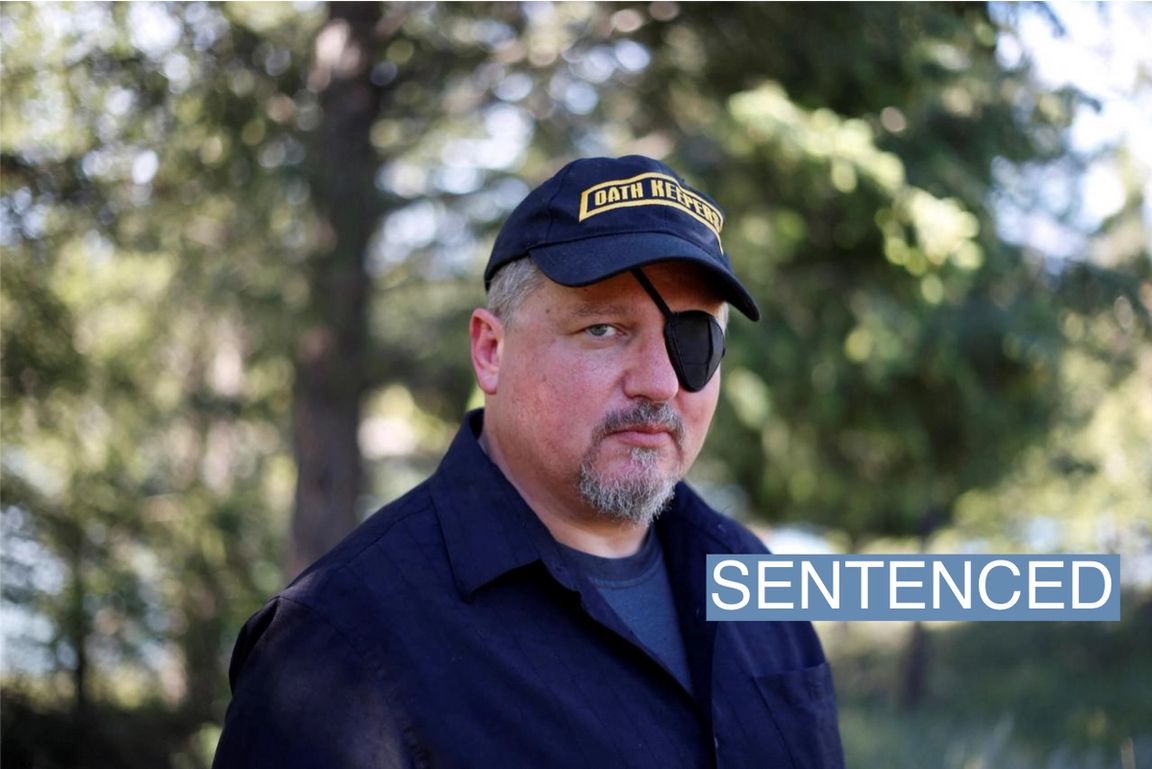 REUTERS/Jim Urquhart
The leader of a far-right militia group was sentenced to 18 years in prison over his role in the Jan. 6, 2021 attack on the U.S. Capitol. Stewart Rhodes joined the military straight out of high school, becoming a paratrooper, and later studied at Yale Law School, where one of his papers argued against the George W. Bush administration's enemy-combatant doctrine allowing indefinite detention. He wrote a libertarian blog and eventually founded his militia, the Oath Keepers. In a 2020 profile in The Atlantic, Rhodes outlined his conspiratorial worldview, referencing dictators including Stalin, Pol Pot, and Mao before saying: "If you're going to slide into a nightmare like that, you need to fight."
Rwandan genocide suspect caught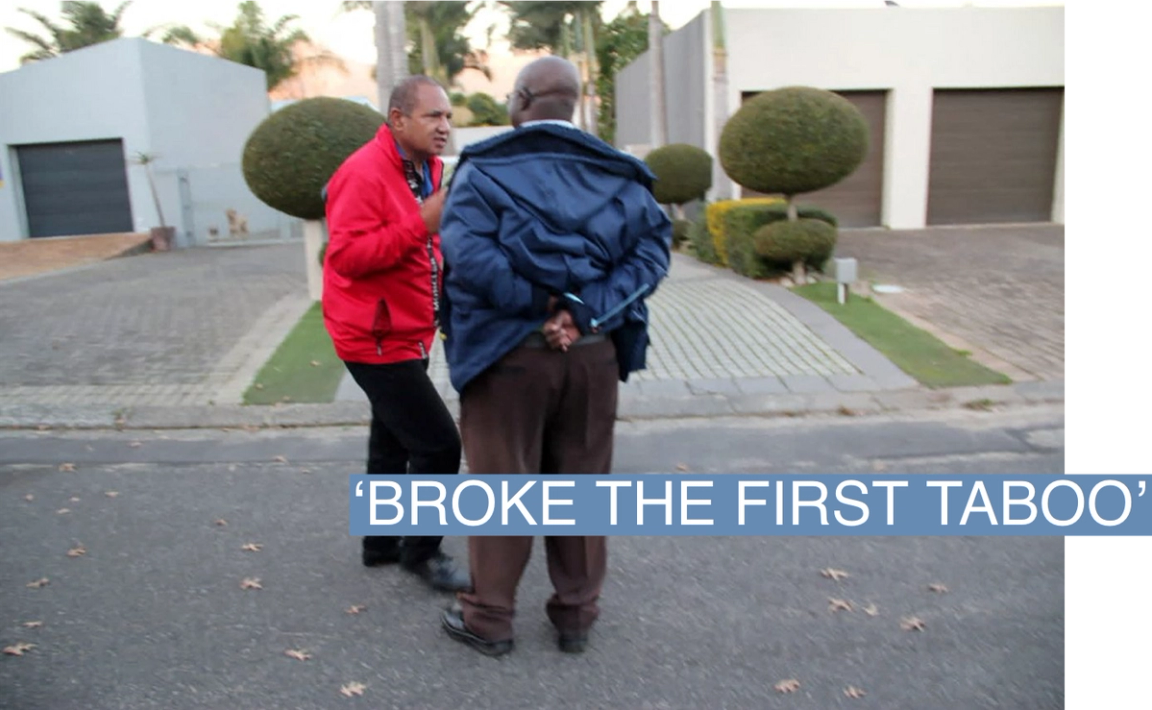 South African Police Services' Directorate for Priority Crimes Investigation (The Hawks)/Handout via REUTERS
South African authorities captured one of the most-wanted suspects in Rwanda's genocide. Fulgence Kayishema, who is accused of orchestrating the killing of more than 2,000 people at a church in 1994, was arrested at a vineyard after 22 years on the run. The U.N.'s International Criminal Tribunal for Rwanda charged him in 2001 with genocide and crimes against humanity. Kayishema "broke the first taboo — which was killing people taking shelter in a church," an analyst told Al Jazeera. "Subsequent killings followed that pattern." Upon his arrest, Kayishema initially denied his identity before relenting and telling police: "I have been waiting a long time to be arrested."
AMLO tells Latinos not to back DeSantis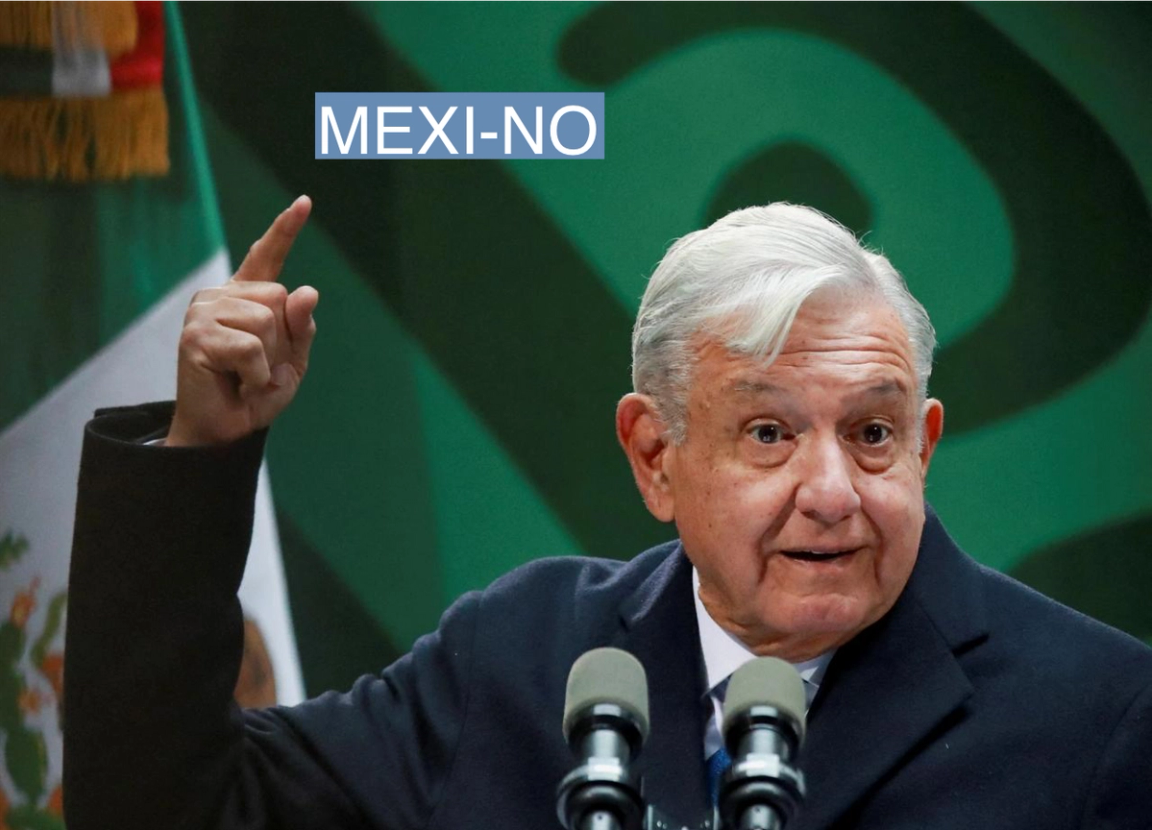 REUTERS/Henry Romero
Mexican President Andrés Manuel López Obrador urged Latino voters in the U.S. not to support Florida Governor Ron DeSantis. DeSantis, who declared his candidacy this week for the Republican presidential nomination, said he would build a wall at the U.S.-Mexico border and declare immigration "a national emergency." It's not the first time López Obrador has waded into U.S. elections: In 2016, he called on Latinos to vote against Donald Trump in that year's presidential election. However, once both leaders were in office, they got on famously, with López Obrador acquiescing to Trump's demands to limit migration by deploying troops to Mexico's southern border with Guatemala.
UK voters OK with record migration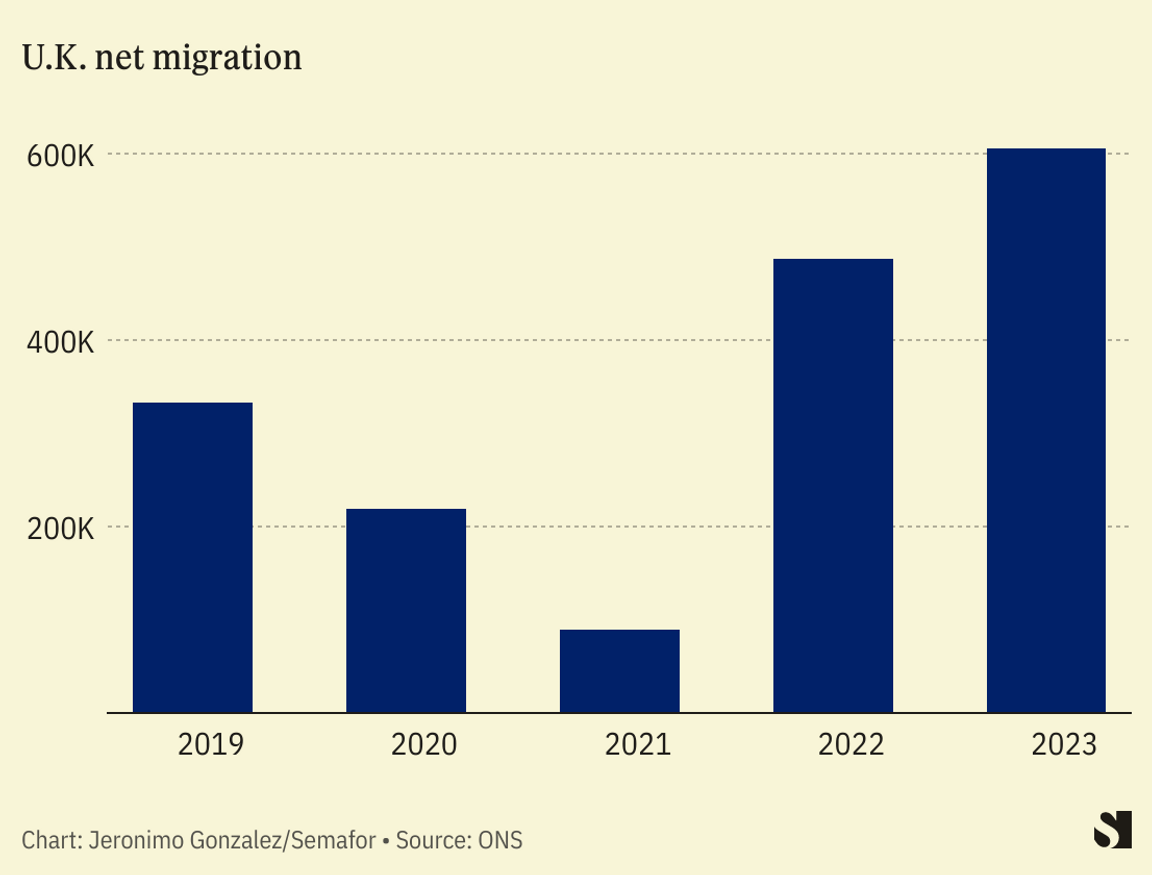 Britain has record levels of immigration, but polling suggests concern about immigration is down. The 2016 Brexit vote was won largely on complaints over immigration. But even though immigration has gone up since Britain left the EU, the public is largely unfazed. The Economist argued that voters were bothered more by the lack of control: Britain could not prevent European Union migration even if it chose to. The much larger numbers of non-EU migrants now arriving is less troublesome. The ruling Conservative party, however, thinks Britain's liberal turn is "a mirage," and that a backlash is coming. Prime Minister Rishi Sunak has pledged to bring numbers down, starting with a ban on overseas students bringing their families with them.
Model Y becomes best-selling car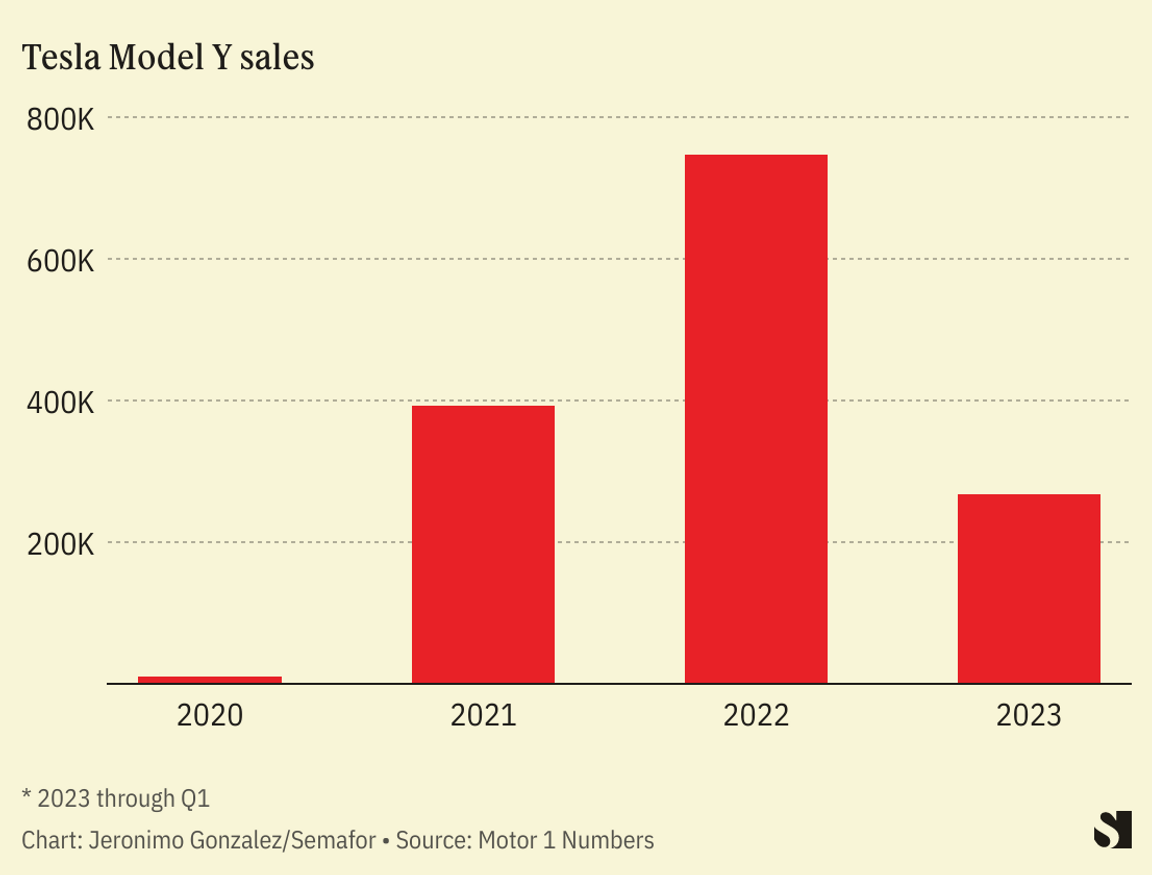 Tesla's Model Y is the first electric vehicle to become the world's best-selling car. Industry figures show that 267,000 Model Ys sold in the first quarter of 2023, putting it ahead of the Toyota Corolla despite costing twice as much and being sold in 70 fewer countries. Recent price cuts have further boosted sales, while the Corolla's are trending down, Electrek reported. Tesla is also a major provider of U.S. EV charging infrastructure, with 17,000 Supercharger stations, which are faster than most public chargers. It announced that Ford EV users will be able to use many of them as of next spring, and other EVs by the end of the year.
Tarantino drops hints about last film
REUTERS/Eric Gaillard
Quentin Tarantino's next, and allegedly final, film will be about a little-known but real film critic who wrote for an adult magazine. Speaking at Cannes, Tarantino said he's looking for a "new leading man" to play the title role. The director, who broke through with the violent 1990s classics Reservoir Dogs and Pulp Fiction, changed Hollywood: He gave action film characters room for conversation ("You know what they call a Quarter Pounder with Cheese in Paris?") and inspired a host of nonlinear, challenging films like Christopher Nolan's Memento. Tarantino has said he wanted to quit while he was ahead, believing that movie directors only have a few good films in them.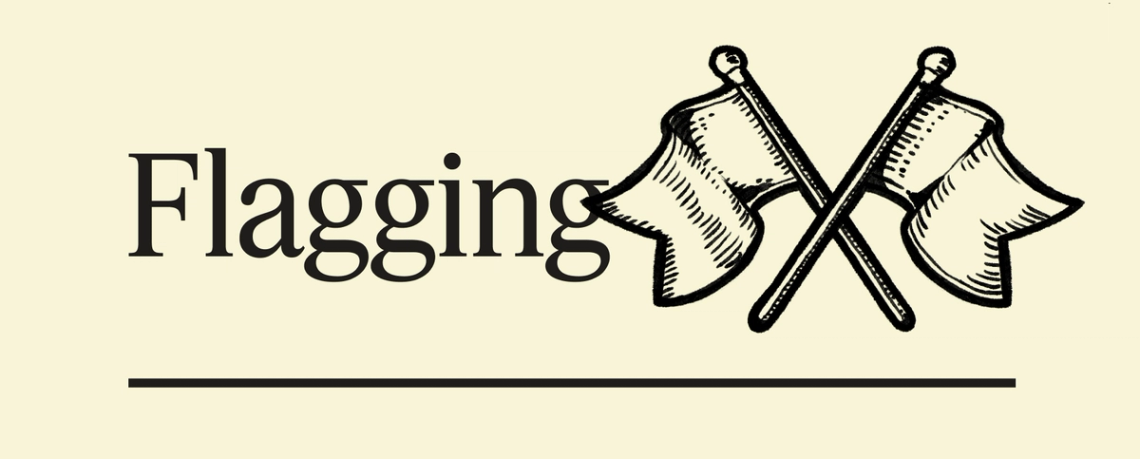 Turkish President Recep Tayyip Erdogan and opposition candidate Kemal Kilicdaroglu hold election rallies ahead of Sunday's presidential runoff.
The third Cuban-EU Joint Council takes place in Havana.
Veteran U.S. diplomat Henry Kissinger turns 100 on Saturday.
The White House and Republican leaders appear close to a deal on raising the U.S. debt ceiling. We asked Joseph Zeballos-Roig, Semafor's domestic policy and politics reporter in Congress, about the crisis.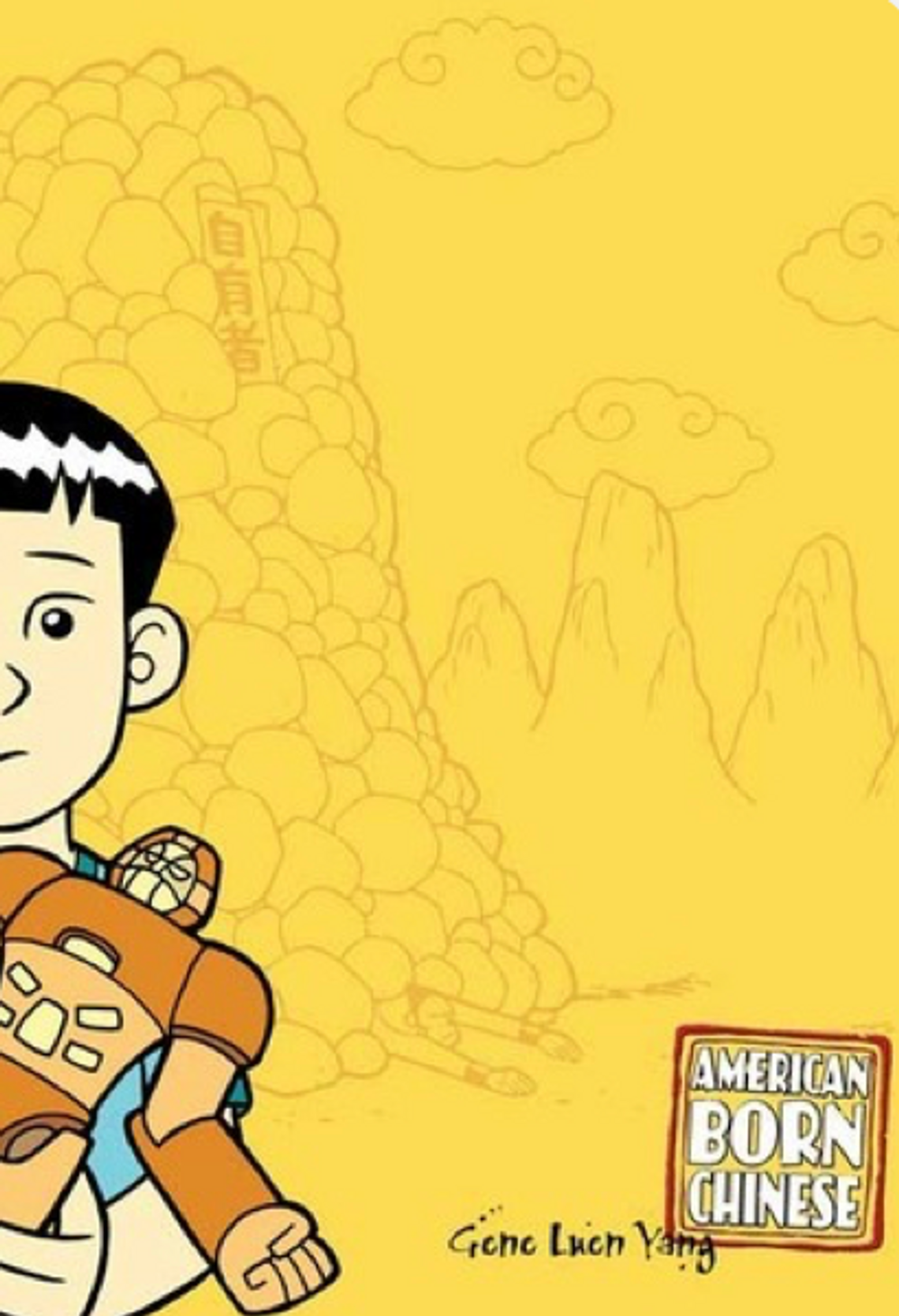 Goodreads
The TV adaptation of the watershed graphic novel American Born Chinese debuted on Disney+. Gene Luen Yang's 2006 coming-of-age tale, about an Asian American sophomore trying to fit into his majority-white high school, was a trailblazer — exploring themes of culture and identity within a story that weaves in Chinese folklore and fantasy. The novel "flips the script: rather than use superheroes for modern-day mythmaking, it infuses centuries-old myths," wrote Variety. The series struggles to cram everything into eight episodes, the reviewer said, but calls that a compliment. "In 2023, it's rare for a show to have more ideas than space."
If you enjoyed Flagship, please share it with your family, friends, and colleagues — it makes a big difference to our mission to cover the world with intelligence and insight.
To make sure Flagship hits your inbox every day, add flagship@semafor.com to your contacts. In Gmail, drag our newsletter to your "Primary" tab.
You can always reach us on that address, or by replying to this email. We'd love to hear from you!
Thanks for reading, and see you tomorrow.
— Tom, Prashant Rao, Preeti Jha, and Jeronimo Gonzalez.
Want more Semafor? Explore all our newsletters at semafor.com/newsletters

Sign up now to get Semafor in your inbox.
Semafor, Inc. 228 Park Ave S, PMB 59081, New York, NY, 10003-1502, USA