Principals

with Steve Clemons
| | | |
| --- | --- | --- |
|  Washington |  Taipei |  Palm Beach |
Ron Klain lasted longer as White House chief of staff than any Democrat to hold the job during the past 50 years. But he's finally bowing out, and is set to be replaced by former COVID Czar Jeff Zients.
It's a big switch: Klain, a notorious Twitter junky, was deeply involved in the Biden administration's legislative agenda and seen as a bridge to the party's left. Zients, who lives by the maxim "never Tweet," is viewed by many as a hyper-competent and business friendly manager, but his private-sector record is being eyed warily by some progressives. Morgan Chalfant, Kadia Goba and I have gathered some quick reactions to the changing of the guard, as well as One Good Text on it with Rep. Pramila Jayapal, D-Wash.
On Friday, Donald Trump urged Republicans not to cut a "single penny" from Social Security and Medicare during the debt limit talks. As our Jordan Weissmann writes, it looks like part of the former president's 2024 strategy, as he prepares to once again run as the only GOP candidate who won't slash entitlements.
And finally, our condolences go out to the families of those killed and injured in the tragic Monterey Park mass shooting at a Lunar New Year dance party. Police say they found the suspected gunman dead last night in a van after a manhunt that gripped the region.
Was this email forwarded to you? Sign up here!


☞ White House: Biden is expected to huddle with House Speaker Kevin McCarthy as soon as this week as part of a "series of meetings" with new congressional leaders. Will they chat about the debt ceiling? The president seemed to suggest so on Friday ("We're going to have a little discussion on that," he said). But later that evening the White House said there wouldn't be any negotiating. We'll see!
☞ Chuck Schumer: The majority leader's floor speech today will challenge House Republicans to name the budget cuts they want in return for a debt limit hike and pass them through regular order, so voters "can then judge" the plan for themselves.
☞ Mitch McConnell: The Senate Republican leader and his House counterpart were described by the Washington Post as "polar opposites" earlier this month. We'll soon start to see their working relationship play out in practice.
☞ Kevin McCarthy: "I will never leave that woman," McCarthy reportedly told a friend. "I will always take care of her." The woman? Marjorie Taylor Greene, according to The New York Times.
☞ Hakeem Jeffries: A member of his leadership team, Rep. Katherine Clark, D-Mass., is grappling with a family challenge after her daughter was arrested and charged with assaulting a police officer during a protest in Boston Common over the weekend. Meanwhile, the minority leader will prioritize completing committee assignments this week after announcing he and the speaker have agreed on ratios.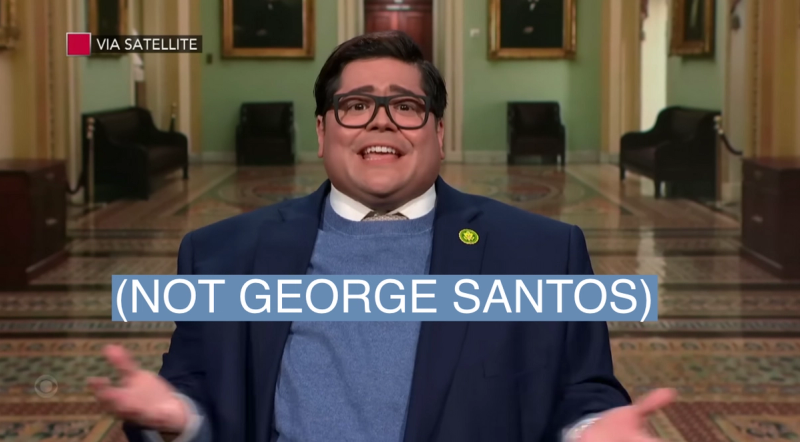 YouTube/Late Show With Stephen Colbert
The Justice Department turned up more classified items from Biden's vice presidential and Senate years at his Wilmington home. The White House has emphasized that the search was cooperative: Biden opened his house up voluntarily and there wasn't a search warrant. "There's no stonewalling here, there's no attacking here, it's been fully cooperative with the DOJ," White House spokesman Ian Sams said on MSNBC. While it's unclear precisely how much material was found on Friday — Biden's personal attorney Bob Bauer described it as "six items consisting of documents with classification markings and surrounding materials" — CBS News reported that between 25 and 30 classified documents have been found in Biden's home or office since November.
With Biden and McCarthy preparing to meet, some moderate lawmakers spent the weekend urging the White House to drop its official refusal to negotiate on the debt limit. "That's not leadership," Rep. Brian Fitzpatrick, R-Pa. said on Fox News. "You have to negotiate. That's what the American people elected us to do." Sen. Joe Manchin, D-W.Va. also encouraged the White House to hold talks, but said that Republicans' proposed cuts to Social Security and Medicare should be off the table.
House Republicans returning to Washington are bracing for a fresh round of questions about Rep. George Santos, R-N.Y. as McCarthy faces growing pressure to cut him off from the caucus. While members were gone, Santos faced more damaging headlines, including an allegation (which he denied) that he scammed a disabled veteran whose dog was dying. "In the short term he damages their reputation, in the long he will surely cost them seats," Peggy Noonan warned in a Wall Street Journal op-ed urging McCarthy to take action. Late night TV is also turning up the heat: "SNL" is back on air with Bowen Yang as Santos while "The Late Show With Stephen Colbert" brought Harvey Guillen on for the role (Note: Semafor called it).
Police identified the suspect in the shooting in Monterey Park, Calif. that killed 10 people over the weekend as 72-year-old Huu Can Tran and said he died as a result of a self-inflicted gunshot wound as law enforcement officers closed in on his van Sunday, the day after the shooting. Officials are still looking for a motive in the shooting, which took place at a dance studio in the predominantly Asian community during Lunar New Year celebrations.
— Morgan Chalfant, Benjy Sarlin and Jordan Weissmann
Punchbowl News: The Pentagon is in the "early stages" of preparing for a possible McCarthy trip to Taiwan sometime during the spring. A similar trip by then-Speaker Nancy Pelosi last year drove up tensions with China.
Playbook: RNC Chair Ronna McDaniel denied a report that she told members she's the best person to prevent Donald Trump from creating a third party if he doesn't win the 2024 nomination, calling it a "ridiculous assertion." She did tell Politico that she has discussed the idea of a new rule requiring any candidate who participates in debates sanctioned by the RNC to pledge support for the nominee.
The Early 202: Moderate House Republicans are worried that a border security bill offered by Rep. Chip Roy, R-Texas would radically constrain asylum claims, delaying plans to pass the legislation as early as this week.
Jeff Zients is the new White House chief of staff. Not everyone is thrilled.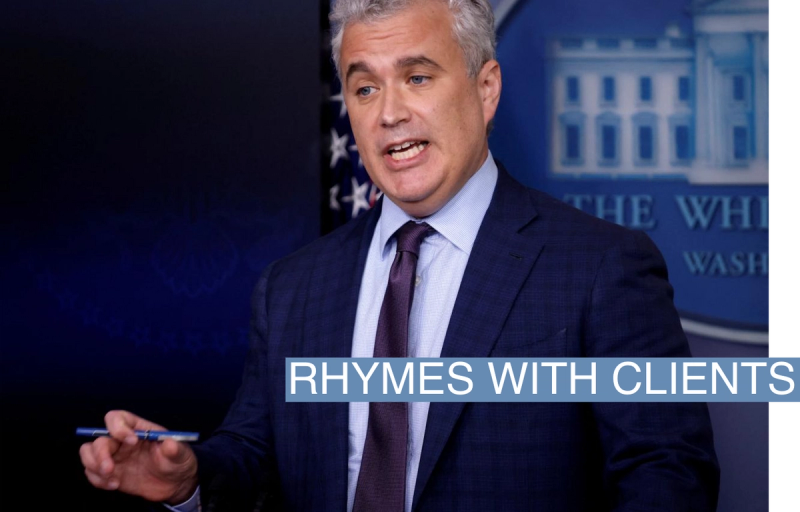 REUTERS/Tom Brenner/File Photo
THE NEWS
The Biden White House is about to go through its biggest staffing change yet in the coming weeks, as Jeff Zients takes over for Ron Klain as President Biden's chief of staff.
Zients served as Biden's first COVID-19 response coordinator and is a former management consultant. While his resume is different from Klain's — Zients has less government experience and is hardly a serial tweeter — his peers argue he's well suited for the role.
"Jeff is a terrific choice," Andy Slavitt, who worked alongside Zients on the COVID-19 response in 2021, told Semafor. "Trusted by everyone. Very high integrity. Pushes the ball down the field every day. Communicates well across the field. And always gets the team win."
MORGAN'S VIEW
Zients will enter the role at a difficult moment. The White House is staring down myriad Republican-led investigations in the House, as well as a high-stakes fight over the debt ceiling. He also inherits a special counsel investigation into Biden's handling of classified documents recently discovered in his former office in Washington and private home in Wilmington.
Klain's biggest legacy is the raft of landmark bills passed under Biden, which included trillions in new spending. With Republicans now in charge of the House, the next two years will be much more about implementing that legislation. That might be where Zients' experience comes most in handy: In addition to managing the COVID-19 response under Biden, Zients served in roles at the Office of Management and Budget and National Economic Council under President Obama and helped fix Healthcare.gov.
"Watching him run a project is like watching Lebron. He's so good," one White House official said of Zients' work.
THE VIEW FROM THE LEFT
Klain played a key role as liaison between Biden and progressives and some on the left are worried that his replacement will jeopardize the policy gains they made together.
They're especially livid at Zients' corporate experience, which includes a turn on Facebook's board of directors. The American Prospect, a progressive magazine, ran a story last year alleging that Zients made a lot of money by investing in healthcare companies that engaged in suspect practices.
Jeff Hauser, who runs the Revolving Door Project, warned in a statement that Biden is risking his legacy by tapping Zients as his next chief of staff and that the corporate behavior the administration should target "are the practices that have made Zients rich."
Progressives on Capitol Hill aren't turning a cold shoulder to Zients just yet, though.
"We've appreciated Jeff's collaboration on the COVID response and the American Rescue Plan, which included bold and progressive policies,"  Rep. Pramila Jaypal, D-Wash., chairwoman of the Congressional Progressive Caucus, told Semafor.  "We are hopeful that he will have the same understanding of the need to work closely with progressives, to engage and energize our base and to protect our wins in a divided Congress."
— Steve Clemons and Kadia Goba contributed
Trump prepares to bash his opponents over Medicare and Social Security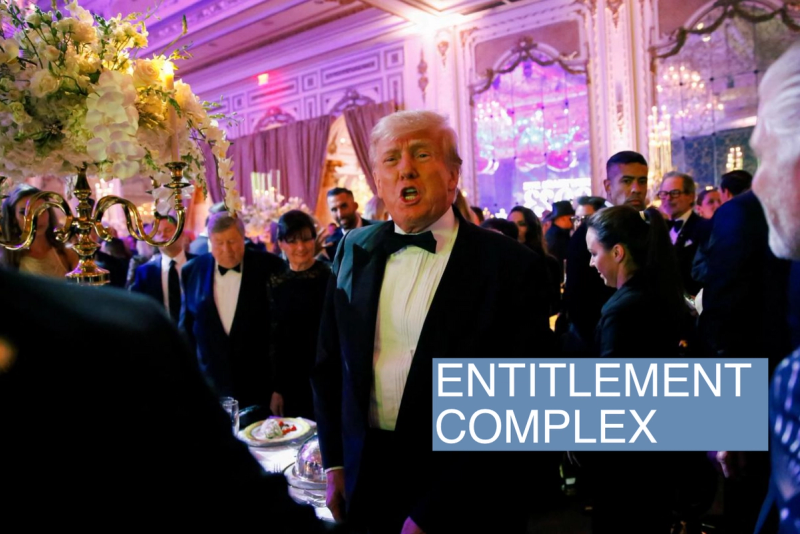 REUTERS/Marco Bello
How does Donald Trump plan to win the Republican nomination in 2024? Much the same way he won it in 2016, it seems.
Back then, Trump upended decades of Republican orthodoxy by promising not to touch entitlement spending for seniors. "Every single other candidate is going to cut the hell out of your Social Security," he said at the time. "The only one that's not going to cut is me." It turned out to be a canny move in a race dominated by older voters.
This time, he's kicking off his campaign much the same way. On Friday, he barreled back into the debate over the debt ceiling, warning Republicans in a video message not to "vote to cut a single penny from Medicare or Social Security." Far from a dashed-off Truth Social post, it was probably the most carefully produced announcement of the campaign so far.
While ostensibly about the debt ceiling, the subtext aimed at his presidential rivals. Rolling Stone detailed how Trump and his team plan to dispatch his top rival, Florida Gov. Ron DeSantis in part by savaging him for old votes to slash Medicare and Social Security. "This is where…Trump kicks him in the nuts," a source told the magazine.
During his stint as a Tea Party congressman during the Obama administration, DeSantis backed a trio of budget resolutions written by the arch-conservative Republican Study Commission that would have raised the Medicare age to 70, turned it into a voucher program, and slowed Social Security cost of living increases while pushing back the line for full retirement. Both his Republican and Democratic opponents for governor used those votes as attack fodder, to little avail. But Trump sees it as one of his best openings. "In a Republican primary, only Donald Trump could effectively go after Ron DeSantis for wanting to cut Social Security," a source told Rolling Stone.
Trump has occasionally waffled on entitlements, expressing some openness to paring back Medicare and Social Security in 2020, for instance. ("At the right time, we will take a look at that," he said while at that year's Davos). But unlike his broken promise not to target Medicaid, his administration never made a serious attempt to slash Medicare or retirement benefits for the elderly.
Even before Trump, entitlements have been a potent weapon in GOP primaries. Mitt Romney used Rick Perry's harsh words against Social Security to help knock down a similar challenge from a hard right governor in 2012. Perry had called the program an "illegal Ponzi scheme" in his book Fed Up. His reported ghostwriter? Then-advisor and now-Congressman Chip Roy, one of the conservatives leading the current debt ceiling charge.
It's unclear how much difference Trump's words will make to the fight in Congress; a handful of hardline conservatives have expressed eagerness to demand entitlement cuts in return for a hike, but other Republicans have played it down. There's no missing how Trump is winding up his foot for 2024, however.
— Jordan Weissmann
Sanctions and export controls imposed on Russia by the U.S. and its allies have "greatly hampered" Moscow's capabilities, but nations like China have still stepped in to fill the void with technology exports to Russia, according to a new report out today from the think tank Silverado Policy Accelerator.
Russian imports from China, Belarus, Turkey, Kazakhstan, Kyrgyzstan, Armenia, and Uzbekistan increased "well above prewar levels," according to the report. China and Hong Kong have helped fill the gap in semiconductors, which are used in a wide array of technologies, including military equipment.
One enduring challenge for Russia: vehicle parts. According to the report, it's been difficult for Moscow to find substitutes for some car parts and it is taking longer for the country to rebuild its supply chain as a result.
— Morgan Chalfant
Stories that are being largely ignored by either left-leaning or right-leaning outlets, according to data from our partners at Ground News.
WHAT THE LEFT ISN'T READING: A badly bruised Fox News weatherman said a group of teenagers beat him up on the New York subway as he was coming home from a bar.
WHAT THE RIGHT ISN'T READING: Biden made a surprise cameo on SNL via a video he sent to actress and fellow Delawarean Aubrey Plaza.
If you're liking Semafor Principals, consider sharing with your family, friends and colleagues. It will make their day.
To make sure this newsletter reaches your inbox, add principals@semafor.com to your contacts. If you use Gmail, drag this newsletter over to your 'Primary' tab. You can also reply with a hello. And please send any feedback our way, we want to hear from you.
Thanks for getting up early with us. For more Semafor, explore all of our newsletters.
— Steve Clemons