The News
Climate activists defacing famous artworks by Gustav Klimt, Claude Monet, Andy Warhol, and others have captured the public's attention. But artists themselves are playing an increasingly important role in the transition to a green economy.
Take Manda Kalimian, a New York-based environmental activist who believes wild horses are critical to preserving and rebuilding natural habitats in the American West — habitats that are key to combating climate change. She's teamed up with a filmmaker, a composer, a sculptor, a hip-hop artist, and an art gallery for this year's Art Basel Week in Miami Beach, which begins today in one of America's cities most threatened by climate change.
Their exhibit takes visitors on a journey starting with the planet drying up and ends with the option to support a letter to U.S. President Joe Biden, asking him to preserve wild horses and restore land to its natural state.
The increasing availability of climate data has provided fodder for creativity. Scientist Ed Hawkins' "Warming Stripes" graphic, which shows blue and red vertical lines that reflect rising temperatures over time, has become an inspiration for art and fashion.
Extreme events from flooding to droughts have also linked people across the globe. This past summer a group of artists and writers from 28 countries formed the World Weather Network to share images and stories about the weather patterns they are seeing in their local communities. Participants are located in Iraq, Nigeria, Spain, Bangladesh, and Japan.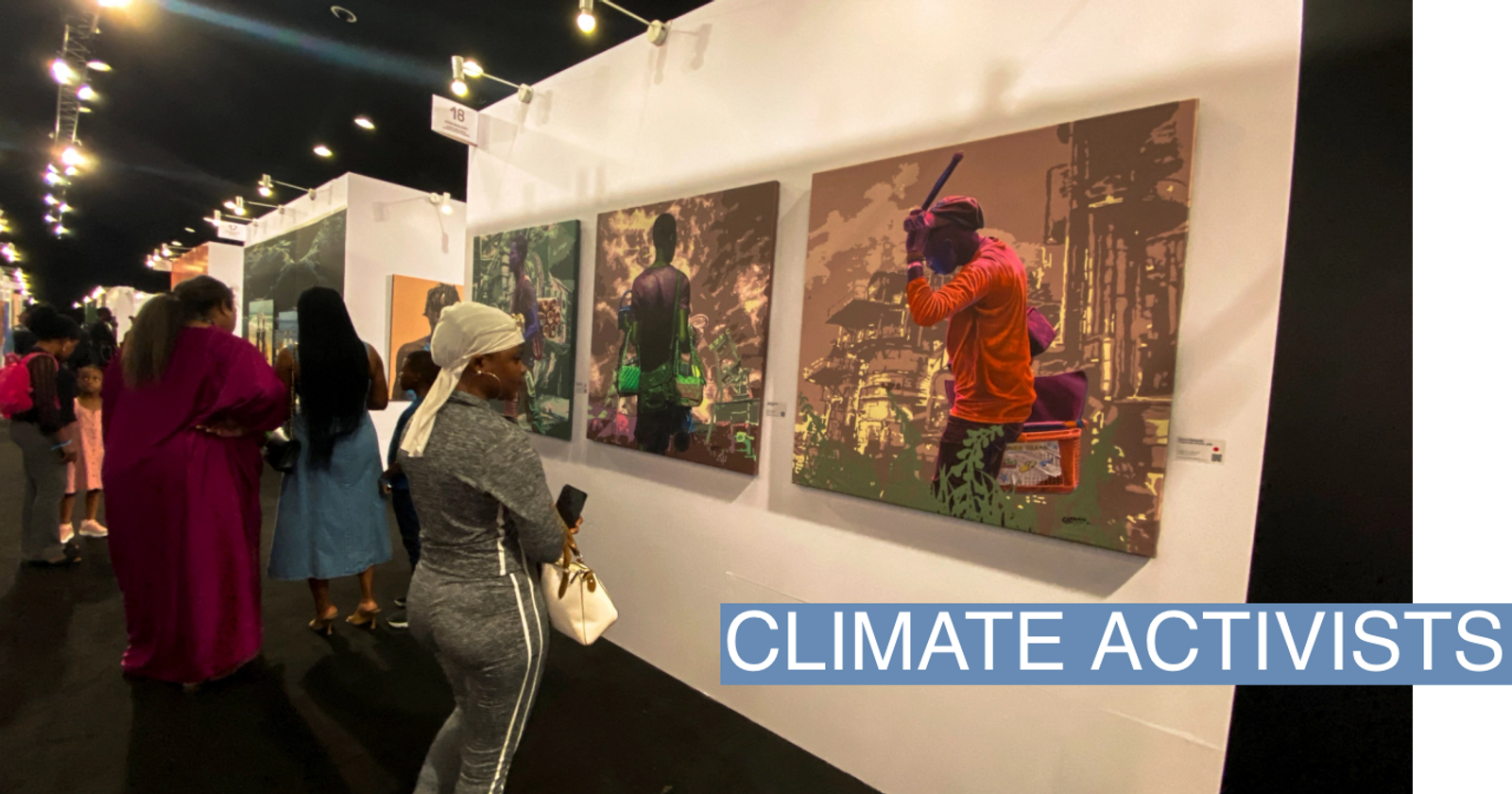 Bill's view
The transition to a green economy is really three interlinked transitions.
First, there's a tech-transition with scientists at the forefront, inventing and improving new technologies and ways to move away from fossil fuels, or to remove the greenhouse gasses associated with burning them. Technical challenges still abound, but this transition is actually going quite well, with new forms of clean energy coming into use rapidly with sharply lower costs.
Then there's the social and political transition, the nettlesome morass we're mired in at the moment, holding back a rapid acceleration that's both increasingly plausible and desperately needed. The challenges of this aspect of the transition are clear, from the waffling of U.S. Sen. Joe Manchin to wrangling between petro-states and soon-to-be-inundated small islands.
Vested interests resist change they don't like. Local communities seek to impose the unpleasant parts of transition — such as the necessity for many new power lines or mine lithium for batteries — on other communities. Fights over who will pay and who will benefit hamstring progress.
How can these logjams be broken so that changes can proceed far faster? That's where artists come in for the third transition. Artists are storytellers and tap into  anxieties and human fears that hold back progress. Artists can raise awareness of climate change, but more than that they can help provide the purpose and courage necessary to change.
"They help us find our inner truth," says Kalimian. "Because when something resonates visually with us, or any art really, whether it's visual art, whether it's an audible art, whether it's feeling a piece of artwork in any capacity, that is the future."
It's what science fiction novelist Kim Stanley Robinson does in books like New York 2140, which conjures up a future world in which the largest city in the U.S. is mostly flooded by higher sea levels. And yet life goes on in surprising ways, some of which we may want to embrace and others work to prevent.

Room for Disagreement
Some theorists, such as leading energy transition thinker, Vaclav Smil, believe transformations of something so comprehensive as energy use basically cannot be rushed.
Smil points to the centuries it took for similar social and political transformations, such as the shift to agriculture or even the industrial revolution, to fully make the change. He and others say that despite decades of growth in renewables and a surge in energy use globally, the 80% share that fossil fuels occupy in our energy consumption hasn't budged at all.
"He makes a totally undeniable case that we're never going to completely get rid of fossil fuels," says Robert Litan, an economist who recently argued for the use of "geo-engineering" in Foreign Affairs, altering the atmosphere by injecting chemicals to reflect sunlight and delay the process of global warming.
That might buy the time, he thinks, for a transition that will take decades longer than would have to happen to alter the current trajectory of global warming.

The View From Turtle Bay, Queens
Two months ago, environmental artist Sarah Cameron Sunde stood completely still in an estuary of New York City's East River as the tide rose around her, clad in a red dress, for a full 12 hours. Hundreds of people joined her in the water for parts of the half-day "performance."
It was the ninth time in more than three years Sunde has undertaken her vigil — which she dubbed '36.5 / A Durational Performance with the Sea' — standing through a full tidal cycle in coastal areas of Maine, Mexico, San Francisco, the Netherlands, Bangladesh, Brazil, Kenya, and New Zealand. Overall, tens of thousands of people have participated or watched, as she worked with local communities, artists and environmental groups in each location.
The aim of the project, which she conceived in the aftermath of a hurricane that devastated New York and New Jersey in 2012, was less to raise awareness of climate change than to carve out a space and time for people to contemplate what it means.
"What I'm trying to do is create an experience for people to shift internally, shift their thinking," Sunde says. "Through story and through art, you are being put through an experience, or allowing yourself to enter an experience that can surprise you."

Notable
Google Arts & Culture has an online exhibit of Art Works for Change, which shows and explains 13 works by artists and architects considering the consequences of climate change and how to develop resilience to it.
The New York Times looks at how climate art has moved beyond protest to delve into how society should respond to the crisis.