The News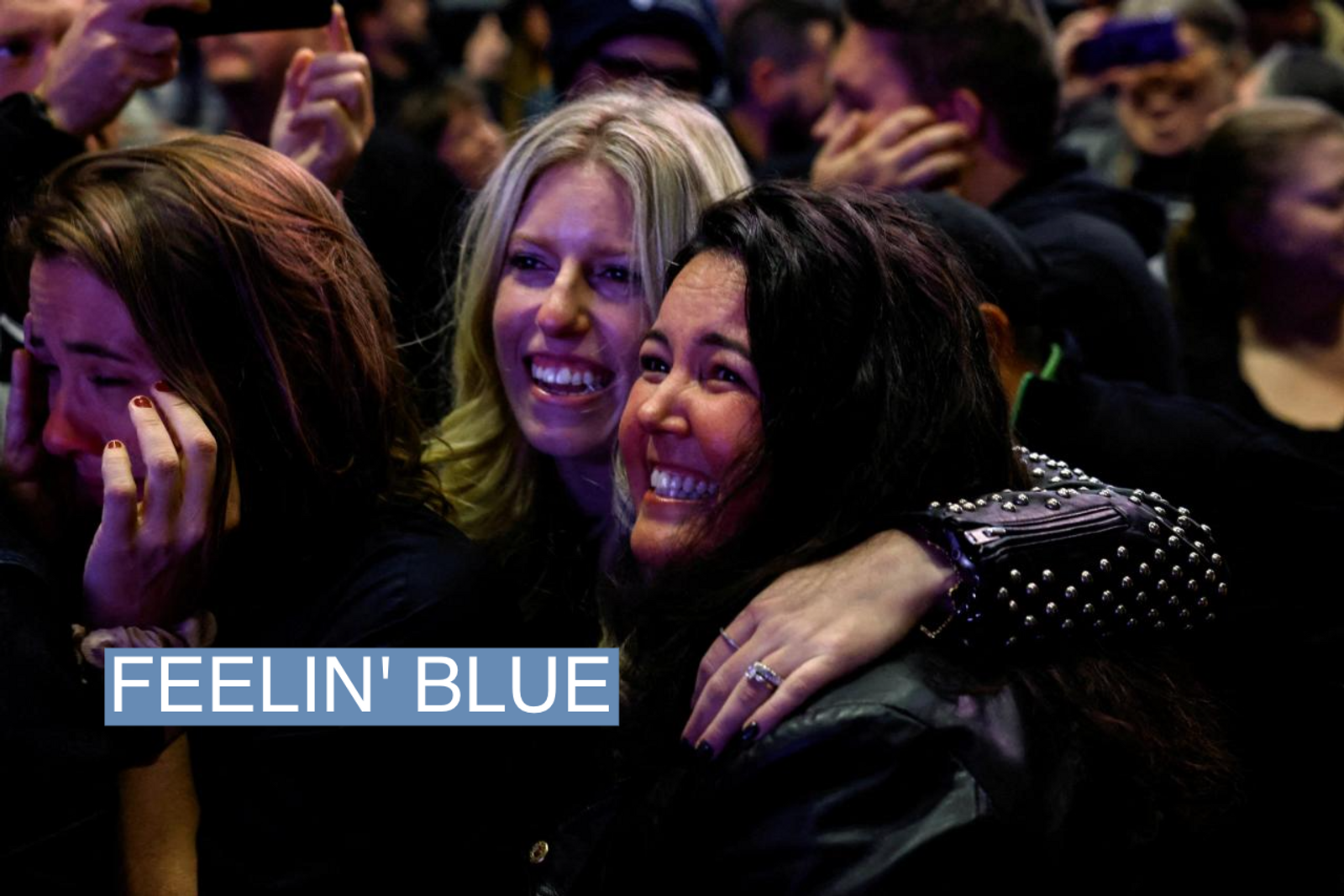 How did Election Night turn out so much worse than Republicans expected? How did they go into the night talking about a 54-seat Senate majority and the biggest House GOP caucus since the 1920s, and end up with, at best, a stalemate? And where did they buck the trend? Let's review the tape, county by county, with illustrations courtesy of Lauren Kolesinskas.
Rockingham County, New Hampshire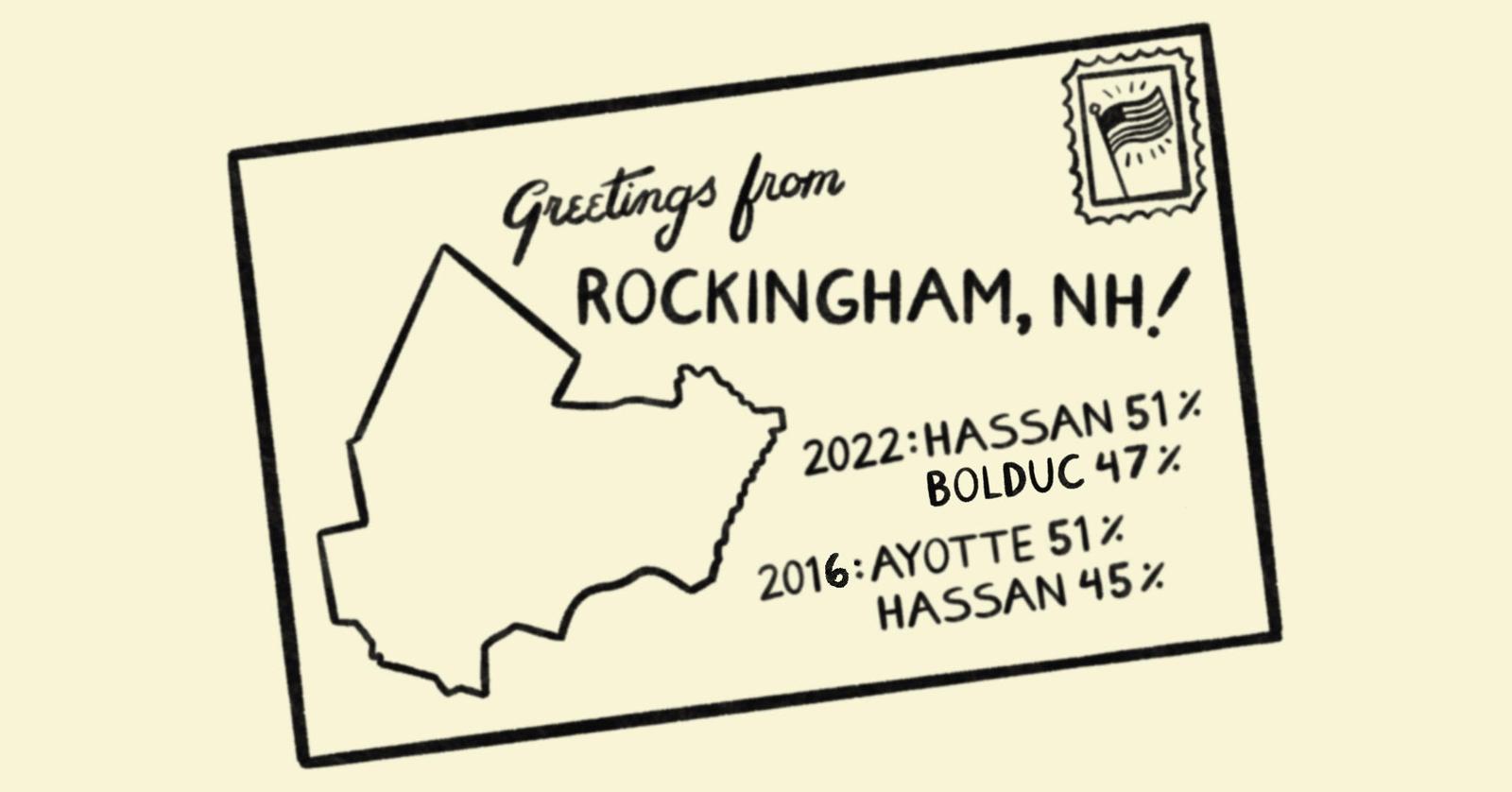 2022: Maggie Hassan 51% (D), Don Bolduc 47% (R)
2016: Kelly Ayotte 51% (R), Maggie Hassan 45% (D)
New Hampshire could have been the GOP's knockout state. When Florida Sen. Rick Scott talked about winning 53 or 54 Senate seats, he was thinking of New Hampshire first — where some late polls found a surprise surge against Maggie Hassan, a first-term Democratic senator who'd rarely polled above 50 percent.
There were plenty of Republican towns on the Massachusetts border that would never vote for Hassan and they still didn't — but they were cool on Trumpy GOP nominee Don Bolduc. Hassan won five towns that she'd lost in her 2016 race against Sen. Kelly Ayotte and gained ground in 34 of the county's 37 towns and cities overall. She grew her margins in the most progressive-friendly places, like Portsmouth, which backed her by 32 points in 2016 and 47 points on Tuesday.
And that pattern repeated across the northeast, even in races where Republicans improved on previous nominees. Hoping for a few House breakthroughs, they went winless. Republican Gov. Chris Sununu, who had endorsed Bolduc's main primary opponent and won reelection easily on Tuesday, told CNN that the electorate's message was "fix policy later, fix crazy now" — i.e., that it was willing to reject far-right candidates even if it was annoyed with Democrats.
Loudoun County, Virginia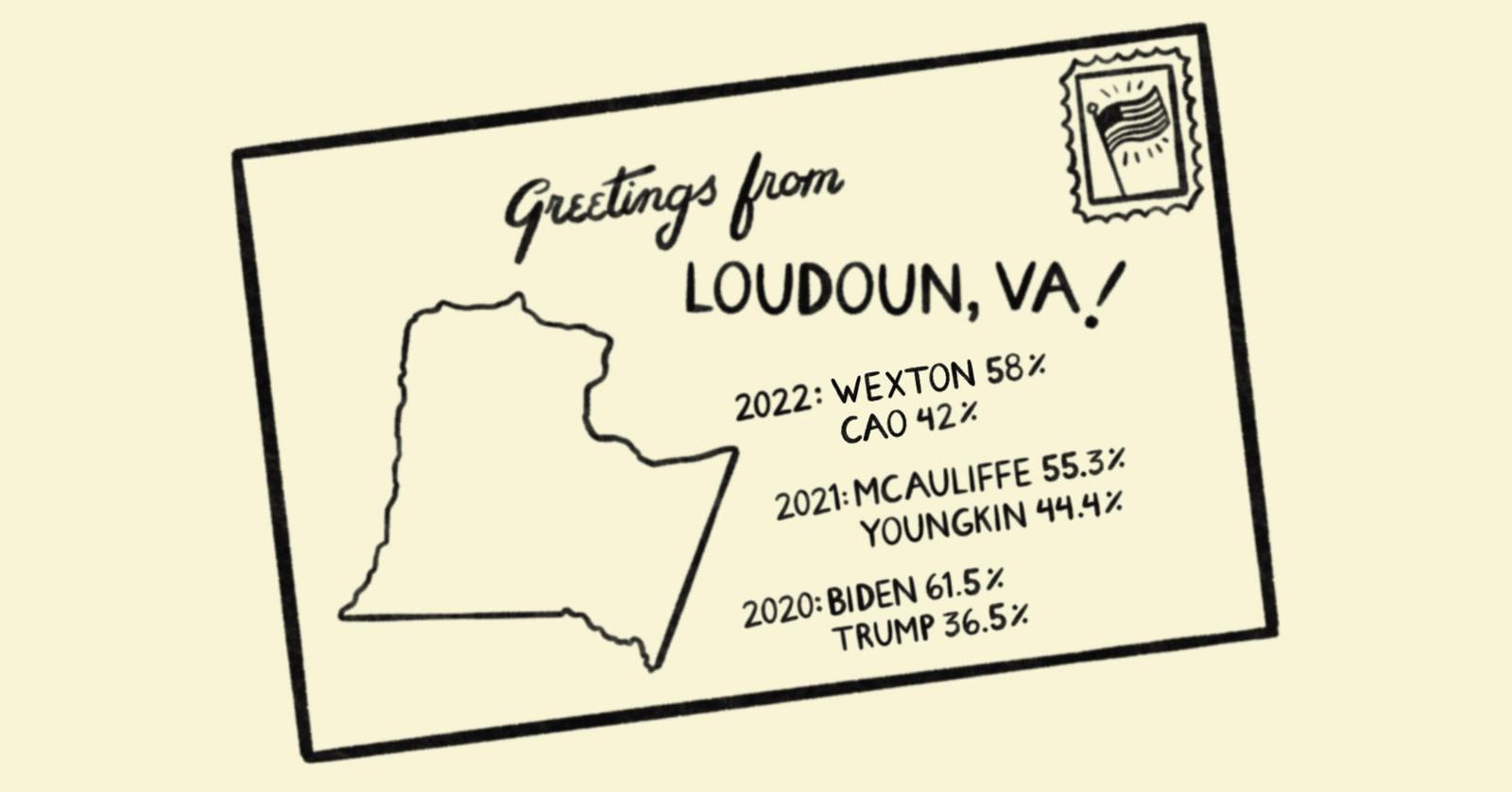 2022: Jennifer Wexton 58% (D), Hung Cao 42% (R)
2021: Terry McAuliffe 55% (D), Glenn Youngkin 44% (R)
2020: Joe Biden 62% (D), Donald Trump 37% (R)
Virginia's fast-growing exurbs were safely Republican until 2008, then competitive, then solidly Democratic. In last year's successful statewide campaigns, Virginia Republicans pounded away at the Democratic margins in racially diverse, wealthy suburbs, winning voters who were nervous about lower public school test scores and cranky from the pandemic. House GOP Leader Kevin McCarthy pointed out that the same red shift, if it happened across the country, would give his party 60 House seats.
It would have, but the electorate in these sorts of places snapped back. Democratic Rep. Jennifer Wexton was at the edge of the GOP's target list, representing a seat Biden had carried by 19 points. She underperformed him by 13 points, but had enough of a cushion to hold on against Republican Hung Cao.
Erie County, Pennsylvania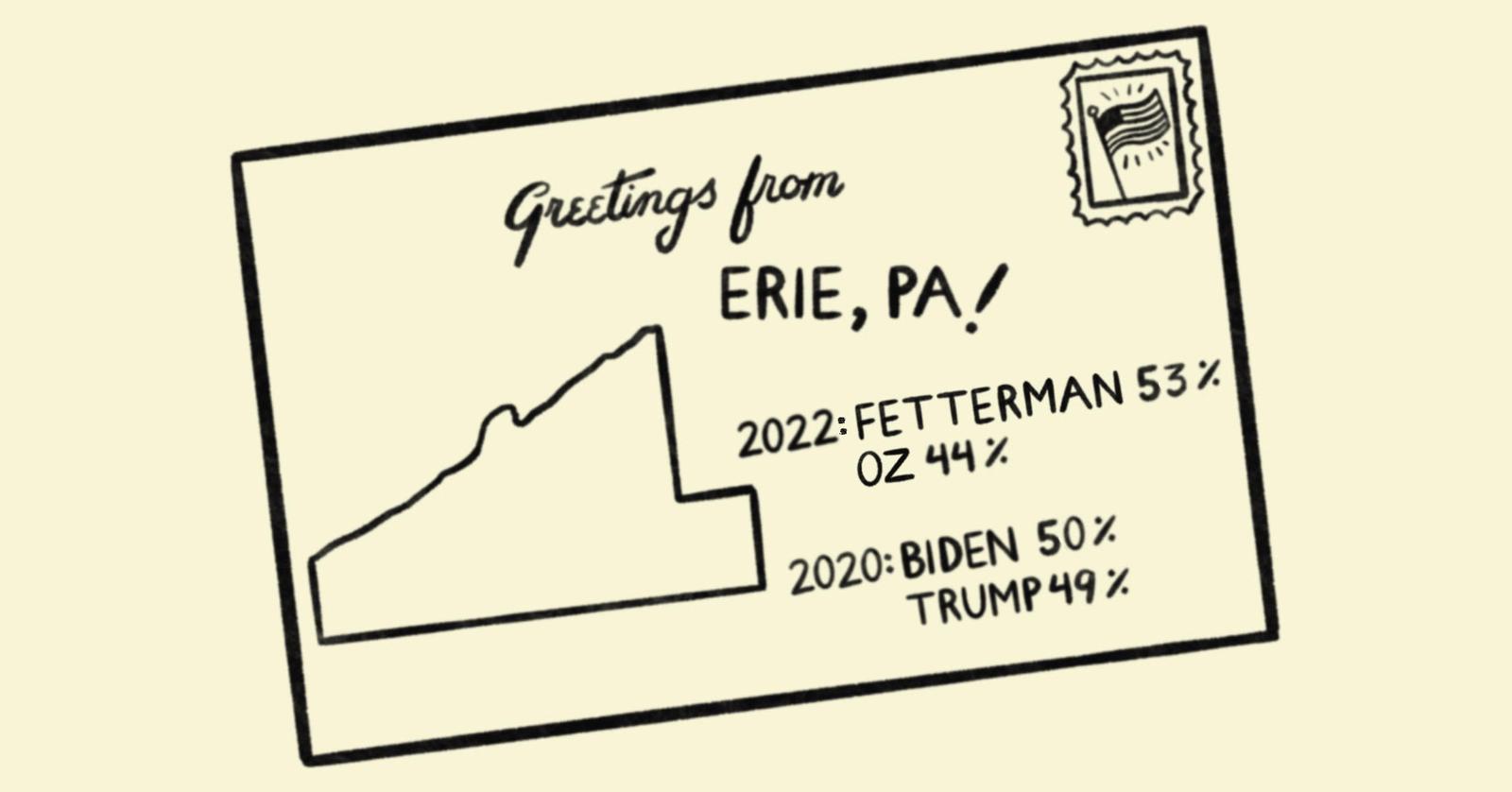 2022: John Fetterman 53% (D), Mehmet Oz 44% (R)
2020: Joe Biden 50% (D), Donald Trump 49% (R)
The Fetterman campaign's slogan was "every county, every vote," with a goal of winning back some Pennsylvanians who'd drifted toward the GOP. And it worked, with an assist from a Republican nominee who'd parachuted into the Philadelphia suburbs from New Jersey to run.
In that part of the state, Oz did about as well as Donald Trump had in 2020. But he did worse in rural Pennsylvania, and in the places that had trended right during Barack Obama's presidency. Fetterman ran ahead of Biden's numbers across the state, holding Oz under 60 percent of the vote in places where Trump had cleared that number. Erie County, where the eponymous city is heavily Democratic, but most townships voted for Trump, gave him a 10,000 vote victory, up from Biden's 1,500-vote upset two years ago.
Palm Beach County, Florida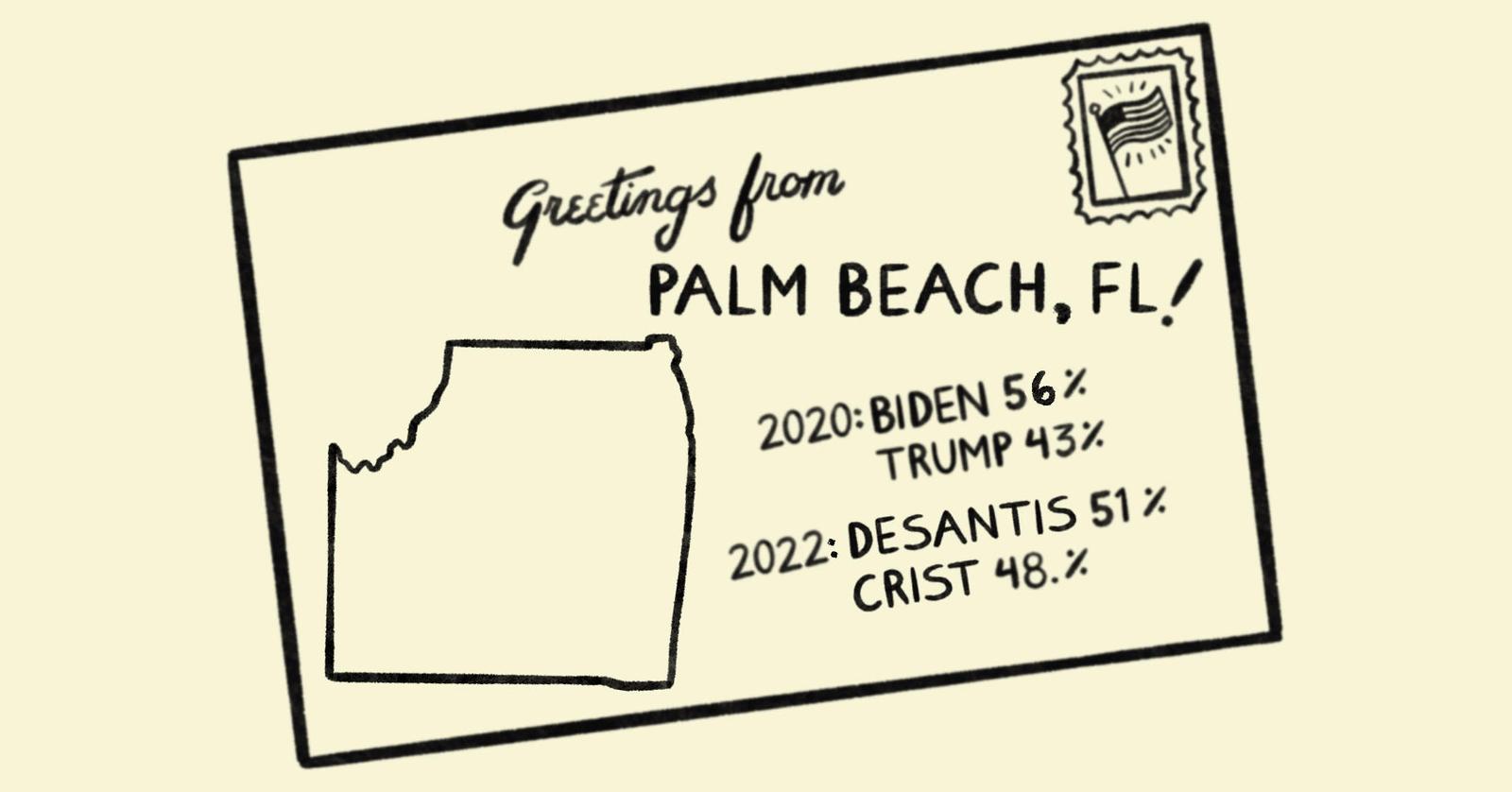 2022: Ron DeSantis 51% (R), Crist 48% (D)
2020: Joe Biden 56% (D), Donald Trump 43% (R)
The red wave was real, if only in a few parts of the country — Florida, New York, and Iowa. No incumbent Republican gained more ground for his party than Ron DeSantis, most dramatically here, where traditional Democratic strength completely melted away. Not even Jeb Bush, in his two double-digit gubernatorial victories, could carry Palm Beach County.
DeSantis made some inroads, but the flip depended on a Democratic turnout collapse. Charlie Crist won just over 262,000 votes here, nearly 80,000 less than Andrew Gillum had when he nearly defeated DeSantis in 2018. The governor improved here by 37,000 votes. Tens of thousands of 2018 voters simply didn't show up for Crist. It was a fatal combination for his adopted party — less enthusiasm in the base while Republicans converted tens of thousands of Latino voters into DeSantis supporters.
Cameron County, Texas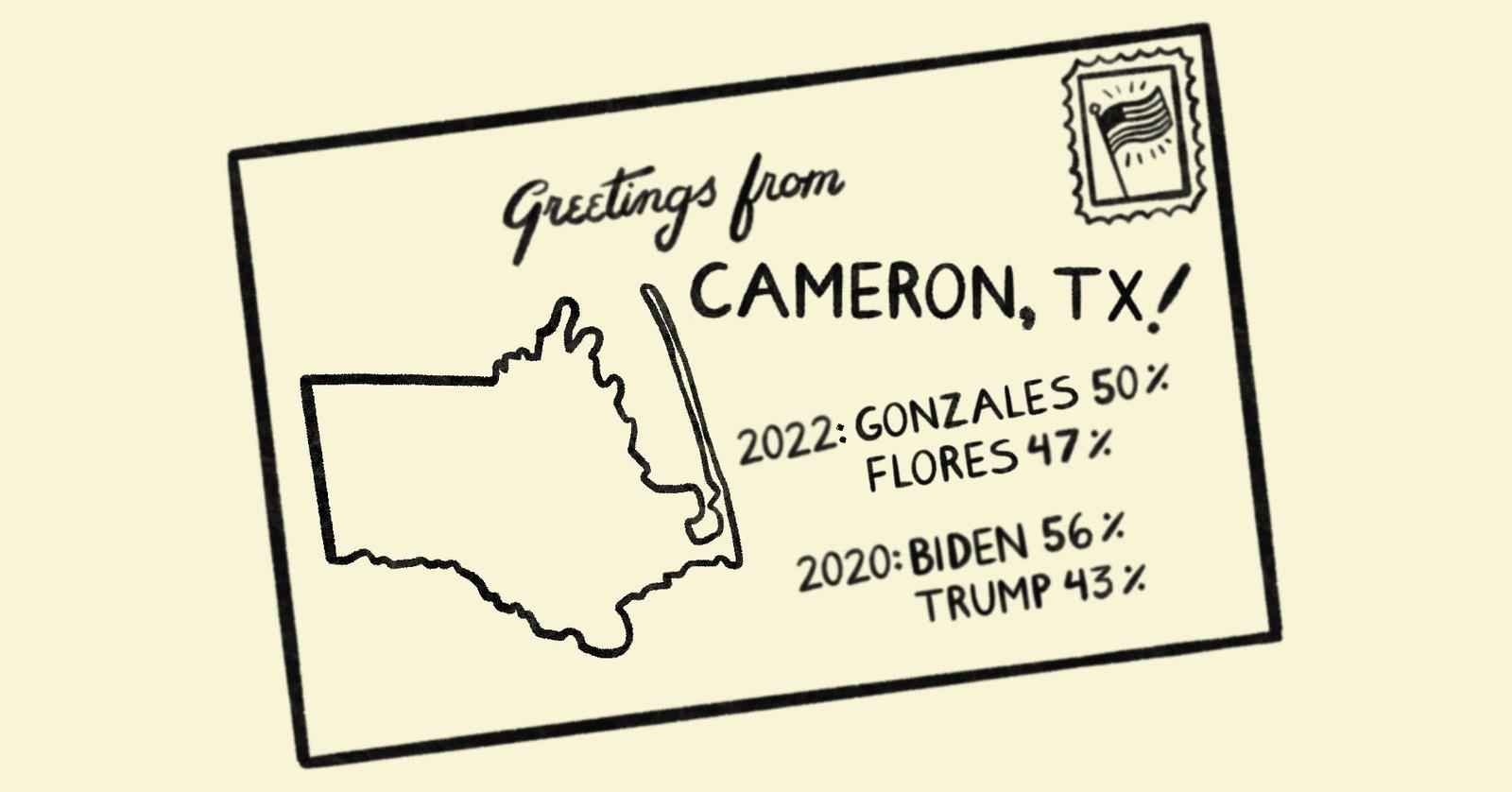 2022: Vicente Gonzales 50% (D), Mayra Flores 47% (R)
2020: Joe Biden 56% (D), Donald Trump 43% (R)
Republicans wanted to flip three heavily Latino House seats in the Rio Grande Valley, building on their gains from 2020. They spent more than $1.8 million to help Rep. Mayra Flores win the new 34th district, which was drawn to elect a Democrat. And Democrats spent millions more to bail out her opponent, Rep. Vicente Gonzalez, who'd never before had a Republican opponent who could fund a serious campaign. Flores won a June special election in a more competitive version of the seat.
Republicans did gain ground, but not enough, shrinking the Democratic margins in the region by only a few points. Gonzalez ran behind the Democratic ticket — in the other target seat that Republicans lost, Rep. Henry Cuellar won by 13 points, nearly doubling Joe Biden's win margin two years ago.
Wayne County, Michigan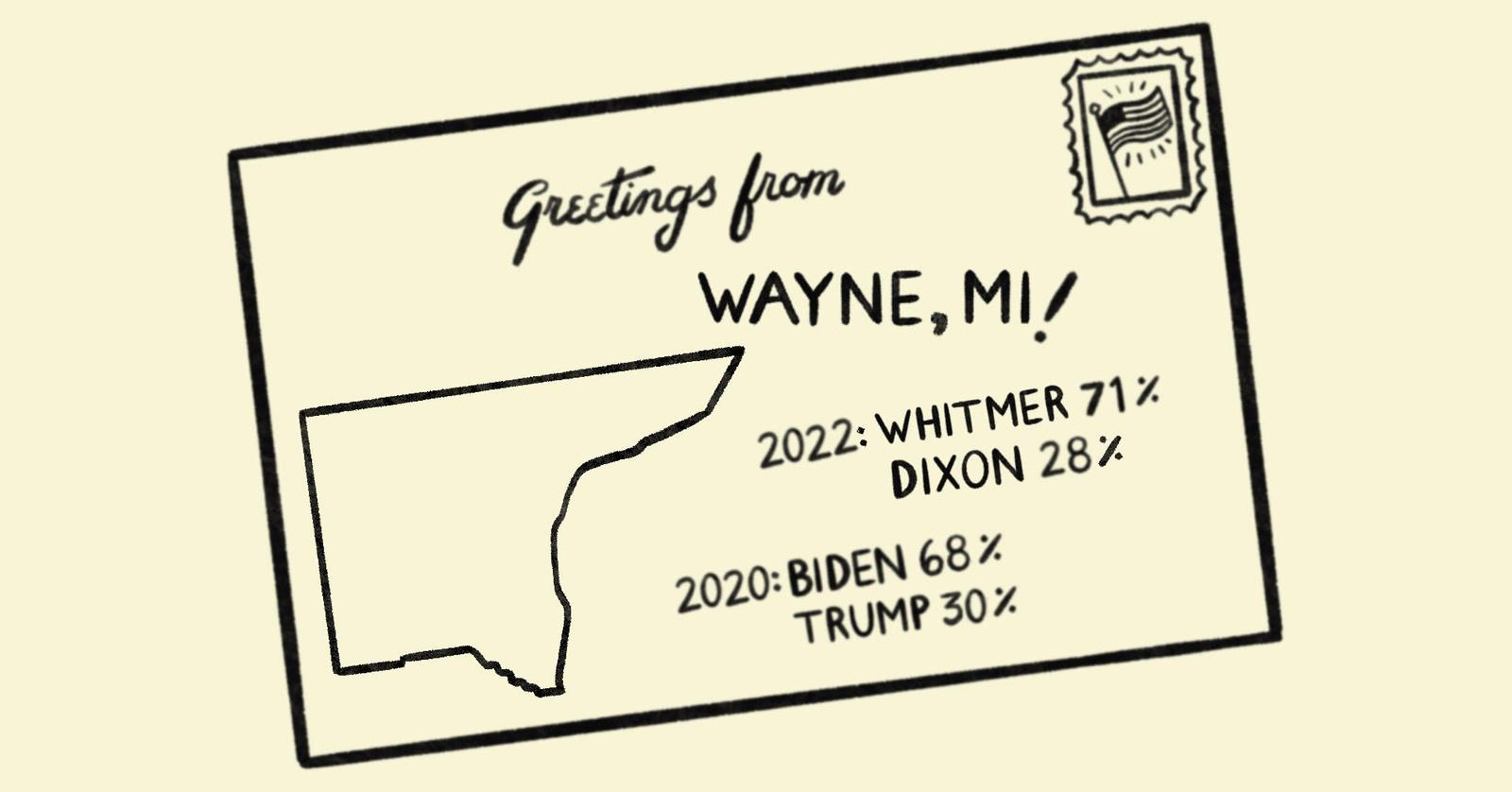 2022: Gretchen Whitmer 71% (D), Tudor Dixon 28% (R)
2020: Joe Biden 68% (D), Donald Trump 30% (R)
Michigan Republicans trailed in polls all year, but saw how a red wave could come together. They needed to ramp up conservative turnout in rural areas that were trending right. They needed Democrats in Detroit, still the party's biggest Michigan stronghold, to stay home. And it wouldn't hurt if voters in Dearborn, where half the electorate is Arab-American, soured on the party that wanted to keep LGBT materials in schools. The GOP ticket embraced protests at the city's school board, and campaigned with an angry dad who'd quit the Democratic Party.
Conservatives did show up, and Dixon got more votes than any previous Republican candidate for governor. But there was no breakthrough in those Democratic parts of Wayne County. Democrats won 2-1 in Dearborn, and while turnout declined slightly in Detroit — from more than 180,000 Whitmer votes in 2018 to less than 163,000 this year — Democrats made up for it with improved numbers in other parts of the county.

David's view
I was watching other key counties on Tuesday, and a few of them won't be finished tabulating ballots until, at the earliest, this weekend. But you can see what happened already. Outside of a handful of states where the GOP strategy clicked into place – Florida, Iowa, New York — the party simply misread the electorate, running to the right on the premise that it was safe to do so in a "red tsunami" scenario.

Room for Disagreement
NRCC chair Tom Emmer told the Washington Post that Republicans "should be extremely happy" because they won a House majority and that was their goal (NOTE: It's not actually clear yet they won a majority). As for concerns about underperforming MAGA candidates: "Donald Trump was a great ally of ours. He helped us with our fundraising, he helped with different candidates and we won a majority."