The News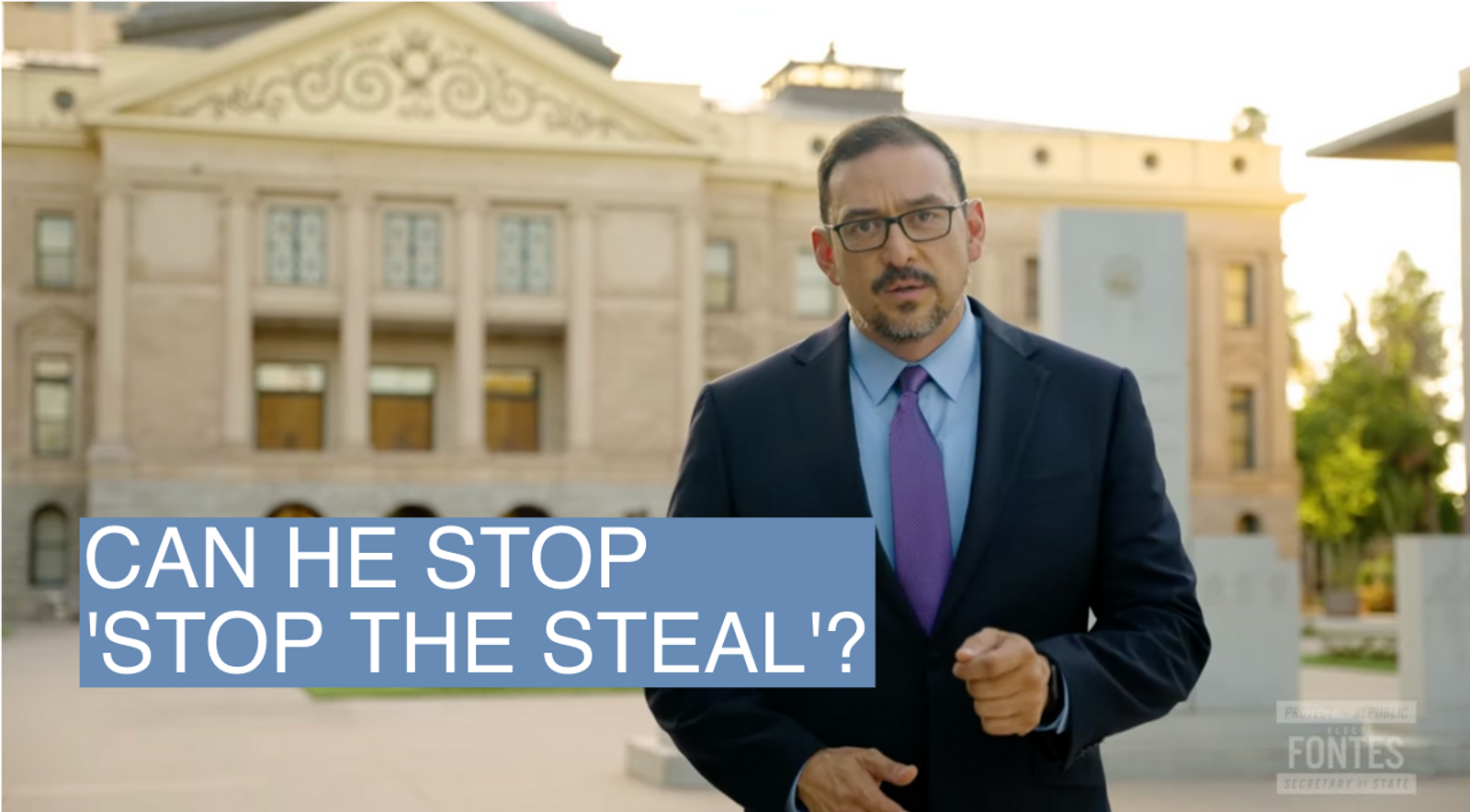 PHOENIX – There's a multi-state effort to elect MAGA candidates as Secretaries of State, putting Republicans who insist that the 2020 election was stolen into the offices with power to set the next election's rules.
In Arizona, where Democratic Secretary of State Katie Hobbs is running for governor, former Maricopa County Recorder Adrian Fontes is running to replace her; Mark Finchem, a conspiracy theorist who does not talk to mainstream media outlets, is the GOP nominee. Fontes sat down with Americana last week for one of the blunter conversations we've had so far, explaining why he was annoyed with the media attention paid to election conspiracy theories and what kind of havoc Finchem could wreak if he were to win.
AMERICANA: I've been following the Republican statewide candidates this week, and it's striking that Finchem isn't at their events. Are you expecting that to change, or for him to get some last minute help?
FONTES: Every Republican I've talked to has said something unkind about him. It's not because they like me better. They just don't like him. I never wanted to run the "I'm not that guy" campaign, but it turns out that's working pretty well.
AMERICANA: So how much of your campaign is just telling people to keep looking down their ballots and separate him from the rest of the GOP?
FONTES: The more well-known I get, the more people like me in the horse race between the two of us, because they know I'm qualified. They know I've got the background for this. They know I'll be one of the few people ever to step into this that has ever done election work in the first place. When we started, only one in five voters had any idea who either one of us were, and a bunch of them were like: Yeah, I've heard his name, but I don't know who he is.
AMERICANA: How popular are his views with voters?
FONTES: I truly believe that about 35 percent to 37 percent of the Republican base voters would vote for him no matter what. That's the MAGA core. I think the rest of the Republicans would say, forget this, we're going with Fontes. That's if they hear enough about the race.
AMERICANA: What worries you about Election Day?
FONTES: I'm worried you guys will do the same thing that you always do. You'll look at the horse races and you'll want a result. The media cooperates with them by not calling them out… it's the same thing that happened with Donald Trump in 2016.
AMERICANA: What would you expect him to do if he won?
FONTES: Number one, I believe he will not certify election officials. He'll try to invoke some emergency power to appoint Donald Trump's sycophants. Number two, I don't think he'll certify tabulation equipment, which means that by default, we have to go to an automatic hand count. There'll be all this litigation, and who knows what the result is going to be. It's going to be the courts that end up running our elections. It's going to be a gigantic clusterfuck. Number three, he may eviscerate the election procedures manual. He'll probably try to get the company that he is a partner in to print all of Arizona's ballots on because this is just a grift for him.
AMERICANA: One criticism from Finchem and others is that the count takes too long. So why does it take that long? Why do Democrats say we might not know the winner on Tuesday?
FONTES: We won't know for several days how many actual ballots are going to be left. The reason we don't know is that we need to find how many came in, how many have valid signatures, how many of them are going to be able to be cured if they don't have valid signatures? If they need to be cured, can we contact that voter? Did they take off on a trip? So we can't tell exactly what the total number is going to look like on Tuesday.
I can tell you right now, there's a high likelihood that the Democrats are going to look like we swept, like it looked like on election day in 2020. Slowly, but surely, as the days creep on, we're going to see some of those candidates lose. But I'm not really that concerned with anybody jumping in and mucking up the system, because the system is relatively sequestered.
AMERICANA: Still, why can't Arizona just count with the speed of Florida? There are some close races from time to time, but not a count that goes into the following week.
FONTES: But that's evidence that the system works well, not that the system works poorly. If you and 400,000 of your friends show up on election day, and you put your ballots in, the amount of time that it takes to process all of those ballots should be evidence that there is a process for analyzing every single one of them. That's why it takes time. Instead of these knuckleheads saying, "Oh, well, it takes too long, it's corrupt," they should be saying, "Oh, wow, look at how thorough these people are being."
AMERICANA: What's your own strategy if, as seems possible, it's a close race, you've won, and Finchem says it's stolen, and there's another wave of protests?
FONTES: I'm going to be planning my transition into office, okay? I'm not going to pay any attention to them, because what they're saying is meaningless. I could go out there and curse and scream and dance half naked in the street about how much they're lying. That would bring a lot of attention. But what good would it do for anybody?