The News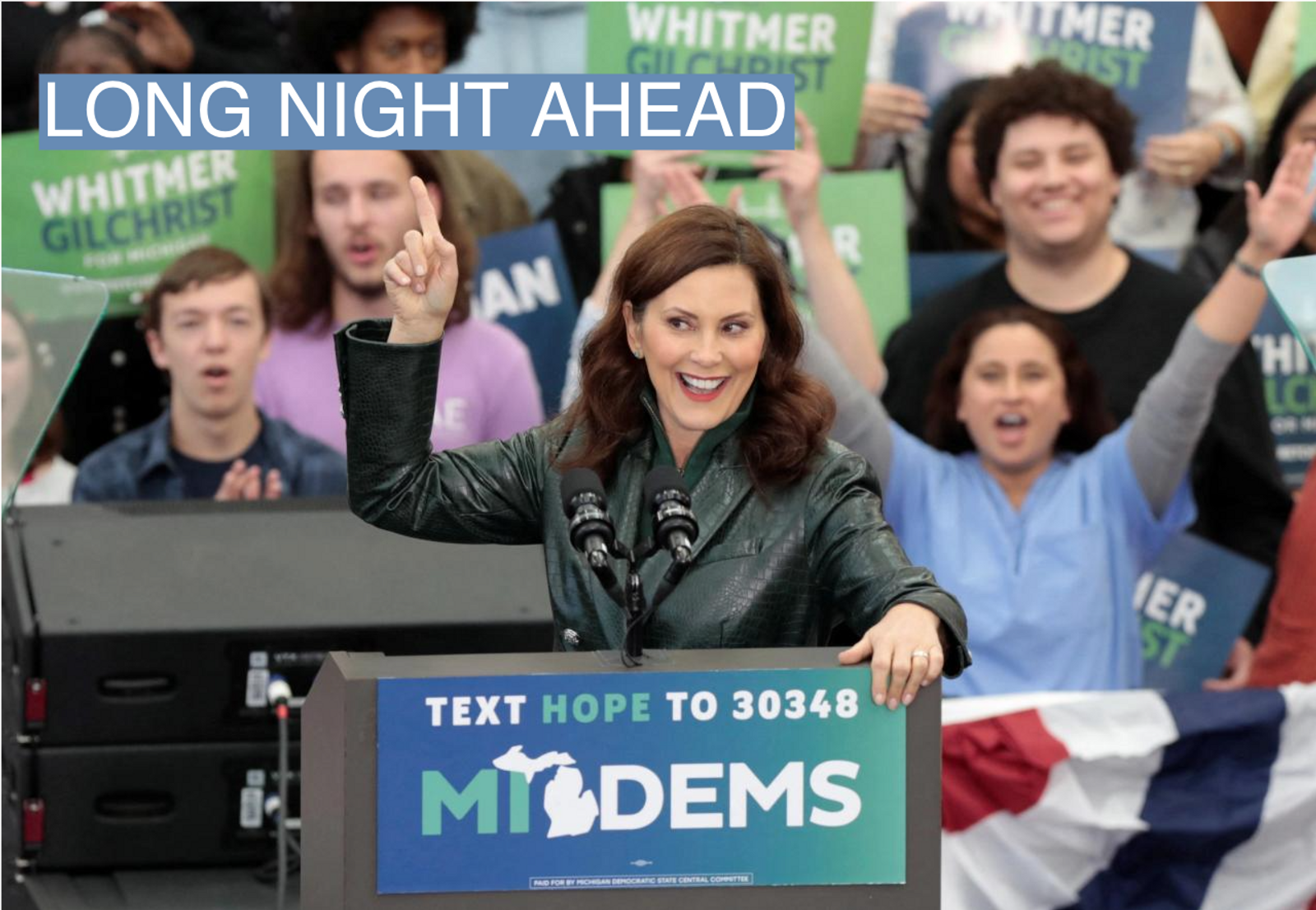 GRAND RAPIDS, Mich. – When will we know the full results of the 2022 election? Sometime in December. Who's nervous about that? Republicans, who worry that the other side is up to something, and Democrats, who fear January 6th-style conspiracies will fill the interim.
"I'm concerned," Texas Sen. Ted Cruz told Semafor at a campaign stop here on Wednesday. "When you look at places like Pennsylvania that say it could take days to count the results, that does not inspire confidence."
Cruz was in west Michigan to campaign with John Gibbs, a congressional candidate who'd questioned the "mathematically impossible" results two years ago.
Then and now, news outlets and state elections officials warned that close elections might take days or weeks to count for predictable reasons.
Baseless conspiracy theories about late-night "vote dumps," rigged voting machines, and numbers manipulated by news agencies have changed the way many Republicans vote, even when they expect to win. That means different batches of votes, cast different ways and counted at separate times, have wide partisan gaps. The same paranoia also raises the stakes of an extended counting period, providing more time for propaganda to take hold and extremists to organize.
There is no avoiding a pile-up. Dozens of races are very close, in public and private polling. Different states handle in person and mail ballots differently. Two states, Alaska and Georgia, are likely to have run-offs. That all but guarantees that a lot won't be known when the east coast goes to bed next week.
"We're telling people to expect election results within 24 hours of the polls closing, sometime late on Wednesday," Michigan Secretary of State Jocelyn Benson told Semafor after a rally with the Democratic ticket on Thursday. "The biggest things citizens need to know, and what we will convey, is the importance of patience."
The amount of patience voters will need depends on where they live, and how truly close the results are. The final election of 2020 didn't get resolved for nearly five months, when a Democrat who lost her congressional race in Iowa conceded her six-vote defeat. It could be affected by legal challenges, with warring efforts to count and discount absentee ballots.
Overall, though, the country can be roughly divided into three categories.
QUICK COUNT: States that process ballots quickly and have unforgiving rules for votes that come in late.
Thirty states don't accept absentee ballots that arrive after Election Day. A few, like Indiana and Louisiana, require them to arrive before the polls are closed.
As vast as this year's map is, fairly few competitive elections are in states with these rules. Colorado, where all voting is conducted by mail, started processing ballots last week; Michigan and Wisconsin don't start doing that until the traditional polls open on Tuesday. Oregon, where the races for governor and for three congressional seats are close, begins processing ballots as soon as they arrive.
But even a fairly quick count can still inspire conspiracy theories, and some of 2020's most enduring ones came from Michigan and Wisconsin – both places where Democrats took the lead only after the absentee ballots from their urban strongholds, in Wayne County and Milwaukee County, were counted.
This week, Benson's Republican opponent Kristina Karamo filed a lawsuit that would, if successful, prevent Detroit voters from casting absentee ballots. Democrats weren't particularly worried about a court taking that seriously; the text cited Dinesh D'Souza's film "2000 Mules" as evidence, and Karamo asked for Wayne County judges to be disqualified from handling the case because the region was corrupt.
SLOW COUNT: States that allow absentee ballots arriving after election day, or take a while to count.
This is where there's been Republican resistance to processing votes more quickly in some places, and where post-2020 Republican fear of election fraud has inspired more conservatives to vote on Election Day.
That's an ongoing issue in Arizona, where most voters still cast mail ballots, but Republicans disproportionately plan to vote on Tuesday. It's a deathless issue in Pennsylvania, where the Republican-led legislature declined to allow absentee ballots to be processed before Election Day and has supported lawsuits to disqualify absentee ballots that arrive late or have technical problems.
This is why Pennsylvania officials are urging caution about the count; more than 1 million absentee ballots were requested this year, down from 2020, but enough to slow counts. In Arizona, Republicans expect to trail in the first count – it's close – because Democratic-leaning early votes will get counted first. In Pennsylvania, Democrats expect to trail early, even if they end up winning, because in-person votes will skew Republican, just like they did in 2020.
States with generous windows for absentee ballots will play a big role in determining who won the House, and the final margins, as they did in 2018 and 2020, with races in slow-counting states like California and New York flipping after the final ballots came through. Votes with Nov. 8 postmarks can be counted until Nov. 15, when the internal party elections for House leadership will already be underway.
LONG WAIT: States with any sort of runoff.
Strategists in both major parties have been dreading a U.S. Senate runoff all year in Georgia, and the last few weeks haven't changed their minds – Shane Hazel, the Libertarian whose campaign helped force the 2020 races into overtime, is running again.
After losing those races, Republicans shortened the runoff period from two months to just four weeks. If the extra time isn't necessary, because either Sen. Raphael Warnock or challenger Herschel Walker win an outright majority, then Georgia will probably have become a bellwether for how the whole election is going.
Other states can't resolve things so quickly. Maine cuts off absentee ballots on Tuesday, but it's employed a ranked-choice system for federal races since 2018. That year, Democrat Jared Golden only beat Republican Bruce Poliquin after votes for independent candidate Tiffany Bond were reassigned in the instant runoff. This year? All three candidates are running again.
Alaska will accept absentee ballots that arrive by Nov. 18, and only then can the state's new ranked-choice system go into place. This summer, after weeks of counting, that put Democratic Rep. Mary Peltola in office. Next week, the system will determine if Peltola comes back, and whether Sen. Lisa Murkowski defeats a Trump-endorsed challenger.

David's view
Wherever I've gone over the past few weeks, I've heard Republican voters fret about the election night count and plan to vote on election day. At one GOP office in Texas, as I was on my way out, a volunteer warned canvassers that Democrats were watching the early vote to know how many votes they needed to fabricate on Tuesday. This turned into a pep talk about how GOP turnout simply needed to overwhelm the cheating.
This type of paranoia will take hold during the long counting period unless there is an overwhelming GOP win that ends most close races on Tuesday.
And this is the Democrats' darkest warning: Republicans will only accept the results if they win.