Climate change alters way of life in Michigan's Upper Peninsula

The Facts
Rich and Samantha Canevez moved to the Upper Peninsula of northern Michigan for the snow — and as a hedge against climate change.
This is a story about the less-visible impact of climate change, and about how, ultimately, it will affect every location and every community.
The Canevezes were raised in areas where the white powder piled up every winter, blanketing their neighborhoods. "She wanted a place to raise children with snow. She remembers the snow of her childhood in upstate New York in a certain way and it's not that way any more there," says Rich, 35, who grew up in Houghton, Michigan, a former copper mining town. "It wasn't so much that we thought, 'this is going to be a great place to live as the climate warms.' It was more like, this is one of the few areas that will still have snow as the climate warms."
It's true that snowfall in Michigan's Upper Peninsula, a swath of wilderness and small towns sandwiched between Lake Superior to the north and Lake Michigan and Lake Huron to the south, has actually increased over the past few decades along the shores of Lake Superior despite warming temperatures. This is mainly because less ice is forming on the lake's surface during winter, allowing more water to evaporate and fall again in the form of sudden, intense precipitation, scientists told Semafor.
But overall, winters are less harsh in the area, resulting in a spike in property values as cities like Houghton and Marquette, the UP's largest population centers, have become more attractive amid the popularity of remote work.
The annual average air temperature has increased by 2.3 degrees Farenheit in the Great Lakes region since 1951, according to the Great Lakes Integrated Sciences and Assessments, or GLISA, a collaboration between Michigan's two largest universities, The University of Michigan and Michigan State University.
Yet summer high temperatures haven't climbed markedly, forestry officials told Semafor. Winter low temperatures have risen dramatically and pulled up the average.
There could be economic benefits: the growing season is lengthening, potentially helping the lumber industry and other agriculture. The amount of ice is shrinking, which could potentially make lakes more easily navigable in the winter. Cities on the coasts of the Great Lakes don't face the sort of existential threat Miami, Boston, New York face with sea levels rising as polar ice caps melt.
Still, Houghton is among several cities across the north of the U.S. that has experienced devastating flash flooding from so-called "rain bombs," super-intense downpours that are becoming more common as global warming advances. Even logging companies are struggling with the milder winters: More frequent thaws mean there often isn't enough snow packed down to support the heavy machinery they use to harvest the trees in the winter.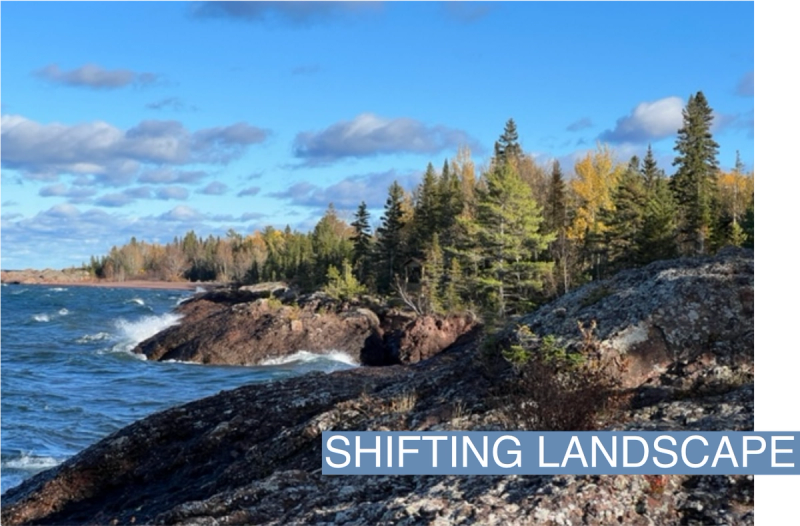 John Lenters, an engineer and scientist with the Great Lakes Research Center at Michigan Tech University in Houghton, cited the way a warming climate appears to be quickening and intensifying the historic rise-and-fall cycles of water levels on the Great Lakes while strengthening gales common to the region in the fall.
"We're not dealing with hurricanes here, obviously, but in some ways we're seeing the same sorts of extremes," he said. "There's anecdotal evidence coastal storms are becoming stronger, more frequent. And more often they're coinciding with higher lake levels."

Bill's view
But the less-easily noticed and rarely highlighted climate changes happening in temperate regions are no less menacing to the character of these areas. They're not even necessarily less physically destructive.
Marquette, for example, is having to reconstruct and gird its main roadway along Lake Superior after a major blow in 2019. In late October this year, the area experienced three days of heavy winds and snow that set back the effort.
And there are the less-tangible effects that climate change brings. Canevez, the resident who returned to his roots with his wife, was a serious hockey player in his high school days here. Now, a humanities professor at Michigan Tech who researches digital media, he knows how the harsh cold here defines not only the residents, but the communities and bonds that form their identity.
"Of all the places I've been, these are some of the proudest people I've ever met. A lot of that pride comes from being some of the hardest people in the world, at least in their own eyes. They are tough. The winters are brutal. It's very remote, hard to get to and hard to leave," he told me over coffee in the Cyberia Cafe on Houghton's main drag. "They are defined by the hard winter, and I think with climate change on the horizon it will have an impact on people and how they perceive themselves."

Room for Disagreement
Worrying about the character of a region may seem like a first-world problem when other parts of the world are experiencing life-threatening crises.
But there are significant, and potentially huge impacts, from climate change that don't make for dramatic TV footage. The bitter winter cold is the baseline for life here. What survives the worst that winter has in store survives and thrives the rest of the year.
With more species from further south — Red Maple and deer ticks, for example — managing to live through the winter, their competitive advantages can lead to their spread over time. Meanwhile, native creatures from hibernating bears to annual wildflowers, are having their ancient means of recognizing and taking advantage of the spring disrupted by premature February and March warm spells.

Notable
The Great Lakes Indian Fish & Wildlife Commission has suggestions for adapting to climate change, from preserving water to maintaining genetic diversity, from the perspective of Native American traditions.
This study by the Environmental Protection Agency remains among the most comprehensive overviews of climate change impacts on the largest and most northern great lake, Lake Superior.