Argentina heads to presidential runoff as populist Milei fails to win first-round vote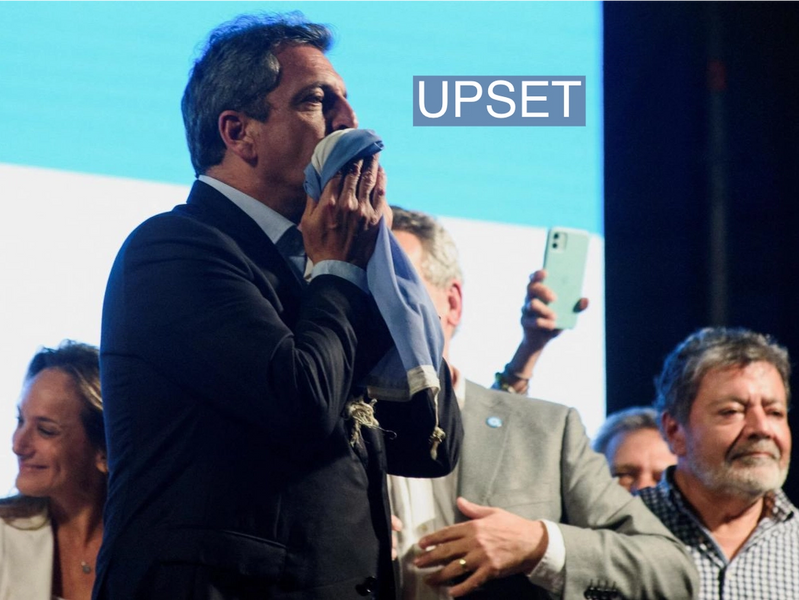 Argentina's economy minister Sergio Massa defied expectations Sunday to win the first round of the country's presidential election, and now faces a runoff with Javier Milei, the far-right libertarian candidate who was viewed as the favorite.
Massa, the government's left-wing candidate, secured nearly 37% of the vote, while Milei — who has promised to slash Argentina's institutions, as the country faces a dire financial crisis — came second with 30%.
Massa's win will trigger a tight runoff election next month. Milei painted himself as the anti-establishment option, drumming up support from disenfranchised voters frustrated by Argentina's economic turmoil. But the race looks set to be close, Brian Winter, vice president of the New York-based business organization Council of the Americas, told the Associated Press. "There was this sense of inevitability around Javier Milei in the media, but he scared too many voters and ended up with the exact same level of support he had two months ago," he said.
Milei's failure to secure the first-round vote shows that there is a limit to his appeal, the Buenos Aires Times wrote. Trailing Massa by almost 7% suggests "his break-it-all-down style has hit a wall with voters who don't completely buy into the radical changes he's selling," the outlet noted. Meanwhile, Milei's unfamiliarity with governing may have also turned off voters from rallying behind him. It signals that "Argentines aren't as willing to embrace the unknown as initially thought," the paper wrote.
The Massa-Milei runoff pairing was a fear of investors, as it could prolong financial instability in Argentina, Bloomberg reported. "Sunday's results mean Argentina will face another month of volatility as Massa and Milei fight to win the votes needed to reach the presidency," it noted.