The News
The US and other developed countries are hustling to avoid a collision with developing nations at the United Nations COP27 conference early next month.
Countries in the Global South have lost patience with the promises of their northern counterparts, who pledged to provide more than $100 billion in funding to them to build clean energy sources and adapt to increasingly harsh weather patterns.
"Climate finance isn't meeting the scale that is required," Kevin Chika Urama, chief economist at the African Development Bank, told Semafor. "We've been talking about $100 billion to address an existential threat of climate change to the world and we haven't been able to meet that. And yet within two years... the world mobilized in fiscal measures [worth] over $17 trillion to address the COVID impact."
Developed countries are trying to convince them they're serious this time, even as they are increasingly distracted at home and backsliding on vows made only last year.
— with Alexis Akwagyiram

Bill's view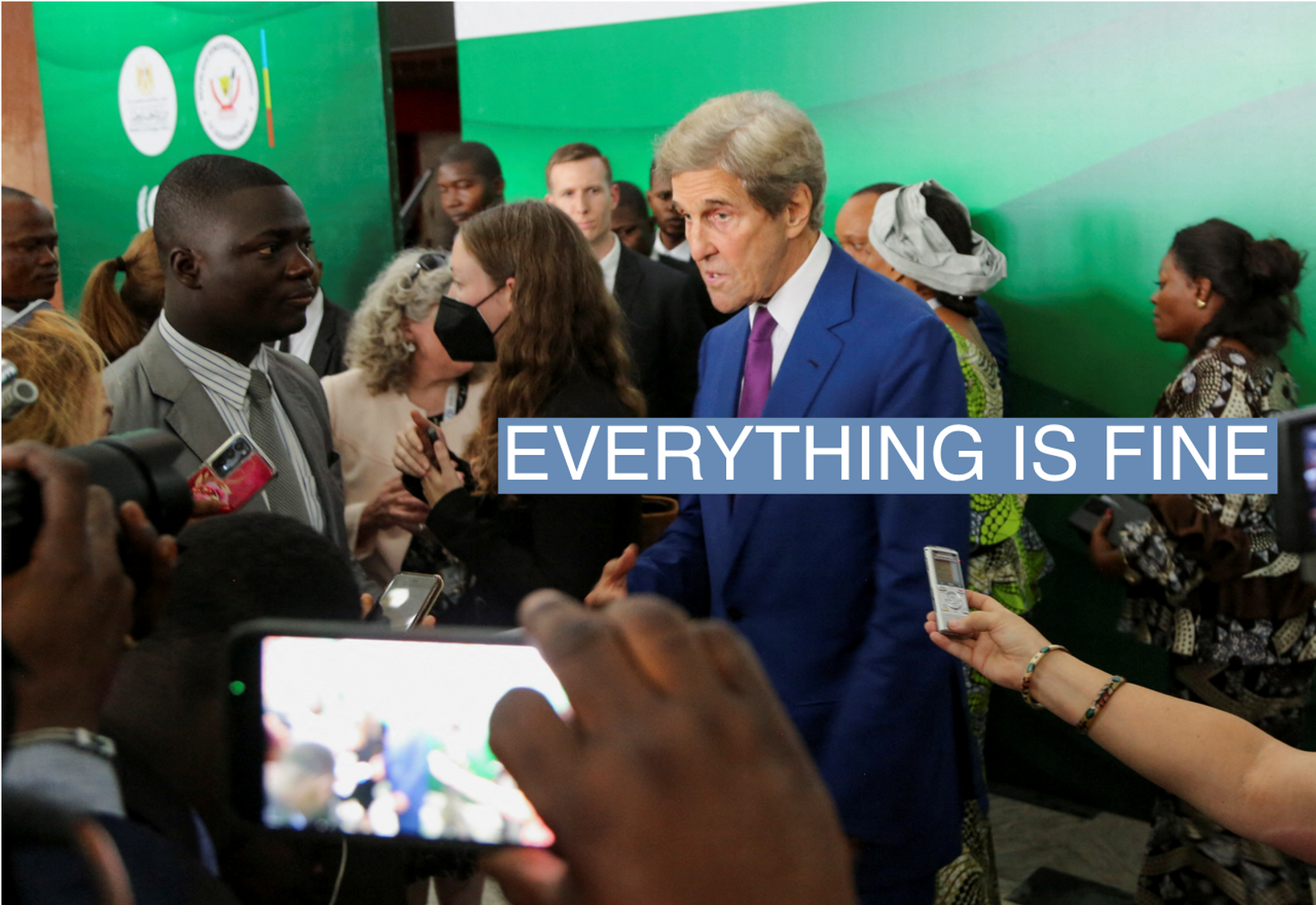 Without some deft diplomacy and the prospect of real money flowing to the developing world, a train wreck could result at COP27, setting back the goals made in Paris at COP15.
Developed countries are likely to fail in any effort to spin their developing counterparts, especially since once again they'll show up without having fulfilled a commitment made more than a decade ago to provide the $100 billion annually starting in 2020. They've also clashed over whether the Global South should be compensated for past damage and losses related to climate change.
Further undermining efforts at the meeting is the lack of any direct coordination between the U.S. and China, the two biggest contributors to global warming. In an interview recently, U.S. climate envoy John Kerry told me he didn't expect that situation to change before COP27. China shut down climate discussions after U.S. House Speaker Nancy Pelosi visited Taiwan in August.
China and the U.S. have delivered in the past by working together, most notably with a major effort to coordinate plans for ambitious cuts before the Paris climate conference in 2015.

Room for Disagreement
Both China and the U.S. can point to progress on green energy. With the passage of Biden's infrastructure law and Inflation Reduction Act this year, the U.S. can argue the nation's transition away from fossil fuels will accelerate dramatically. China is adding renewable energy, and producing electric vehicles, at a stunning pace, even as it has backslid on promises to stop investments in coal overseas.
Kerry said both countries still have incentives to align their climate efforts. "We'll both be there [COP27] and will keep the faith," he told me.
The Biden administration is also focused on domestic climate initiatives created by the IRA, as well as on midterm elections that will take place during the COP27 climate summit.
"What the IRA has done is confirm America's ability to continue to lead," Kerry said.

The View From The developing world
Nations in the Global South see the pledged $100 billion annually as just a down payment on expenditures and investments that will require trillions of spending a year.
Countries such as Pakistan, which was hit by flooding that affected tens of millions this summer, increasingly demand that developed nations also pay them for the damages they are incurring from climate changes they had little part in creating, since most have emitted very little historically.
"We are amongst the ten most climate-stressed countries on the planet," Pakistan's foreign minister, Bilawal Bhutto Zardari, recently told an audience at the Council on Foreign Relations in New York. "But I don't want to beg for aid or for dole. I want justice for my people. I want climate justice."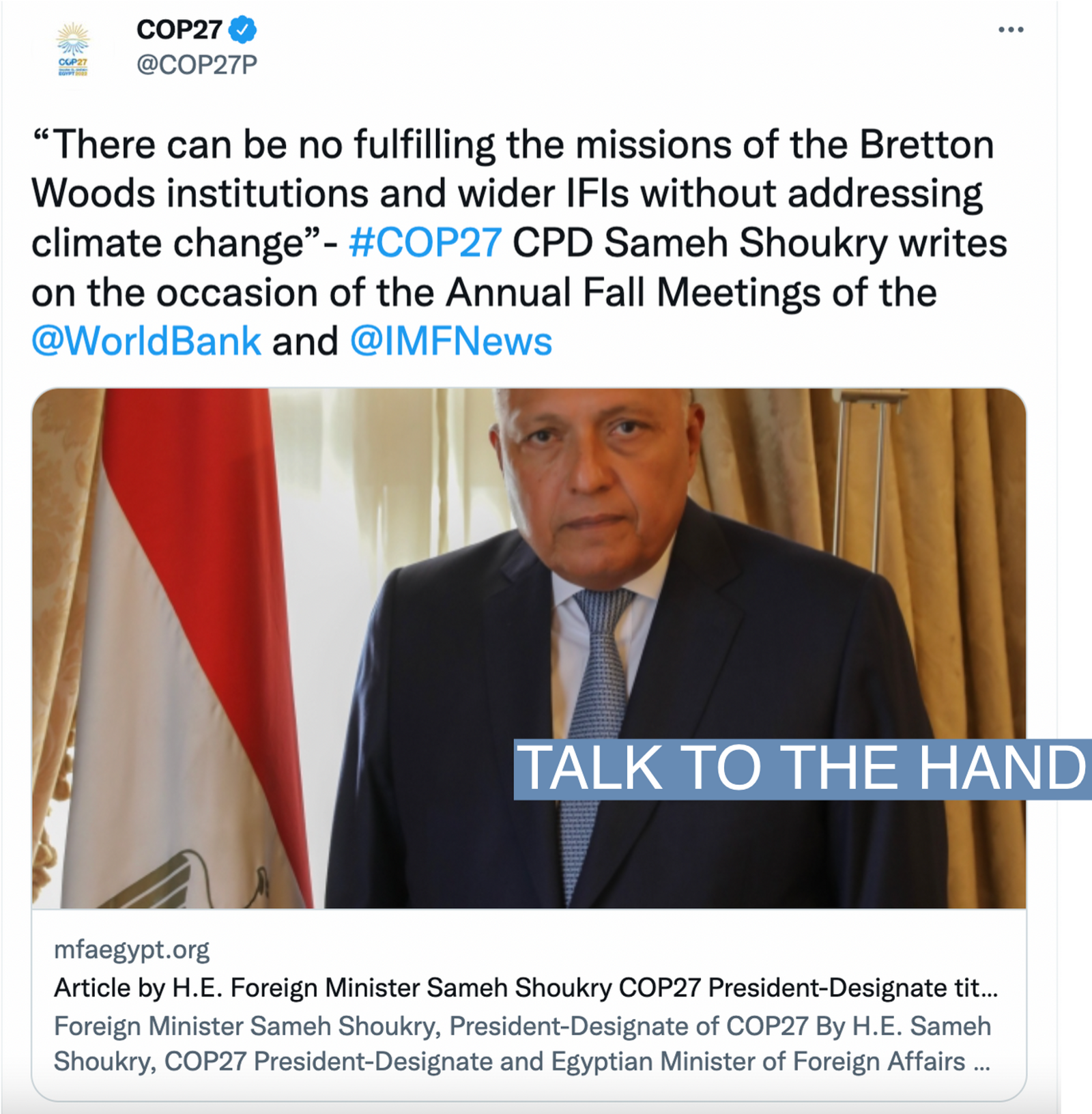 Layered atop that, an emerging market debt crisis is looming as the Covid pandemic and war in Ukraine roil global energy markets. That's driving up the cost of fuel and food. Increasingly desperate developing nations will look to the U.S. and China, as the world's biggest overseas lenders and investors, to solve these more immediate problems in the context of climate discussions.
While Kerry told me he's "very sympathetic" to developing world concerns about their need for financing, in a public forum earlier he described establishing a loss-and-damage fund to compensate them as unworkable before COP27. A spokesperson later told me demands for adaptation and loss-and-damage funding need to be specific about exactly what global institutions might provide that sort of funding and what mechanisms might work.
The U.S. Treasury Department recently announced a $10 billion fund aimed at helping developing countries better adapt to climate change. That's the type of funding they are demanding but they want for far larger sums.

Notable
• Nigeria's vice president, Yemi Osinbajo, concisely layed out the grievances many developing countries harbor about global climate policy in an article for The Economist a few months back.
• Africa's energy future will be at the forefront of discussions at COP27, and the International Energy Agency has a timely deep dive into exactly that.