The Scene
SANDUSKY, Ohio – Berardi's Catering was the 70th stop of Frank LaRose's campaign tour – not for his U.S. Senate campaign, but for the cause that could inspire conservatives across America.
Ohio's Republican Secretary of State had been stumping for Issue 1, which would amend the state's constitution to make any further changes much tougher. If it passes next Tuesday, a looming November referendum on abortion will need to clear 60% of the vote. If it fails, a simple majority will be enough to make abortion permanently legal in LaRose's increasingly conservative state.
Failure, he warned, would let coastal elites with fat wallets cram other liberal policies into their red state's constitution.
"Next year they want to do a massive increase in the minimum wage," LaRose told the crowd in Sandusky. "Do we care about protecting small businesses? Do we care about protecting Ohio farmers? Do we value life in Ohio? Do we want to protect our Second Amendment rights in Ohio?"
Tuesday's vote gives conservatives their best chance yet at doing what's eluded them since the Dobbs decision: Halting a state ballot measure that locks in abortion rights. Democrats, as soon as the vote was set, called it a bank shot strategy to kill the "Right to Reproductive Freedom" campaign.
Republicans, including LaRose, have said as much — but the chance to smother all sorts of ballot measures has broadened their coalition and helped it out-raise the pro-abortion rights side. The Ohio Chamber of Commerce supports Issue 1; chambers in other states have stayed neutral on abortion measures, or backed them. The Ohio Farm Bureau, a non-factor in other abortion referenda, has backed Issue 1 to pre-empt the sort of animal rights regulations passed by referendum in California.

David's view
Last year, conservatives in South Dakota and Arkansas tried to pass ballot measures much like Issue 1, requiring a supermajority for any referendum to take effect. In both states, they flopped, even as voters overwhelmingly elected Republicans.
The campaign could flop in Ohio, too —– polling is all over the place, and turnout is higher than anyone expected. But if it succeeds, the way Republicans got this on the ballot, and the way they framed it as a broad fight against progressive ideas run amok, may be copied elsewhere.
The GOP supermajority in Columbus scheduled an August 8 election on this, and nothing else, over Democratic protests, potentially creating a low-turnout referendum where conservatives hope activist energy will give them an edge. In the final days, defeated Arizona GOP candidate Kari Lake will campaign for Issue 1, along with "Sound of Freedom" star and anti-abortion activist Jim Caveziel.
"They're testing the playbook in Ohio," said state Rep. Allison Russo, the leader of the Democratic minority in Columbus. "If they're successful here in fighting back against reproductive rights, they've got a plan they can use in other states in 2024, and past that."
Know More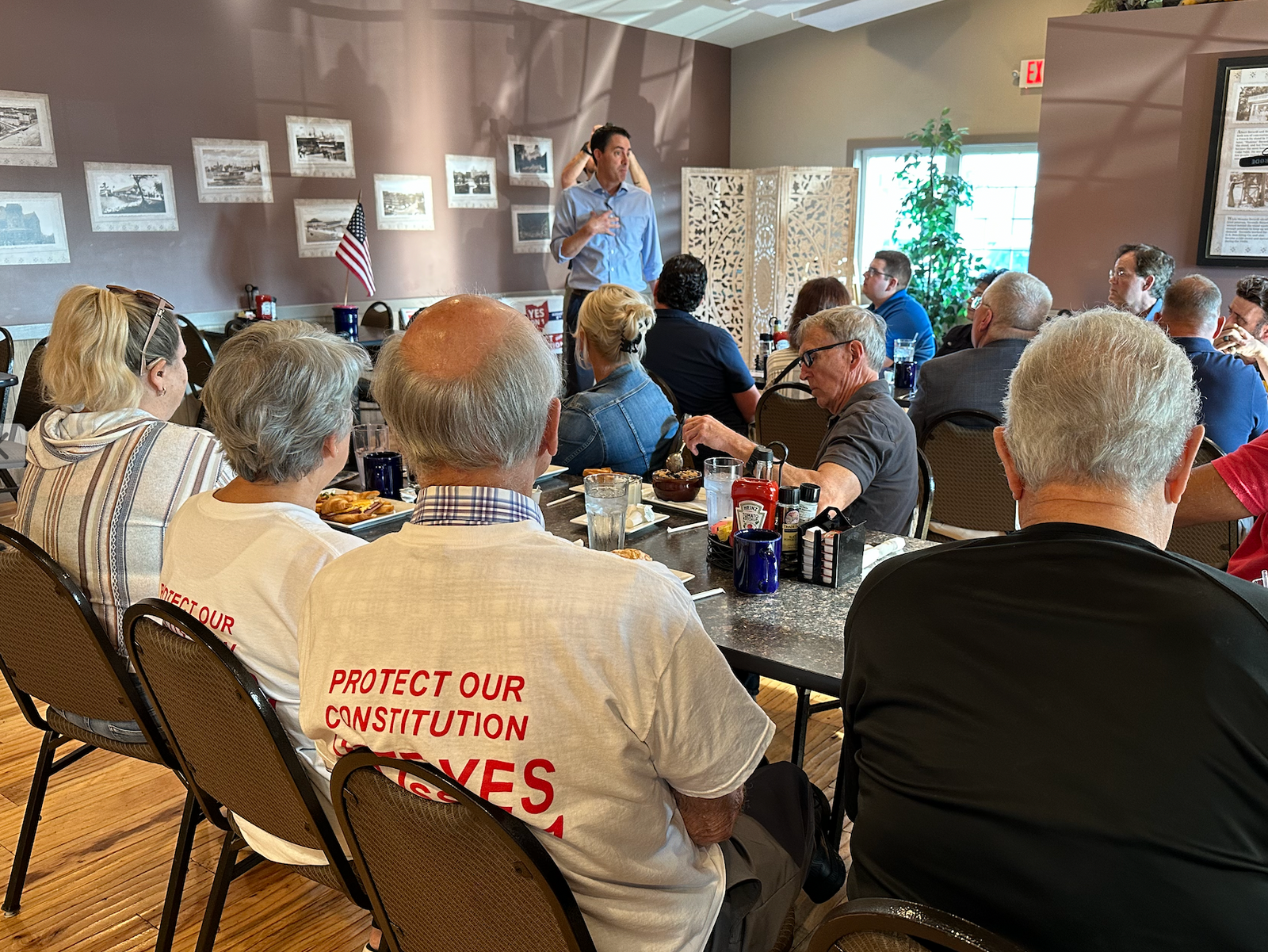 The groups spending to pass or beat Issue 1 have raised more than $35 million. That's less money than flowed into Michigan last year, when an amendment that wrote abortion rights into the state constitution passed by 16 points.
But anti-abortion activists were out-spent in that race, and their messaging that insisted the amendment would allow minors to get gender assignment surgery without parental consent — an argument being made in Ohio, too — didn't close the gap.
In Ohio, the "yes" side has out-spent the "no" side. More than $11 million came from the D.C.-based Concord Fund and Susan B. Anthony Pro-Life America, funding ads that have warned of "radical groups" trying to mangle the state constitution and "put trans ideology in classrooms."
Conservatives had been burned by double-digit losses on ballot measures related to abortion in Michigan and Kansas last year, and even a single-digit defeat in Kentucky. But abortion rights advocates hadn't cleared 60% of the vote in those races. In Ohio, the return-on-investment for the anti-abortion movement was obvious.
"I think that some Republican donors got a little gun shy, and sat on their wallets for too long," LaRose told Semafor. "That's only started to change recently, when people started to consider all that could be on the ballot."
The "no" campaign has built its own, broad coalition, with Democrats and labor unions turning out votes and some prominent — but retired — Republicans echoing their concerns. At a Friday "no" rally in Columbus, ex-Gov. Ted Strickland joked that it was hard to thank John Kasich, the Republican who beat him, for joining the cause. Betty Montgomery, a Republican ex-attorney general, was the guest of honor, warning members of her party that they'd regret restricting the amendment process.
"The short-term decision to get something done using this amendment — whether it's abortion, whether it's redistricting, whether it's anything else you're concerned about — is just short-term," said Montgomery. "You are giving up your democratic rights. And when you give up those rights, it's a recipe for disaster."

The View From Progressives
Democrats think the conservative message — that the amendment process will enable them to grab guns and erase qualified immunity for police — is a far-fetched scare tactic. They point out that only 19 amendments have been enacted total since 1912, when the state constitution first allowed them, and getting progressive priorities on the ballot is an uphill battle. The problem Republicans have is that referendums on issues like abortion rights and minimum wage increases have proven popular in blue and red states alike by drawing in votes across party lines.
In the immediate term, liberal anger at the Issue 1 campaign may have helped abortion rights campaigners, marijuana legalization campaigners, and other progressive activists grab more signatures for their amendment votes. Cynthia Brown, the founder of the campaign to end qualified immunity, said that her opponents "must be concerned" – canvassers got 1,000 signatures for the cause in two days, just by walking the early voting lines in Columbus.

The View From Conservatives
If the measure fails on Tuesday, progressives who have no real access to power in Columbus will be emboldened. If it passes, abortion rights campaigners told me they'd keep working toward victory in November. And LaRose would be running for U.S. Senate as a hero of the anti-abortion movement, one who had to cajole other Republicans to get on board.
"I do think that Ohio Republicans and Ohio conservatives appreciate that I'm stepping up to lead, and they've noticed that I'm fighting for their values," LaRose said. "Whether we win or lose, the base of our party appreciates my efforts. But we intend to win."

Notable
Nick Evans of the Ohio Capital Journal has closely tracked the money flowing into the Issue 1 campaigns, and the higher-than-expected turnout ahead of Tuesday. In the New York Times, Michelle Goldberg suggests that the timing of the election, in "the torpid month of August," has lowered its salience, though "the strategies of both Ohio abortion-rights supporters and opponents are being replicated elsewhere."