The Scene
ELIZABETHTOWN, Ky. – Kentucky banned ESG investing this year, when Democratic Gov. Andy Beshear signed a Republican bill to do it. Gender medicine for minors was banned, too, after the GOP supermajority in Frankfort over-rode Beshear's veto. Beshear couldn't do anything about last summer's Dobbs decision, either — since then, Attorney Gen. Daniel Cameron told a happy crowd here, "abortion clinics have been closed" across the state.
"We are no longer content with Democrat leadership in the governor's office, whose mere presence emboldens the far left," said Cameron, one of twelve Republicans running for the party's gubernatorial nomination, at a Friday town hall in his hometown. "We want leadership that reflects the men, women and children of all 120 counties."
Cameron and the rest of the Republican field, battling to face a popular governor, have run to the right, casting Beshear as an aberration in a state that wants to go red. That tone's been shaped not just by Cameron, but by Kelly Craft, a wealthy ex-ambassador whose multi-million dollar campaign has attacked "transgenderism" and "wokeness" through a consulting firm that's about to work on Ron DeSantis's presidential campaign.
In the race's final hours, DeSantis himself cut a robocall for Craft, and Ted Cruz, Axiom's most successful client, joined her on the trail. "You will not see the Washington establishment in my office," Craft told a country club crowd outside of Lexington on Saturday. "You will see God in my office."

David's view
Why does this race matter? It's the best study in what Republican voters care about that we'll get before the presidential primary. And when there's a nominee, it will tell us how a red state Democrat can respond to the GOP's warnings of a country becoming ungodly and unsafe.
The GOP's candidates for governor have drawn a few differences on policy, from Craft pledging to "dismantle" the state department of education to Agriculture Commissioner Ryan Quarles promising to legalize medical marijuana. They've run more on their biographies and their records, and especially their records of battling the left, however weak progressives look in Kentucky.
Donald Trump tried to end the primary before it started, endorsing Cameron, a protegé of Mitch McConnell whose political journey began with a college McConnell Scholarship. He'd won his office the same day that Beshear won his, and was ready to sue him when he enforced COVID orders or didn't enforce an abortion law. And he'd been protested at home after recommending no charges for police officers who killed a Black woman named Breonna Taylor in a no-knock raid on her apartment.
But Trump also insults McConnell and his wife on a constant basis, making him an unlikely ally in that regard. Cameron has fielded questions from voters who share Trump's antipathy towards McConnell  — who also has ties to Craft and has not endorsed in the race — about whether he's too close to Washington.
"I'm looking around, and I don't see Mitch McConnell," said Cameron, after a voter in Elizabethtown asked about the party establishment. "When folks were protesting on my front lawn, they weren't protesting Mitch McConnell. Our family was in danger, not Mitch McConnell or Rand Paul or any of those other people."
Other Republicans who'd won statewide, like Quarles, didn't have that record. Craft, who with her husband had donated tens of millions of dollars to Republicans, tapped their connections and put $9.2 million more into her campaign.
For a while, she ran the airwaves, with ads that portrayed her as a warrior for traditional values and jobs, and Cameron as a "teddy bear" whose woke nature was revealed when the Department of Justice released a report critical of bias in Louisville's police department. (What Cameron was supposed to do about this is unclear.)
Built by strategists who helped elect Virginia Gov. Glenn Youngkin, the Craft message portrays both Beshear and Cameron as too weak to fix the state, because they need to be pushed to do what comes naturally to her.
"If somebody comes into our state, and gives one of our Kentuckians an illegal drug that takes their life, I will sign their death warrant," Craft said at a Saturday rally in Richmond.
She tapped state Sen. Max Wise, the author of Kentucky's comprehensive anti-trans bill, as her running mate. In Louisville, revving the crowd up for Craft, state Rep. Jason Nemes called the governor a "beta male" for vetoing it in the first place. Craft celebrated the news that the state's education commissioner might take a job in Baltimore; she and Cameron both ripped into him for testifying against Wise's bill.
Other contenders, less well-known and less well-funded, are trying to turn out newer and rural Republican voters who might be alienated by the top two. They have more voters to go after — since 2015, and the last open GOP gubernatorial primary, the number of registered Democrats has fallen from 1.69 million to 1.54 million; the number of Kentucky Republicans has risen from 1.25 million to 1.59 million.
"I'm a known entity across the state. I have my own brand," Quarles told Semafor after addressing supporters during a western Kentucky swing on his "big red truck" tour, named for his 2015 Chevy Silverado. "I am not basing this campaign off the endorsement of a single person who's not from Kentucky."
Know More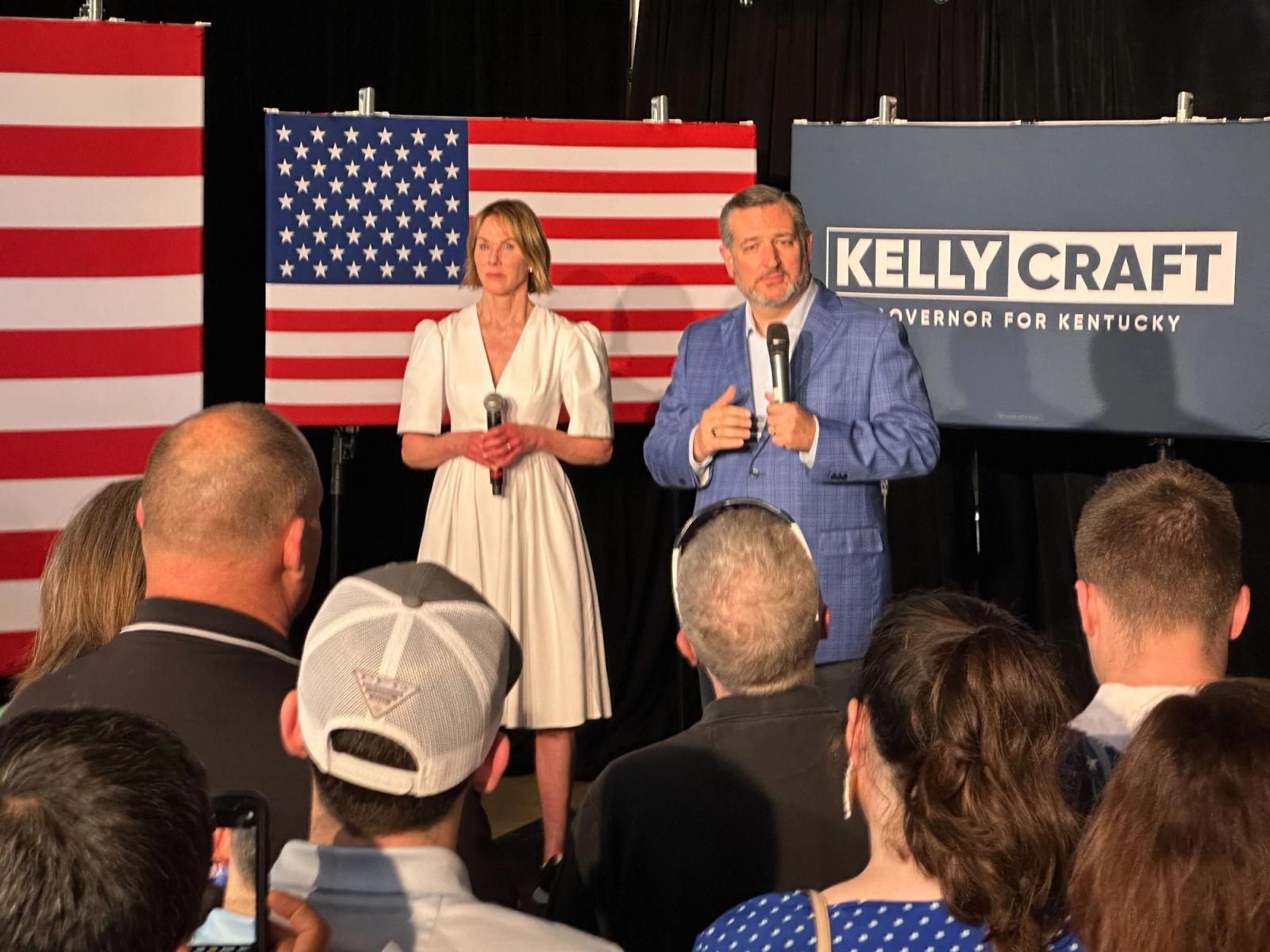 Beshear won his first term over an alienating and unpopular governor who couldn't be saved by a Trump endorsement. He took office just a few months before the COVID pandemic, and his decisions in 2020 — especially the shut-down of church services on Easter Sunday — still get boos from Republican crowds.
But he's broadly popular with independents, and on the trail, the GOP's critique of the governor relies heavily on the COVID year and the conservative bills that he's been unable or uninterested in stopping, and are now law. In the first race for governor since the Dobbs decision, each Republican is also committed to abortion restrictions that are far less popular than their party; six months ago, a ballot measure to allow an abortion ban in the state constitution failed by 6 points.
The tone in the GOP primary remains: Who does this guy think he is? Craft's ads and messaging, with their hints of what a DeSantis presidential campaign might do, give her credit for the state's falling unemployment (she was part of NAFTA renegotiations) and warn that no one else will stop the overdose epidemic, because no one else is ready to execute drug dealers.
After his Elizabethtown stop, Cameron told Semafor that the anti-ESG issue was still on the table, because banning the investment practice didn't go far enough.
"Gov. DeSantis, Gov. Huckabee Sanders, and other conservative governors are jointly pooling their money to put it into natural gas, and into the fossil fuel companies, which is counter to some of what the more progressive states are doing," said Cameron. "Kentucky has not signed on to that joint partnership. I will sign on to that as the next governor of Kentucky."

The View From Democrats
Sam Newton, the communications director for the Democratic Governors Association, said that Beshear's record and high approval rating would make him the favorite once the GOP got their nominee. "No matter who wins the GOP primary, this election will be a clear choice between moving forward with Gov. Beshear's steady, caring leadership or going off the rails in a divisive and extreme direction," he said.

Notable
Pulitzer-winning Louisville Courier-Journal reporter Joe Sonka has a helpful rundown of everything worth watching in the primary. "These are punches that could leave bruises well past the primary, and if Cameron does win… it's worth wondering if Cameron's request that Craft spend some of her personal fortune to help him out in the general election will be heeded."