The News
A little over 50% of the votes in Estonia's parliamentary elections over the weekend were cast online — marking what appears to be the first mostly online nationwide election in the world.
Estonia has been a pioneer in "i-voting," first offering it as an option in 2005. The number of citizens taking advantage of internet voting has crept up since then.
Still, the Baltic state remains a global outlier when it comes to online voting.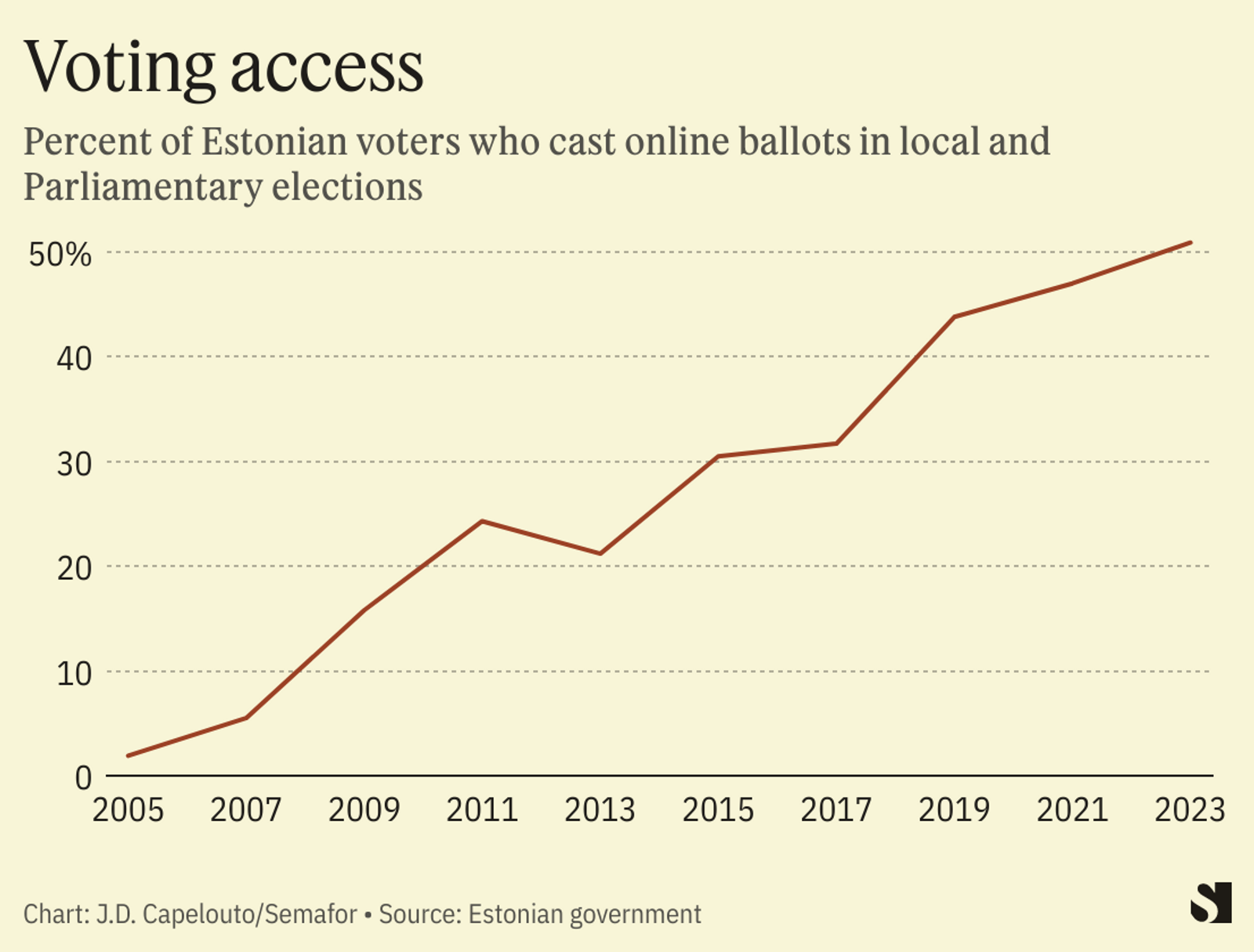 Know More
About 615,000 total votes were cast, according to the county's election agency. About 313,000 of those were electronic votes, compared to 301,000 in-person ballots. The country's voting population is just under 1 million.
Estonians can use their government-issued ID cards to vote online from any location ahead of the election. According to the country's elections authority, the votes are encrypted before they're tallied.
Voters are also able to change their votes up until a few days before the election.
According to initial results, incumbent Prime Minister Kaja Kallas's Reform Party secured first place in the election, the Associated Press reported. Kallas herself voted online. The far-right EKRE party came in second place with 16.1% of the vote.

The View From France
Only 14 countries allow some form of online voting in their national elections, and in most cases, it's reserved for citizens living abroad, according to the International Institute for Democracy and Electoral Assistance.
French expats, for example, have been able to cast online parliamentary votes since 2012, and a majority now choose to do so.
The French foreign ministry dropped online voting as an option for the 2017 elections, though, citing the risk of cyber attacks.

The View From The U.S.
Some states have begun to try out some forms of internet voting. Pew reported in 2021 that at least nine states, including West Virginia and Utah, allow certain voters, specifically people with a disability or those who serve in the military or live overseas, to vote online.
But it's far from becoming a national, or even statewide, option, largely due to the security concerns.

Room for Disagreement
Despite Estonia's success with internet voting, it could be hard for other countries to implement it on a large scale, according to Steve Kremer of the French Institute for Research in Computer Science and Automation.
In 2019, Kremer told Horizon — the EU's research and innovation magazine — that Estonia is an outlier as a very tech-oriented country; it's sometimes nicknamed e-stonia.
"Its citizens have identity cards with electronic chips, which go some way to reducing the risk of voter coercion, as people are unlikely to hand over (something so personal) as their identify card," Kremer said.
He said the cybersecurity risks are too high to implement online voting for high-stakes national elections elsewhere.