The News
More than a week after two powerful earthquakes struck southern Turkey and Syria, killing thousands of people and leaving millions without homes, efforts to find survivors have dwindled, with United Nations officials saying the rescue phase will come to a close.
While some people are still being pulled out alive from under rubble nine days after the earthquakes, the focus has now shifted to the millions of survivors who face homelessness and limited access to food, water, and heat amid freezing temperatures.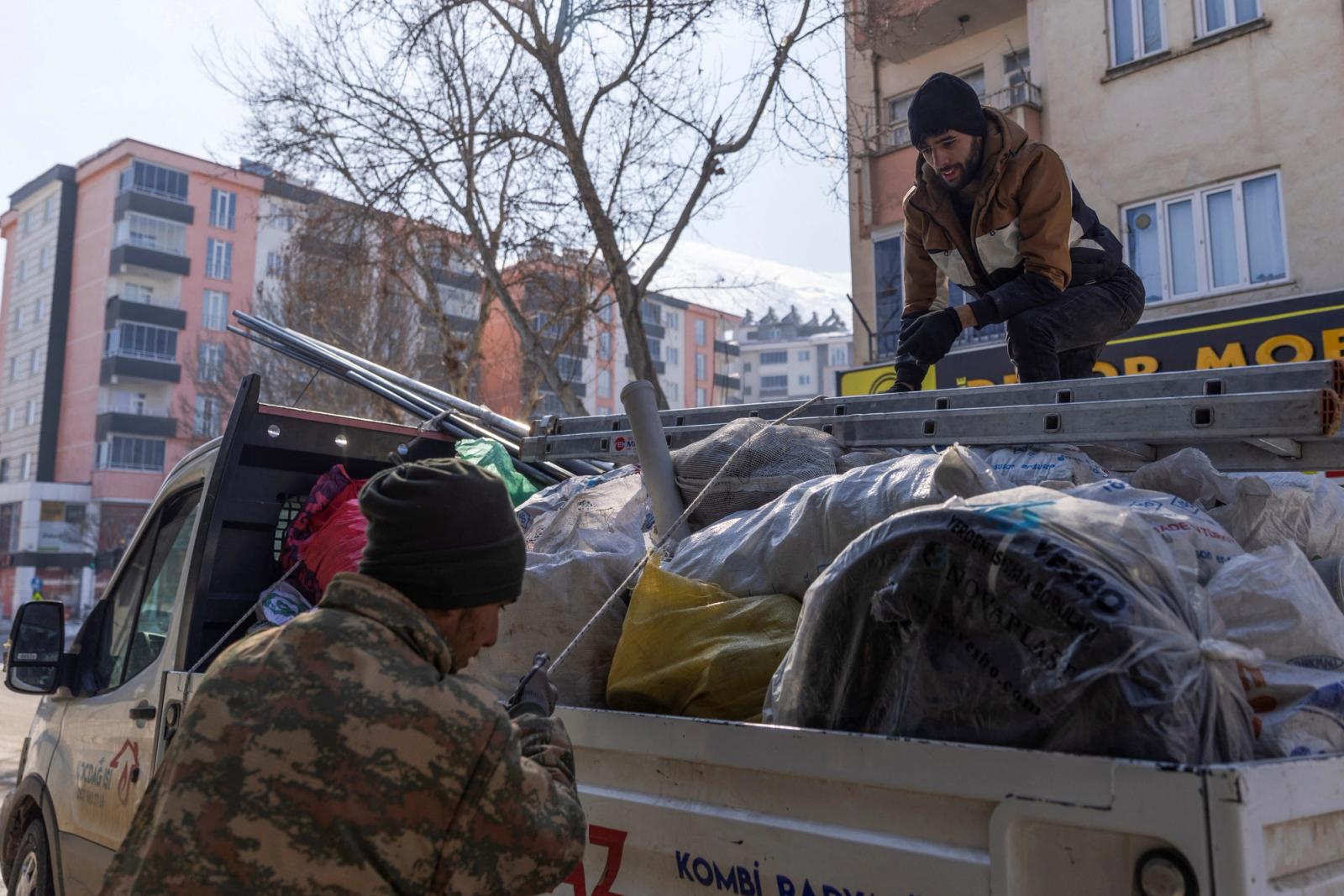 Know More
The White Helmets, a group of 3,000 volunteers who conduct rescue work in opposition-controlled areas of northern Syria, say that while they are continuing to respond to missing people's reports and pulling bodies from the rubble — they are running out of resources. With only so much manpower, they say it is up to NGOs to provide adequate shelter, food, and hygiene kits for those displaced.
The U.N.'s Emergency Relief Coordinator Martin Griffiths met with Syrian President Bashar al-Assad in Damascus on Monday, who authorized the opening of two border crossings and delivery of aid from Turkey to affected areas in Syria's rebel-held territories — a decision that has sparked outrage among the opposition.
They feel that the U.N. did not respond quickly enough to the disaster.
In Turkey, thousands of evacuees and survivors are being housed in tent cities, makeshift settlements, and hotel rooms, but many are facing dire circumstances with little food, water, and heating supplies, amid increasing anger at the government's response to the earthquakes.

Housing
The United Nations estimated that more than five million people in Syria may be left homeless.
In Syria's Idlib region and the western countryside of Aleppo, Oubadah Alwan, a White Helmets volunteer, told Semafor that at least 40,000 families are now homeless. Alwan said that while emergency tents have been erected in schools, more shelter is needed.
At least 28,000 homeless people have been evacuated out of the earthquake zones so far in Turkey, according to officials.
In the Turkish city of Gaziantep, near the epicenter of the first earthquake, hundreds of Syrian refugees — already suffering from the atrocities of a 12-year civil war — have been displaced and are living out of shelters made of cardboard and plastic sheets, Reuters reported.
Turkish energy company Karadeniz Holding said that it would send two humanitarian aid ships to the southern province of Hatay, to house 1,500 survivors each. The ships would include accommodation, fridges, TVs and heating.
Qatar said it will also ship "portacabins" and mobile homes used to house World Cup fans to Southern Turkey, and pledged 10,000 more mobile housing units to the country. Meanwhile, Swedish furniture brand Ikea has also sent 5,000 flatpack shelters to the country.
Tents and temporary settlements are being erected by Turkey in stadiums, parks, destroyed city centers, and fields — while summer beach resort owners outside affected areas are opening up their hotels to accommodate survivors. Thousands of rooms in hotels across Turkey were allocated for evacuees, officials told Reuters.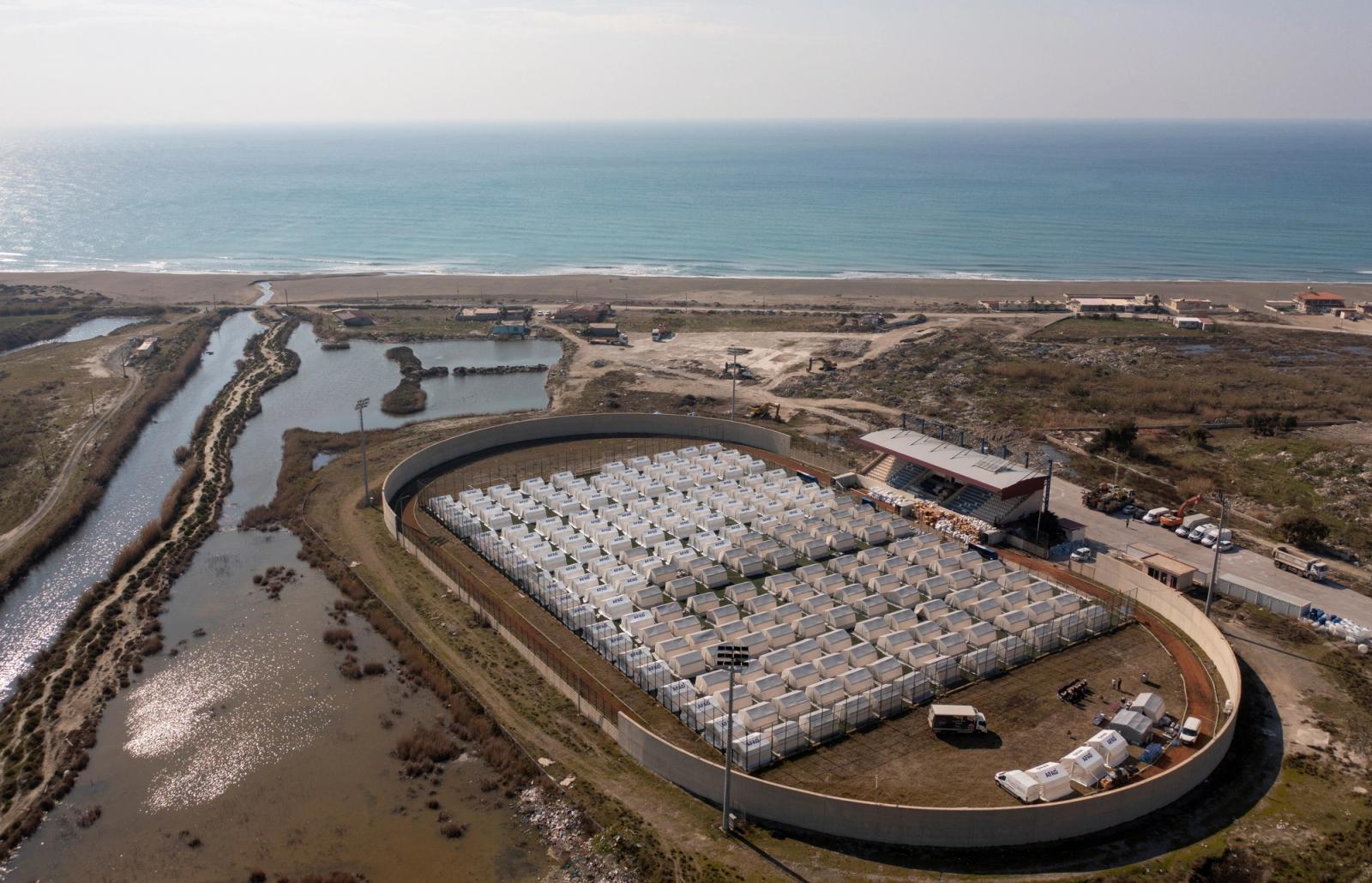 Large families crowded into white tents at camps set up by Turkey's Disaster and Emergency Management Authority, told NPR that there wasn't enough food, water, heat, and gas.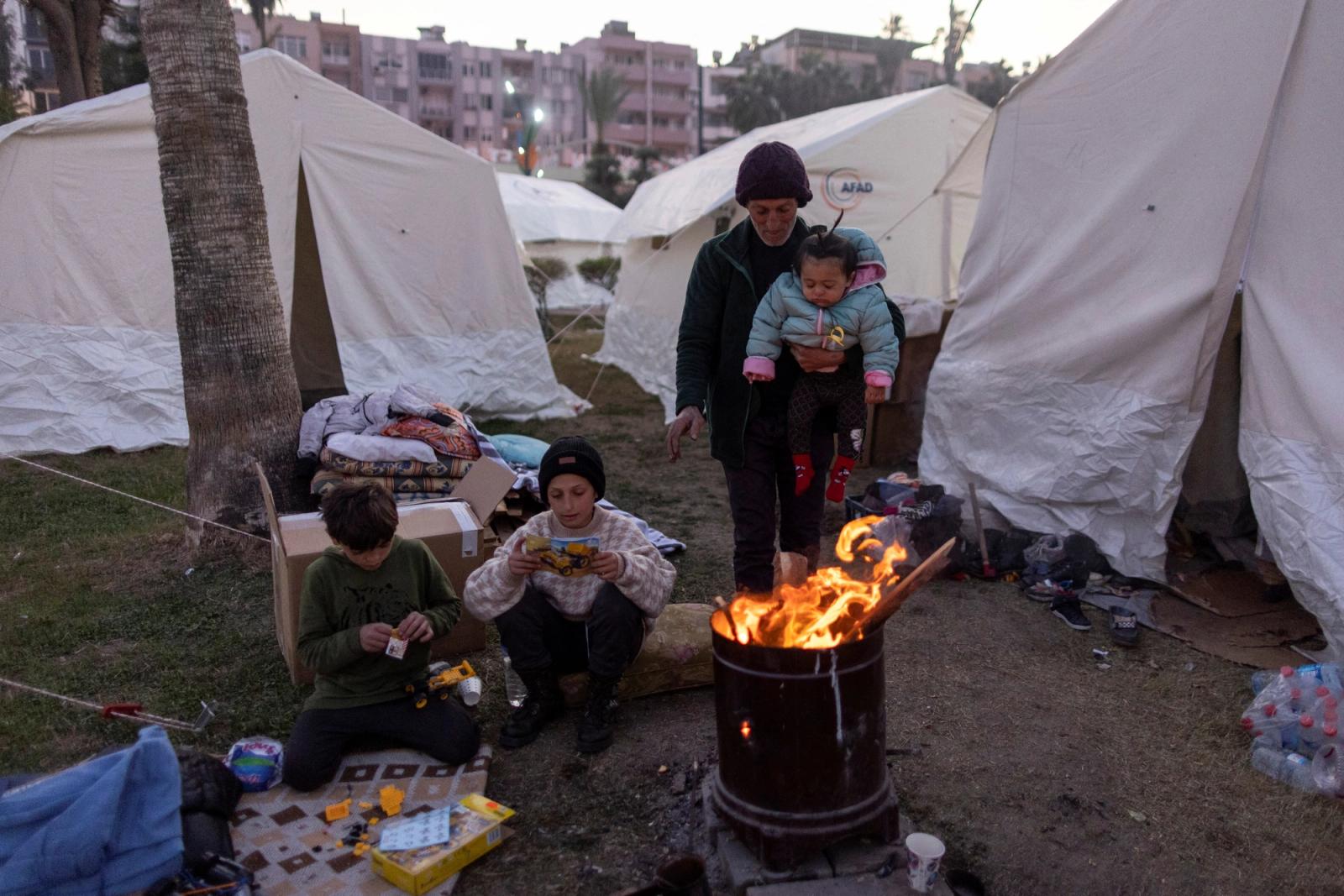 Food, water, and hygiene
The Turkey Red Crescent has deployed rescue teams with catering vehicles and mobile kitchens to affected areas across southern Turkey. While in northern Syria, Syrian Red Crescent volunteers have distributed food and water to survivors.
Charity group Oxfam said that the organization has started to provide safe drinking water to those affected in Aleppo, and that it has also conducted safety checks in 220 buildings where water taps and toilets have been fixed. Oxfam says it plans to reach more than 300,000 survivors over the next six months.
Both organizations have also ensured that hygiene kits would be distributed.
Turkey's disaster management arm said it had sent dozens of food trucks and thousands of meals, but in camps, survivors told NPR that they hadn't eaten for days while waiting in long lines for food. Evacuees said that the limited number of bathrooms were difficult to access because of the crowds.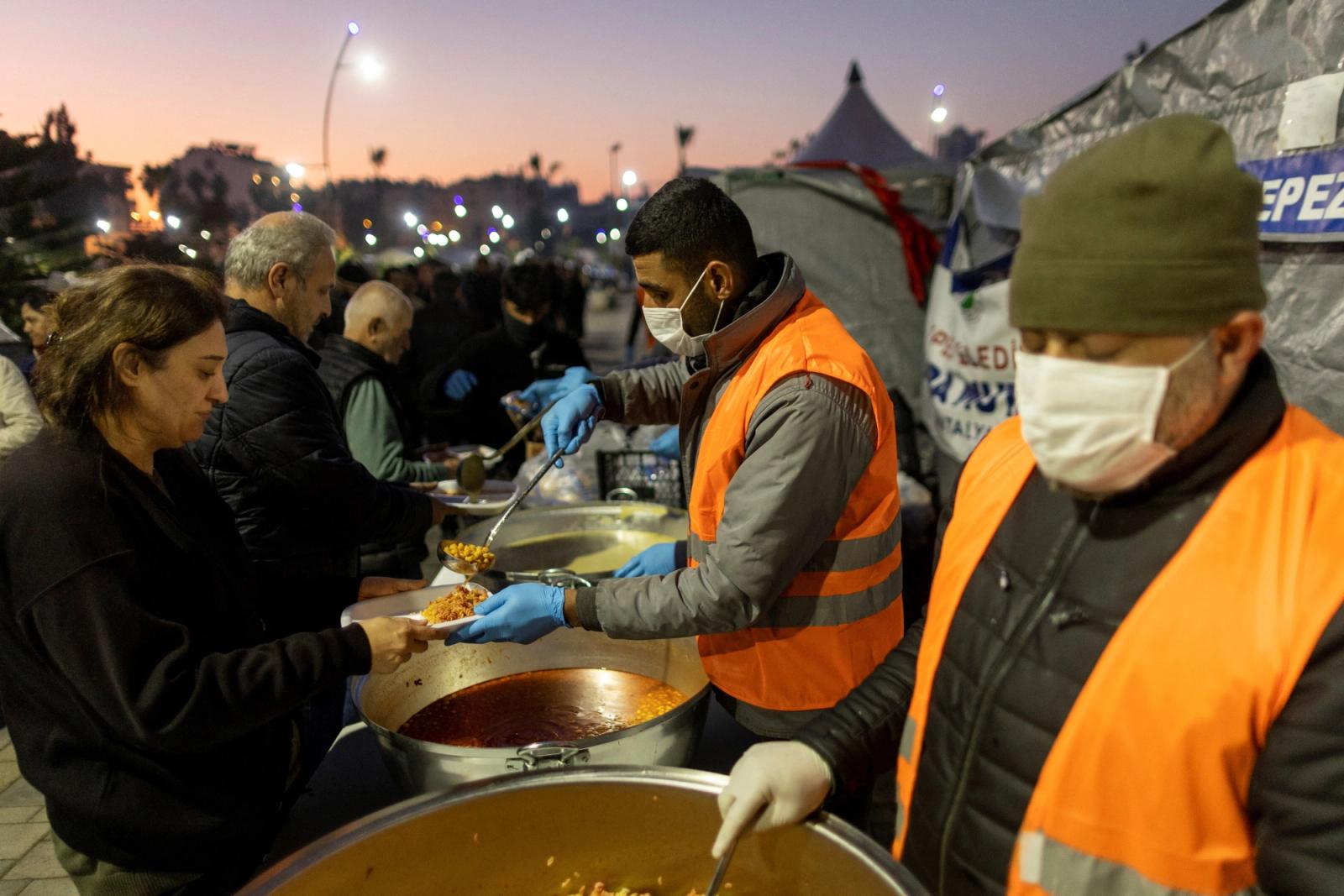 Medical Support
Speaking to Semafor, members of the White Helmets said that the number of body bags on the ground are running out, and people in need of emergency surgeries in Syria are in the thousands.
With many hospitals destroyed and the remaining ones overwhelmed across both countries, they worry that the only way those injured can receive care is if they leave the country.
Over the past week, the World Health Organization said that it has dispatched three charter flights with emergency kits and medical supplies, enough to treat 400,000 people and conduct 120,000 urgent surgeries across Turkey and Syria. The WHO also pledged a supply of vaccines against tetanus and rabies. The agency said that mobile pharmacies have also been set up.

Mental Health
The WHO has also pledged psychological support to survivors of the earthquakes by providing general mental health and post-traumatic rehabilitation.
In Syria, the White Helmets say that their volunteers are also providing psychological support to survivors, as part of their second stage of rescue and relief efforts.

Step Back
Turkey's president Recep Tayyip Erdogan continues to face criticism for his government's slow response to the disaster.
"We have been experiencing the largest disaster in history," Turkey's Interior Minister Suleyman Soylu said at a news conference Monday. "We are working very hard to manage it."
More than 40,000 people had died from the earthquakes, as of Tuesday. In Turkey, 35,418 people have died, while in Syria the death toll stood at more than 5,500.

Quoteworthy
On Tuesday, eleven trucks of aid from the United Nations entered Syria through the Bab al-Salama border. But Oubadah Alwan, a spokesperson for the White Helmets, told Semafor that the convoy has come too late.
"You can bring in trucks forever and ever and the crisis won't be solved," he said. "Syria hasn't been buried under the rubble for the past week; it's been buried under the rubble for the past 12 years since the beginning of the Syrian war — since the government started dropping bombs on people's houses."