Will Democrats putting South Carolina first kneecap the left?

The News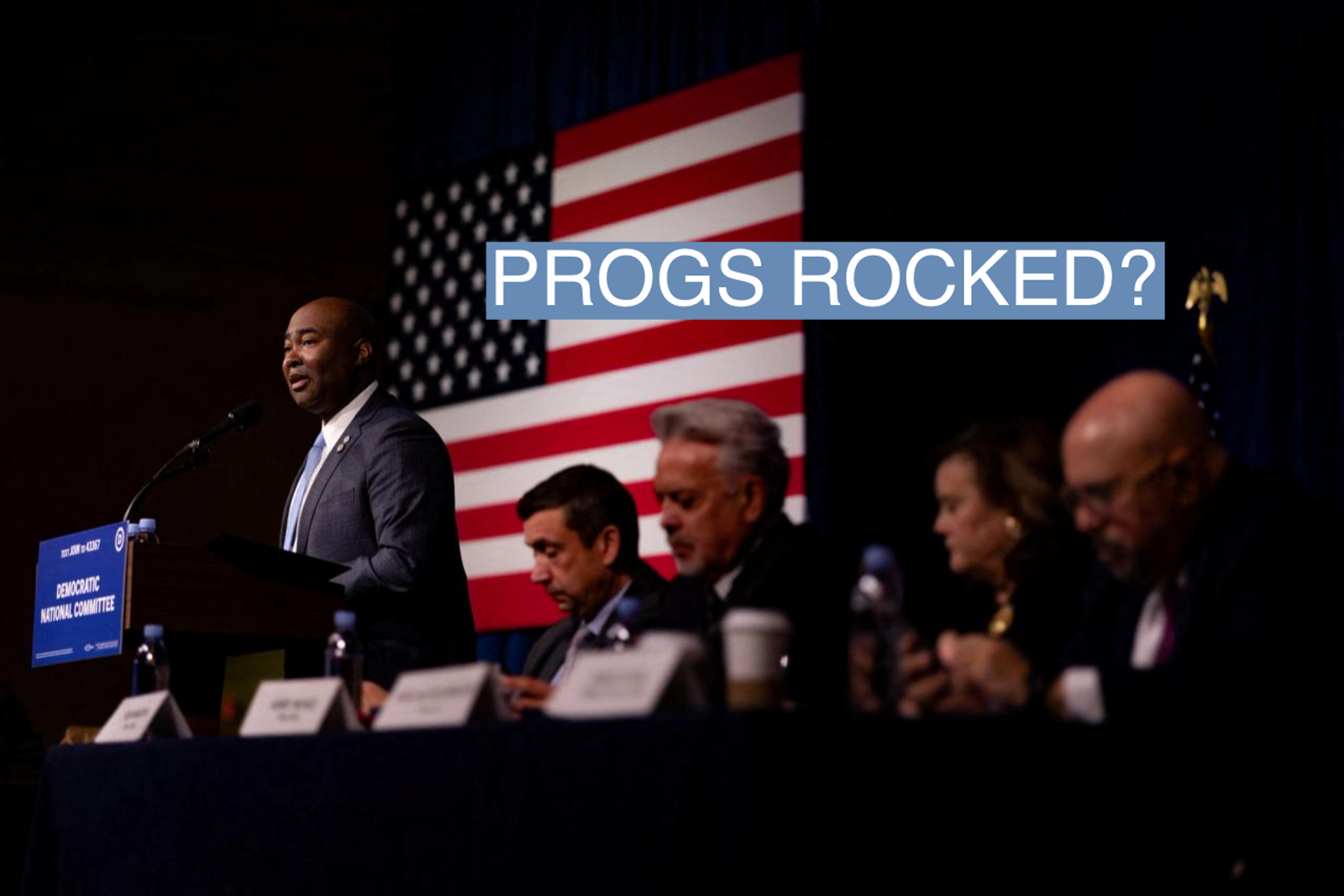 Democrats pushed South Carolina to the front of their primary calendar on Saturday, ending Iowa's first-state status for at least four years. At their winter meeting in Philadelphia, members of the Democratic National Committee said that the new schedule — South Carolina on Feb. 3, then New Hampshire and Nevada on Feb. 6 — would give non-white voters the clout they deserved.
"We wanted a calendar that would reflect who our party is now, and not who it was back then," said Leah D. Daughtry, an at-large DNC member, arguing for the change on Saturday. "This is about acknowledging that Black and Latino voters are the committed base of our party and deserve to have a say in the crafting of who our nominee is."
Progressives suspect another reason for the change. Nina Turner, who co-chaired the 2020 Bernie Sanders presidential campaign and campaigned throughout South Carolina, told Semafor that the new calendar would "rig it from the beginning," narrowing the path for any progressive candidate by giving the first vote to a state with rock-bottom union density and a more conservative Democratic electorate than Iowa.
"There is only one reason why they changed that, and that is to make sure that there's a higher hurdle for progressive candidates to jump," said Turner. "There are plenty of states with diverse electorates that they could select to be the first. But they pick South Carolina, deliberately, to try to thwart the chances of any progressive candidate… it's not in service to Black voters, it's in service to artificially creating momentum for their status-quo candidates."
Democrats had other stated reasons for demoting Iowa, whose complicated caucus system had kicked off presidential primary voting since 1976. The 2016 contest between Sanders, Hillary Clinton, and former Maryland Gov. Martin O'Malley ended with a razor-thin, contested Clinton win, angering progressives who believed that Sanders had won the popular vote but lost the delegate count that favors rural precincts.
The 2020 contest was a worse debacle, thanks to a results app that didn't work on caucus night, sending candidates into New Hampshire without a clear Iowa winner. Sanders claimed victory in the raw popular vote; future Secretary of Transportation Pete Buttigieg won the delegate count by less than one-tenth of a percentage point.
That supercharged the effort to demote Iowa, already driven by critics who wanted a more racially diverse state to vote first, against defenders who celebrated its role in electing the first Black president. As white voters without college degrees left the party, the Iowa electorate became more friendly to progressive candidates and ideas — a factor that Democrats worried about more quietly.
"Iowa's always been a progressive place," said Pete D'Alessandro, an Iowa strategist who ran the 2016 caucus campaign for Sanders and advised him in 2020. "In a four- or five-way race, you knew that between a quarter and 30% of voters were progressive, and that would mean you're competing to win."
According to the 2020 entrance poll of caucus-goers, 53% of Democrats who participated had obtained at least a four-year college degree, compared to 40% of primary voters in South Carolina. Just half of the first-in-south primary electorate considered itself "liberal," compared to 68% of caucus-goers in Iowa.
At Saturday's meeting, South Carolina Democratic Party chairman Trav Robertson defended the new calendar, saying that critics who expected his state to vote as a monolith for whatever candidate the party establishment wanted were fooling themselves.
"I suggest to you, ladies and gentlemen, that those people who are making that claim are the very individuals that can't put together a campaign that effectively communicates with the African-American community," said Robertson.

David's view
One paradox of the modern Democratic primary is that the party's base is moving left on key issues while helping change the process to become less hospitable to progressive, anti-establishment candidates.
Sanders played a role in all of that. His campaigns elevated ideas like Medicare-for-all and a federal jobs guarantee, but after he fell short in 2016, he campaigned to replace as many caucuses as possible with primaries. The theory: Expanding the electorate to bring in more disaffected working-class voters with weak partisan ties would benefit the left.
The result was contests that were easier to vote in, but not friendlier to progressive candidates. In 2020, Joe Biden romped in South Carolina and won high-turnout primaries with a multiracial working-class coalition, not entirely dissimilar to what Sanders supporters hoped to achieve.
Where Biden did not do well was Iowa, where Democrats spent more than a year courting the state's most die-hard caucus-goers while pursued by activists with the Sunrise Movement or the ACLU that urged them to embrace ideas like a fossil fuel phase-out or restoring voting rights to all prisoners.
That activism will continue no matter how the calendar ends up looking. New Hampshire's bipartisan insistence on holding the first primary, and the reluctance of Georgia and South Carolina Republicans to officially change their primary dates, can't be settled by the DNC.
But by putting South Carolina first, and casting it as a victory for diversity, equity, and inclusion, Democrats embraced the race-based critique of the calendar and gave a more conservative electorate new power in picking the nominee.
Racially diverse Nevada — a caucus state with a heavy union presence, where Sanders had done well — didn't get the first-state status they wanted. Turner, who pointed out that Sanders got more South Carolina votes in 2020 than he had in 2016 and still lost, said that any future left-wing challenge would need to get momentum by winning elsewhere.
"You've gotta get in there and do the work, and build on what we did," Turner said. "New Hampshire and Nevada vote the very next week. A progressive could do all that they can to try to close the gap in South Carolina, and at the same time work extraordinarily hard to win New Hampshire and Nevada and Iowa."

Room for Disagreement
Generals often fight the last war, especially when it comes to party primary calendars, and it's hard to predict who would benefit the next time Democrats have an open contest — most likely 2028 — when we don't even know the candidates or political environment.
On the Republicans side, for example, the RNC redesigned their calendar after 2012 to have more winner-take-all races after the establishment favorite Mitt Romney emerged weakened from a drawn-out contest against various also-rans in 2012. Instead, the sped-up calendar helped the ultimate anti-establishment candidate, Donald Trump, sew up the nomination before party elders could rally an effective opposition.