The News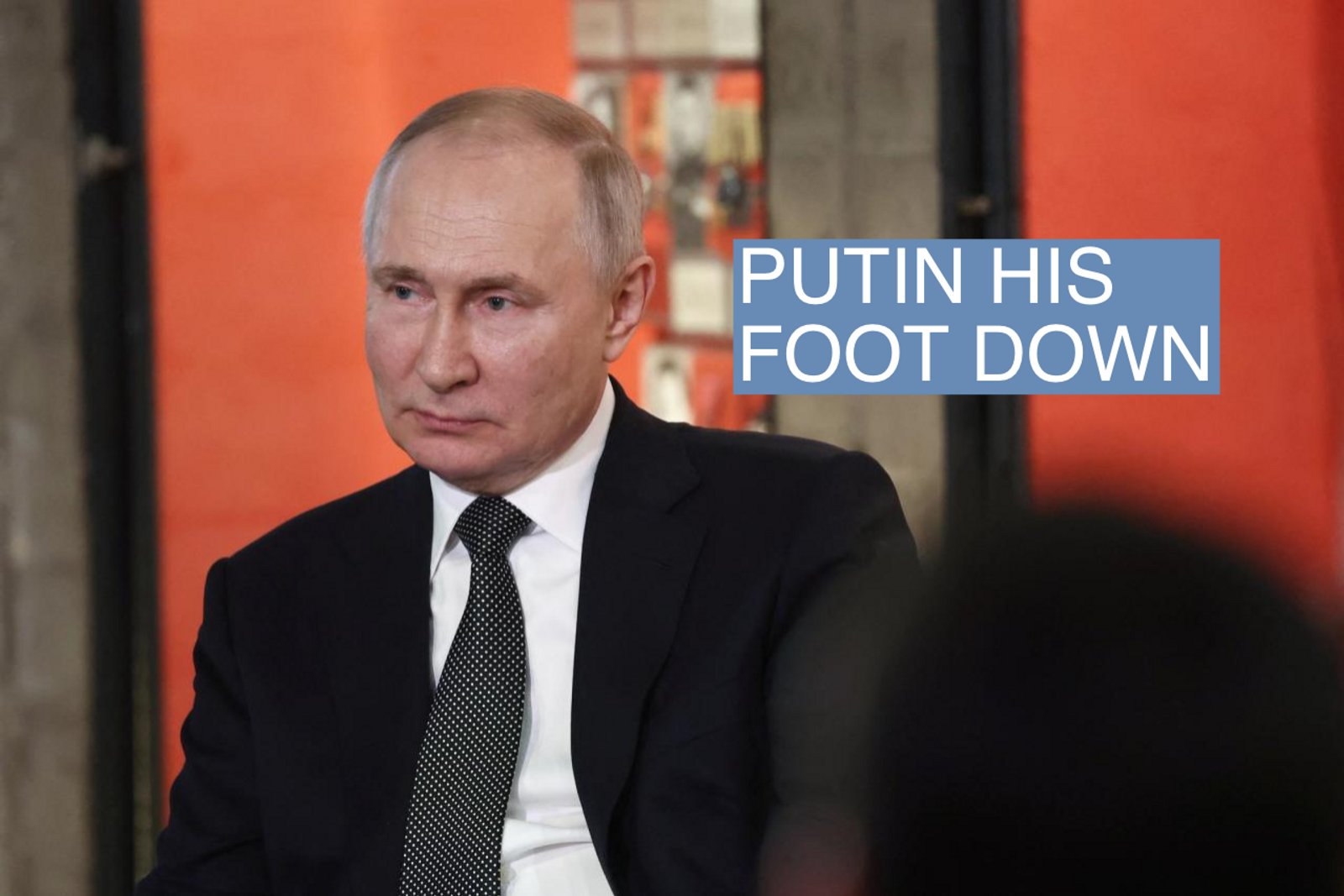 The next phase of Europe's energy retaliation against Russia will bring more pain to European energy consumers — without much of a toll for Russian President Vladimir Putin.
In December, the European Union implemented an embargo on imports of Russian crude oil. On Sunday, the bloc is following up with an embargo on refined petroleum products such as diesel, gasoline, and naphtha (a key ingredient of plastic). Russia is the world's number two exporter of refined products after the U.S.
As with the earlier restrictions, exemptions to the embargo will be allowed for European insurance and shipping companies that deliver the products from Russia to non-EU locations, provided they only deal with shipments that are priced below a certain cap. As of press time Friday, policymakers were still debating the cap. One that is much lower than the market price would choke off global supplies, but the higher the cap, the less damage the embargo deals to Putin's government.
Whatever the final number, the new embargo is likely to hit European business and consumers hard, given the bloc's heavy reliance on Russian diesel for passenger and commercial vehicles, and its limited options for alternative sources.
"It's going to be a lot harder to do," said Ben Cahill, an energy security expert at the Center for Strategic and International Studies in Washington, D.C. "The global refined products market is much tighter, so there's less wiggle room to squeeze Russia and a lot more room for error."

Know More
Western powers have been seeking to choke off Russia's economy in large part by limiting its energy revenues. Pre-war, oil and gas accounted for about 45% of Russian government revenue. Refined petroleum products typically provide Russia's government about half a billion dollars in revenue per month, much less than crude oil but still significant. To some extent, the various restrictions are working: In December, oil and gas revenues fell to their lowest point since the war started, in part because of the crude oil price cap, though they still deliver the government $700 million every day.

Tim's view
The new embargo seems unlikely to hurt Putin much.
Russia may not be able to rely as much on countries such as India and China as alternative diesel buyers as it has for its discounted crude oil, since both countries have their own robust refining industries. But Russia has been building up a fleet of tanker ships to help it redirect its refined products exports to eager buyers in Latin America or Africa. Reid I'Anson, an economist at the market research firm Kpler, said Russia should be able to reach new buyers for the 600-700,000 barrels per day in diesel it currently sends to Europe.
If Russia struggles, it could also idle its refineries and sell more crude to India or China. Those countries can also then flip diesel back to Europe, taking Russian crude on a roundabout, expensive journey that nonetheless keeps income flowing to the Kremlin. Putin could also deliberately choke off diesel exports in retaliation and try to drive up prices enough to more than offset the loss of sales volume, a tactic that has worked well with crude oil.
Ultimately, it's nearly impossible to impose energy-related sanctions in a way that doesn't inflict costs on everyone, because the global energy market is so interwoven. The more that price caps and trade barriers restrict the flow of Russian diesel into the global market, the more Europeans will pay.

Room for Disagreement
Russia's campaign in Ukraine is expensive, and its budget deficit is rising. Europe has slashed Russian gas imports from half of its supply before the war to less than 15% now. Gas is more cumbersome and expensive to suddenly reroute to new markets than oil, meaning the loss of European customers is a serious blow. Putin also lost some leverage since this Europe's winter proved fairly mild. And if Russia decides to escalate its aggression in the spring, Europe and its allies may decide a lower price cap is worth the cost.

The View From China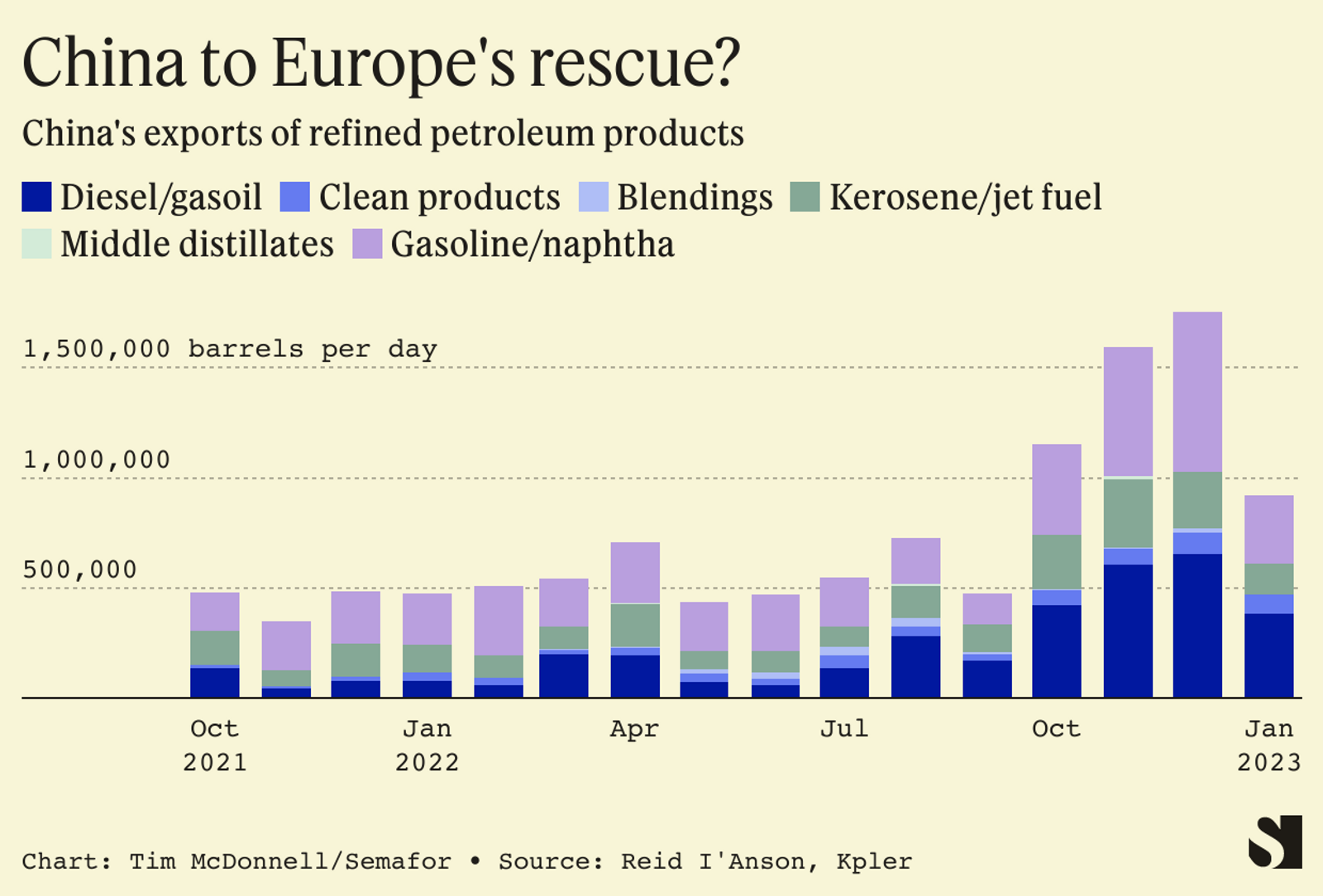 China could come to Europe's rescue. The country's exports of refined products hit a record high in December, in response to a government export quota meant to stimulate the economy while domestic demand remains low. That helped Europe top up its diesel storage tanks in advance of Sunday's EU action. Depending on the pace of China's post-pandemic re-opening, it could have more diesel to spare. But Beijing will need to be careful about how much cheap Russian crude it imports at the risk of violating purchase contracts with Saudi Arabia and other Gulf producers.

Notable
Russia's decision to squeeze off natural gas supplies and thereby drive prices up may not have hurt Europe too much, but it's a big problem for its ally China, which has had a much colder winter, The Wall Street Journal reported.