Updated Jan 27, 2023, 1:26pm EST
politics
The Republican Party is finally choosing its chair after a surprisingly intense race

The News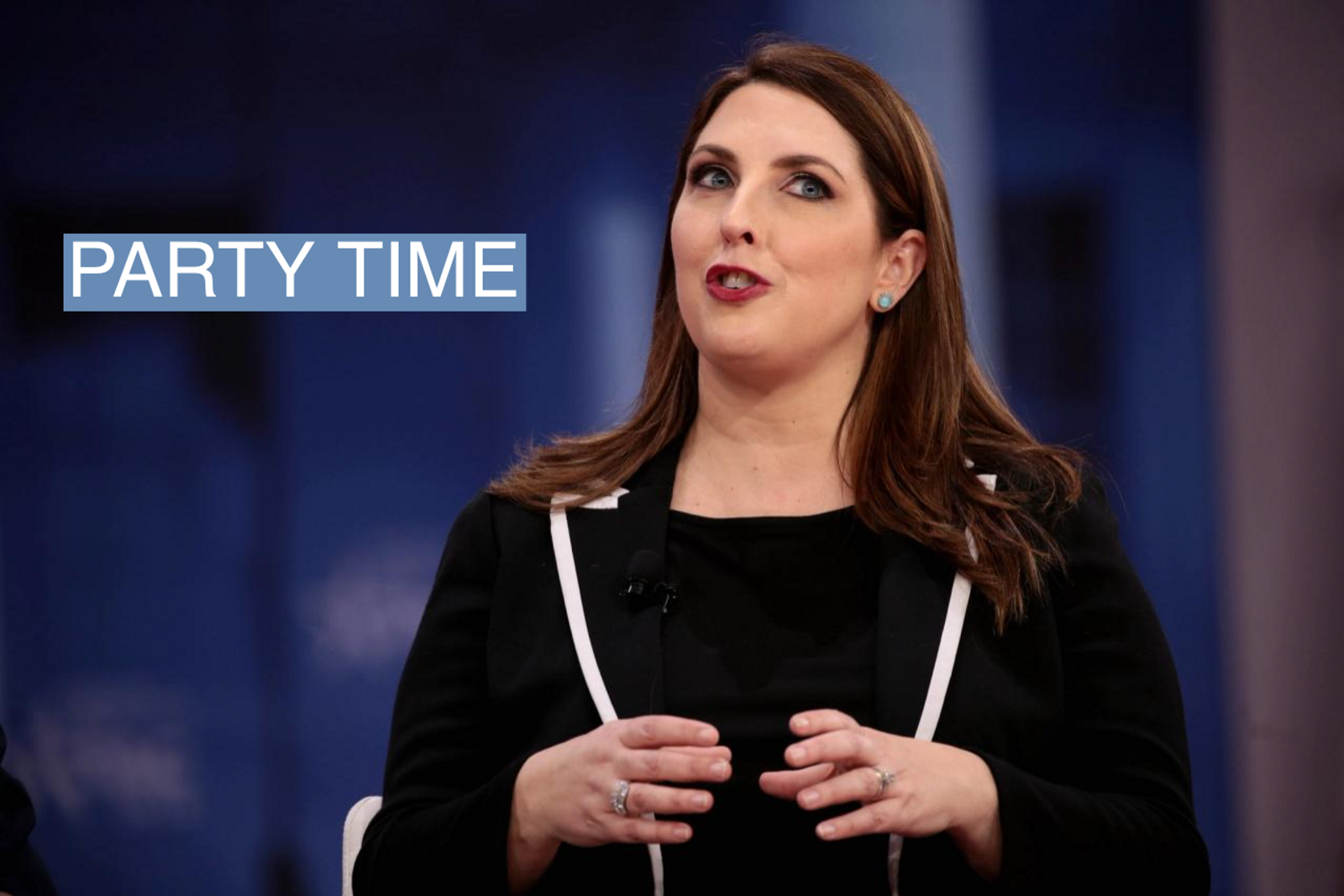 DANA POINT, Ca. – The Republican National Committee will elect its leadership team today, after a short but bitter contest between three-term chair Ronna McDaniel, California RNC member Harmeet Dhillon, and MyPillow founder Mike Lindell.
McDaniel had tried to stop the race before it started, with a letter from most of the RNC's 168 members praising her performance after a disappointing midterm. Dhillon and Lindell pressed on, appealing to conservative activists and media outlets who were critical of McDaniel.
That paid off on Thursday, when Florida Gov. Ron DeSantis told Dhillon supporter Charlie Kirk that the committee needed "new blood" after "three substandard elections" for the GOP.
"I suspect it will have an influence on people," Dhillon told reporters. "We're having a lot of suppressed conflict here, and it's all coming to the surface."
But Dhillon, who has 29 public commitments from members, entered the vote at the Waldorf Astoria far short of the 85 votes she'd need to replace McDaniel. Members voting to keep the chair said that she wasn't to blame for 2022 losses, and even some undecided members said that a deluge of emails from McDaniel critics, after a pro-Dhillon website had shared their contact information, had mixed results.
"Some of them were ridiculous and threatening — mean-spirited," said New Jersey GOP chairman Bob Hugin. "But I've certainly learned a lot from the others."
Lindell, who isn't a member of the committee, came into the meeting with a single supporter, and Dhillon said she'd give him a role in the party if she prevailed. Both had called for the committee to dump vendors and law firms that donated to Democrats, while McDaniel argued that the criticism of the committee was undermining its work.
"I'm running on unity," McDaniel told Semafor before the meeting began. "It's easy to burn it down, it's harder to build it, and I want to work with every RNC member to make sure we're successful in 2024."

David's view
There's intense media interest in a race that most Republicans don't think will be close. Why? One reason is the (very) slim chance that McDaniel, who for the first time doesn't have Donald Trump's endorsement for this job, could lose.
A bigger reason is the way that pro-Trump conservative activists and media mobilized behind Dhillon — from mega-donors like Richard Uihlein to Kirk's Turning Point USA network to Steve Bannon's "War Room" podcast. Their involvement has made the contest more acrimonious and raised the stakes on the results, which are now a heat check for the grassroots right after a midterms in which their favored candidates took plenty of criticism.
"If Ronna McDaniel is re-elected, it's crazy to think that the party will come back together," said Caroline Wren, a GOP fundraiser helping to run Dhillon's campaign, at a Wednesday forum with Lindell, hosted by conservative radio host John Fredericks. "The entire Fox News evening lineup has called for her to resign."
On Thursday, Dhillon said she was still wrangling votes, but added that she, Lindell, and McDaniel had told members that they'd come together after the election, no matter who won.
"Whatever happens here," said Dhillon, "we'll be working towards electing a Republican president in 2024."

Notable
Peter Roff at The Daily Caller sees few substantive differences in the RNC race despite the drama, and thinks the results may be of little consequence. "No one is sure what the RNC does anymore or even if it's needed," Roff writes. "The rise of the Internet as a political tool, the Supreme Court decision in Citizens United, and the adoption of personality politics in both parties as an avenue to winning elections [may] be rendering the organization obsolete."