The News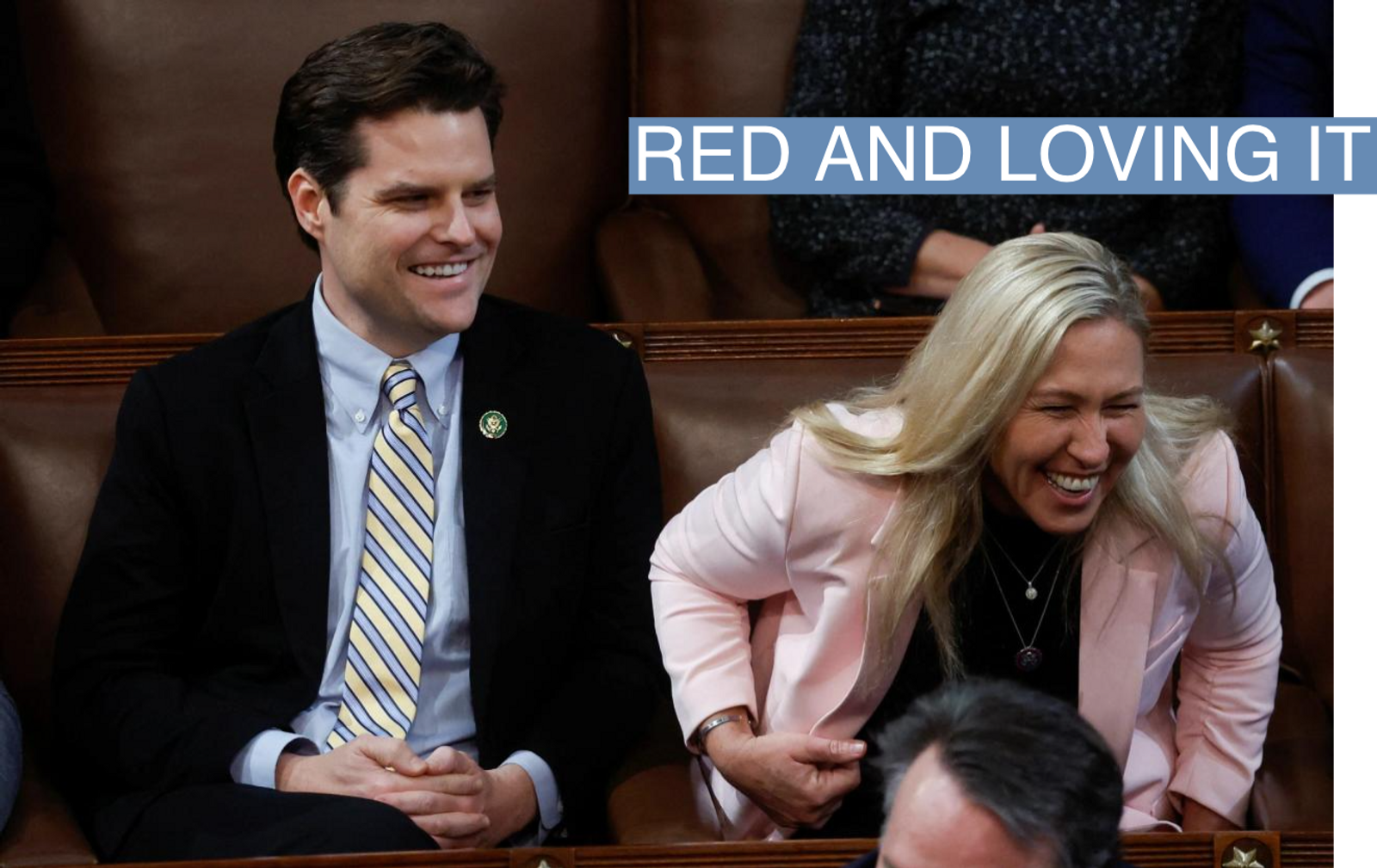 Powerful influence over must-pass spending bills. A one-vote threshold for challenging a Speaker of the House. A clear path to add more and more members to their ranks.
House GOP leaders offered all of this to a rebel faction this week, in an effort to win over at least 17 of the 21 conservatives who refused to support Kevin McCarthy for speaker. To take the gavel, the Republican leader would give up some of the powers Nancy Pelosi had used to manage her Democratic majorities. After the deal was presented to members, 14 of the holdouts relented on the next vote.
"Almost everything they've asked for has been agreed to by Kevin McCarthy," said Nebraska Rep. Don Bacon, a McCarthy supporter who suggested that the standoff could end with some Republicans joining Democrats to pick a compromise speaker.
"They still don't know how to get to yes," Bacon added, describing parts of the offer as "affirmative action for the smallest caucus we have."
Some of the Republicans who blocked McCarthy intended to keep going. Early Thursday morning, in a Twitter space where conservatives asked for updates on the "Never Kevin" push,  Florida Rep. Matt Gaetz said that the holdouts fit into two camps. One could support McCarthy if they "put him in a straightjacket" and reduced him to "a portrait on the wall." The other, which Gaetz himself belonged to, would keep voting no until the GOP leader surrendered.
"If I had half the votes I currently have, we would stop Kevin McCarthy," Gaetz said. "If I had half of half of the votes I have, I would stop Kevin McCarthy."

David's view
The impasse in the House could end in one of three ways: A McCarthy victory with concessions to the holdouts, a different Republican taking the gavel with GOP-only support, or a speaker elected with bipartisan support.
That third scenario occurred in two state legislatures this week, places where the same kind of factional battles play out before far fewer cameras.
There are now "Freedom Caucuses" in 10 of 50 state legislatures, modeled after the one in D.C. and pursuing the same strategy to get concessions from Republican leaders. There are also two states, Alaska and Pennsylvania, where the party that won more seats in November doesn't control the House floor.
In Pennsylvania, where a death and two vacancies temporarily deprived Democrats of their one-seat House majority, Republican legislators convinced Dan Rozzi, a moderate Democrat, to become an independent and grab the gavel, with their support. In Alaska, a bipartisan coalition now governs from the middle, as it has in previous years.
In Ohio, 22 Republicans voted with every Democrat to elect Jason Stephens, the most moderate of three candidates for speaker, over the candidate supported by the GOP supermajority.
"When you've got a well organized minority, and you've got factions within the majority, you can build a coalition," said Allison Russo, the Democratic minority leader in Columbus. "Stephens is a little bit more interested in governing and getting things done, and not getting distracted by the culture wars that consumed a lot of our time in the legislature."
The standoff in the U.S. House had plenty of observers inside and outside the Capitol asking why they couldn't do something similar. Rep. Don Bacon, R-Neb. has loudly threatened to talk to Democrats about a deal if conservatives don't crack. Democrats like Rep. Mary Peltola — until recently, an Alaska state legislator — and Marcy Kaptur of Ohio have said they're interested as well.
"If there are members who want to form a coalition majority like we often see in Alaska, I'm open to discussing that," Peltola told Alaska Public Media.
Cutting a deal like that would always be harder in Washington, said Rep. Brendan Boyle, D-Pa.. The stumbling block was the political press, which put an "intense national focus" on Congress, and made stars out of the most obstinate members.
"There isn't as much focus on state legislatures, so it's actually easier to be creative, and to do risky things," Boyle said.
The anti-McCarthy holdouts don't see their strategy as risky. Chased around the Capitol all week and asked how their protest would affect everything from national security to the party's image, they echoed what Texas Rep. Chip Roy said on Tuesday: "Do you think anybody in America right now is like, oh my God, there's not a Speaker?"
Their eyes were on must-pass legislation, from a likely debt limit increase this year to the twelve appropriations bills they were demanding, and getting more power to amend them on the floor. The last time that a Democratic president and Senate had to deal with a Republican-led House, those negotiations often ended with most House Democrats joining a rump of House Republicans to pass whatever came out of the Senate.
Conservatives who wanted to extract rules changes saw a way to empower a bloc who always got cut out at the end of negotiations. They could get seats on the Rules Committee, which traditionally is packed with the speaker's allies to speed his agenda through. They had already gotten the Congressional Leadership Fund, the McCarthy-aligned super PAC, to stand down in primaries for safe Republican seats.
The rebels could still push too hard, and lose the concessions, if an Ohio-style deal gets struck at some point. But this factional pressure looks like the wave of the future, which worries some Democrats.
"It could set a precedent, going forward about how far members of each party will take their disagreements with a speaker," said Texas Rep. Joaquin Castro. "Ordinarily, this is all handled within the conference, but this is a group of people who are insisting on using the floor process as a way to gain more leverage and concessions."
To some people, eager to change how Congress worked, that doesn't sound too bad.