The Facts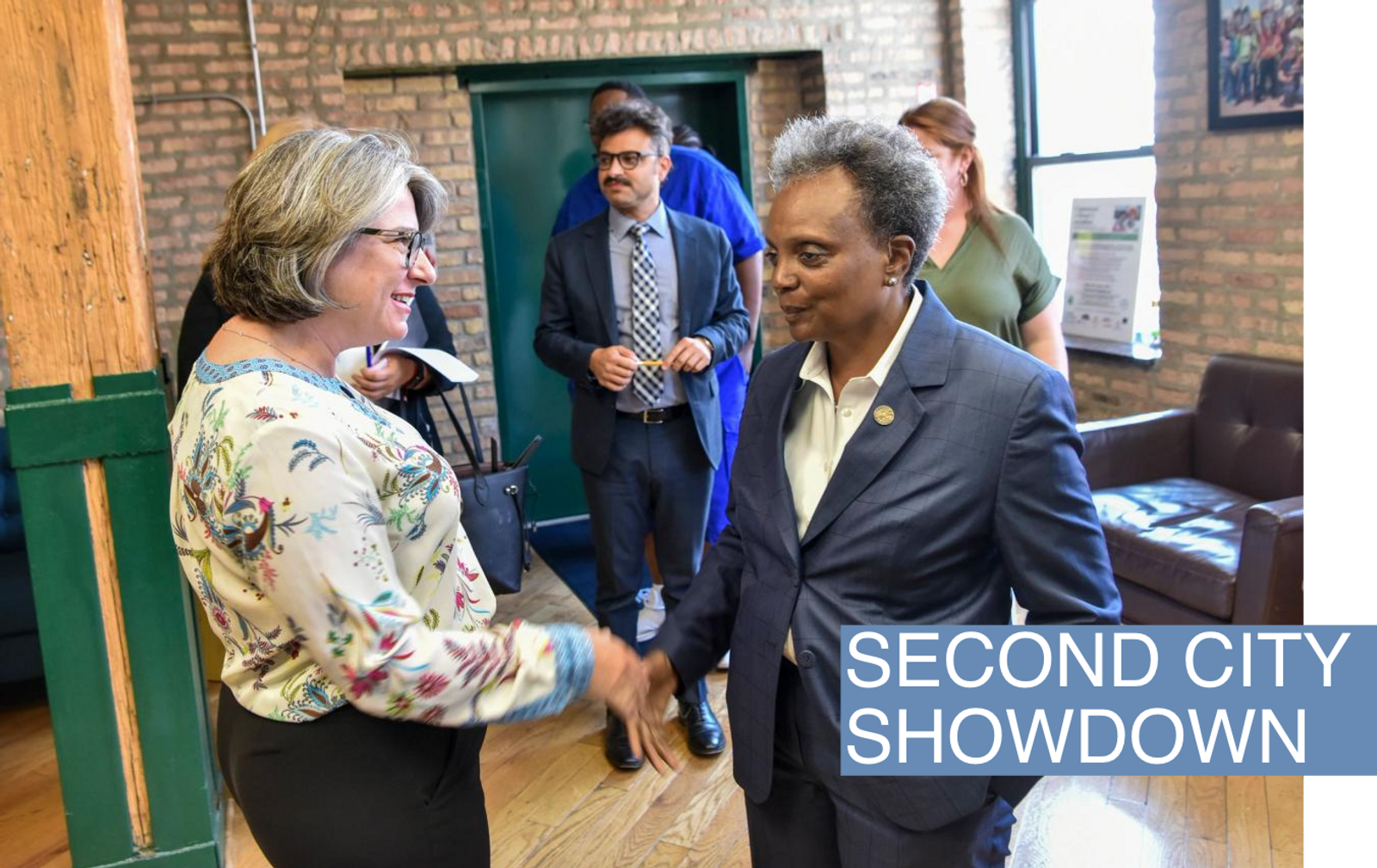 Three races for governor in red states that keep getting redder. The first elections for mayor in some major cities — Chicago, Houston, Phoenix, Philadelphia — since the start of the COVID-19 pandemic. A state supreme court seat in Wisconsin that the winner will hold for a decade. The next presidential election may be two years away, but there's plenty of important votes along the way.
Here's what to watch for.
Can a Democrat hold on in Kentucky? Gov. Andy Beshear won his first term by a 0.4-point margin, narrowly unseating an unpopular Republican by promising to keep Medicaid expanded and end his predecessor's battles with public school teachers.
He did that, spent two years battling the COVID-19 pandemic, and ended 2022 with an approval rating above 60%. Re-electing him, their only incumbent governor on the ballot this year, is national Democrats' top electoral priority.
Republicans will pick their nominee on May 16, and Attorney Gen. Daniel Cameron surprised some of them last year by joining that race; he's a protégé of Sen. Mitch McConnell, and a favorite to replace him if he retires in 2026.
Donald Trump endorsed Cameron a month later, as did the anti-abortion Susan B. Anthony List, whose founder Marjorie Dannenfelser told Semafor that Cameron was a "hero" for defending the state's abortion ban at the Supreme Court, while Kentucky voters were rejecting a related ballot measure.
Cameron starts the year as the Republican to beat. Kelly Craft, Trump's wealthy ex-U.N. Ambassador, entered the race a few months later, endorsed by incoming House Oversight chair Rep. James Comer. Two other Republicans in statewide office are running, and filing closes on Jan. 6. – plenty more time for speculation about "Papa" John Schnatter, whose castle sits on 16 acres outside of Louisville.
Can Republicans unite in Mississippi and Louisiana? Republicans start off stronger in the year's other races for governor. Mississippi Gov. Tate Reeves, who led a GOP sweep four years ago, is running for re-election; Louisiana Gov. John Bel Edwards, an anti-abortion Democrat who Republicans never figured out what to do with, is term-limited out.
Reeves had to get past a popular Democrat to win in 2019, and with that threat gone, Secretary of State Michael Watson and Republican House Speaker Philip Gunn have entertained speculation about running. Watson even conducted a poll to gauge his strength, though neither man clashes much with Reeves; both the governor and Gunn want Mississippi to be the 10th state with no income tax.
Democrats don't have much of a bench in Mississippi, and state Public Service Commissioner Brandon Presley, the second-most famous male member of his family, could walk to the nomination if he wants it. They're similarly bereft in Louisiana, where state Transportation Secretary Shawn Wilson is the only Democrat now running.
Republicans have more candidates looking at the race in Louisiana, and Attorney Gen. Jeff Landry is already in it. Like Cameron in Kentucky, he spent the months after last summer's Dobbs decision fighting to enforce his state's abortion ban, battling the city of New Orleans over local Democrats' opposition to it, even holding up money from the state bond commission to make local leaders relent.
That hasn't warded off competition, yet. Sen. John Kennedy, fresh off his easy 2022 re-election, is still looking at it. So is Lt. Gov. Billy Nungesser, who put a poll in the field right before the state's librarian sued him over claims that he retaliated when she reported his corruption. Nungesser speculated last year that opponents were dragging him into a scandal "because they don't like my political stance."
Abortion wars in Virginia. The battle for Richmond will play out all year, starting next week with special elections.
Republicans start out with a four-seat majority in the House of Delegates, and Democrats start with a 21-19 majority in the Senate. On Jan. 10, voters in the Virginia Beach-based 7th state senate seat will pick a replacement for Republican Rep.-elect Jen Kiggans, and a Democratic victory there would expand their majority to 22-18.
There'll be another special election after Feb. 21, when state Sen. Jennifer McClellan is likely to win a vacant seat in Congress; then primaries on June 20, with multiple match-ups between Democrats shoved into new districts; then the election itself.
We've already seen Democrats cast the special senate election as a way to prevent Governor Glenn Youngkin from ever getting a GOP majority that could revisit abortion law, and we'll see if Republicans develop a response to that.
Chicago, and other reckonings for mayors. It's been 40 years since Chicago voters ousted a mayor after a single term. Lori Lightfoot is on the verge of a repeat, with eight challengers in the Feb. 28 primary, encouraged by extraordinarily weak polling for the incumbent. If no one gets 50 percent of the vote next month, two candidates advance to an April 4 runoff.
Lightfoot had never held office before her 2019 win, and made enemies with her handling of the pandemic and response to record-high murder rates. Other Democratic mayors of Democratic cities were drained by the last four years, too. In Philadelphia, Mayor Jim Kenney won two terms as a progressive police reformer, and spent the second one taking the blame for rising crime, barely concealing his fatigue.
The victor of the May 16 Democratic primary is all but certain to win in November, and five Democrats left the city council to run, with ex-mayor Michael Nutter, who's blamed his successor for the crime backslide, still looking at it.
Progressives coalesced behind Kenney in 2015, and ex-city council member Helen Gym is trying to make that happen again for her. In Houston, too, progressives have multiple choices for mayor; state Sen. John Whitmire, 73, is running as a business-friendly Democrat who'll reduce homelessness and crime.
Democracy in Wisconsin. On Feb. 21, Republicans start defending the 4-3 conservative majority on the state supreme court, and Democrats start trying to flip it. It's a years-held goal that took on new urgency after the Trump campaign's multiple 2020 lawsuits to overturn the election here, and after the conservatives signed off on a map that locked in the GOP's legislative gerrymander.
Nonpartisan on paper, the ballot will contain two candidates aligned with Republicans and two aligned with Democrats. Dan Kelly, who lost his seat on the court in a 2020 upset, was the best-known conservative candidate until the trial of convicted Waukesha parade killer Darrell Brooks. Jennifer Dorow, the judge presiding over the Brooks case, entered this race right after the conviction, infuriating Kelly, and raising the possibility that two Democrats (Everett Mitchell  and Janet Claire Protasiewicz) get the most votes and make it through to the April 4 election.
That's not likely, but both parties see the risk and the opportunity. A liberal majority could revisit the legislative gerrymander that's locked in GOP control in Madison for the next 10 years, and a conservative majority won't. "I do believe that if a more progressive judge wins that race, we'll see activity," Gov. Tony Evers told Semafor in an interview last year.