The Scoop
X, Elon Musk's social media platform formerly known as Twitter, appears to be attempting to limit its users' access to The New York Times.
Since late July, engagement on X posts linking to the New York Times has dropped dramatically. The drop in shares and other engagement on tweets with Times links is abrupt, and is not reflected in links to similar news organizations including CNN, the Washington Post, and the BBC, according to NewsWhip's data on 300,000 influential users of X.
The drop in engagement in Times posts seems isolated to X: NewsWhip data showed that engagement with Times links shared on Facebook remained consistent relative to other outlets.
"There was a drop off in engagement for NYT compared to the other sites in late July/early August," NewsWhip spokesperson Benedict Nicholson told Semafor.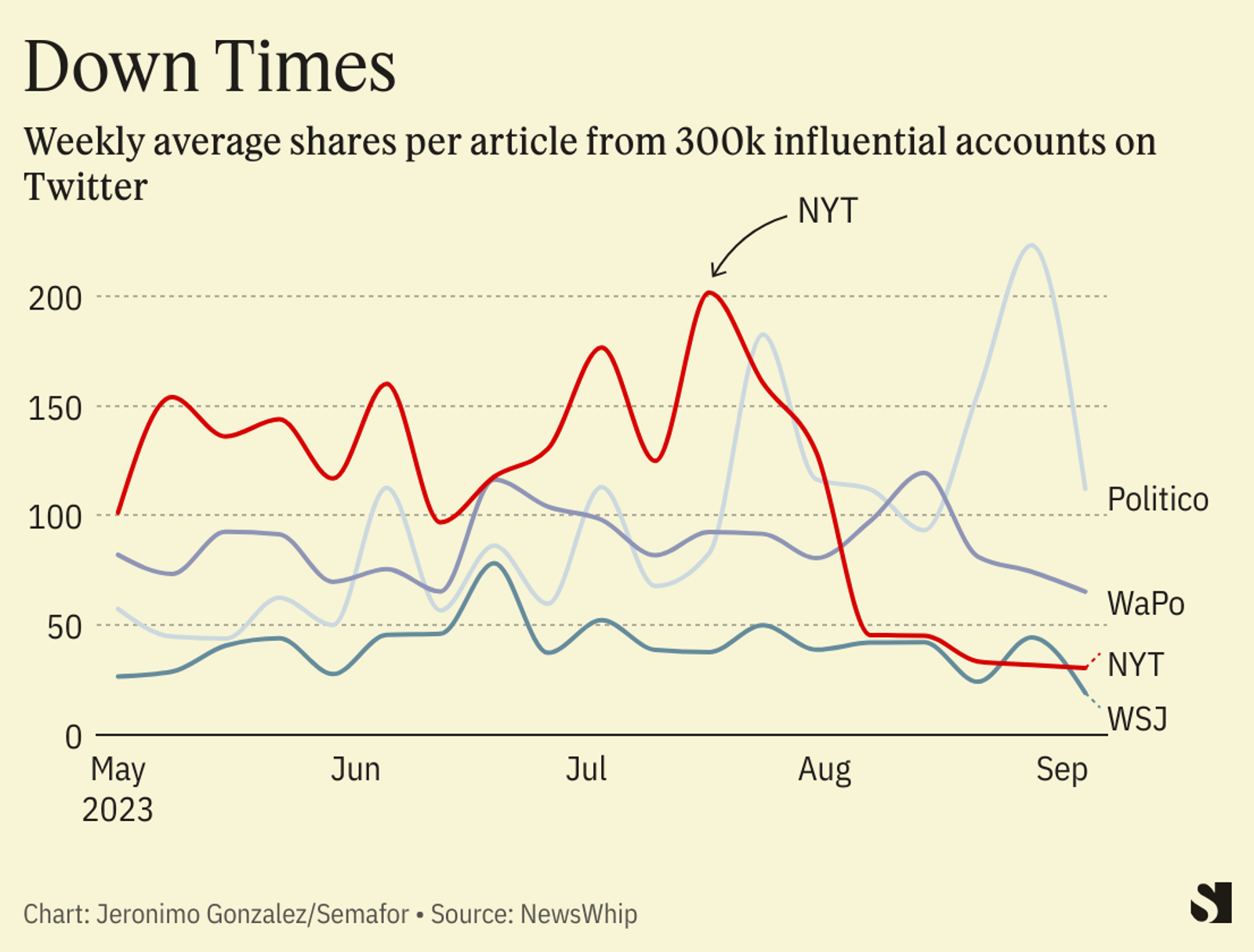 Times employees had already taken note of the pattern, as high-profile attempts to share Times articles failed to travel on the platform. For instance, earlier this week, former President Barack Obama shared multiple New York Times articles on X about healthcare costs, which the service said reached fewer than 900,000 and 800,000 users respectively. The number was far lower than any other post shared by the former president since X began sharing that data publicly earlier this year — for comparison, a Politico link shared by the president got nearly 13 million views.
The shift hasn't gone unnoticed at the Times. Two newsroom higher-ups at the paper said that Times leadership was aware of the issue and was examining the root of the drop off.
A spokesperson for the paper declined to comment.

Max's view
It's unclear why Times engagement on Twitter has been throttled. X did not return a request for comment. But the move reflects a broad shift in platforms over the last five years, away from platforms attempting to portray themselves as neutral distribution channels to competing media outlets, and toward a splintering in which Facebook has largely gotten out of the news business, Twitter has shifted increasingly toward becoming a conservative media company, and Google and Apple are the remaining the platform giants interested in distributing other outlets' news. X recently objected to a California law requiring the disclosure of content moderate, for instance, by citing first amendment protections for its editorial decisions.
The dip in engagement is not a major audience problem for the Times. Like other major news orgs, the paper gets the vast majority of its traffic and readership from other sources (a lot of people still read the physical paper, as we'll discuss later in the newsletter).
But it appears that the Times has been singled out for some reason on X. It wouldn't be the first time that the platform has focused on the Times since Musk took over. Twitter briefly suspended Times tech reporter Ryan Mac last year. Earlier this summer, X briefly imposed a several second delay on traffic from Twitter to links to the Times, Reuters and social media rivals including Facebook and Instagram. The move came after Musk criticized the paper's coverage of events in his native South Africa, advising users on how to skirt the Times paywall. Several days later, he said that the Times was a "declining, once-powerful, but fundamentally doomed to be regional & increasingly archaic legacy publication."
At the time, a spokesperson for the paper said it had not received an explanation, but that it "would be concerned by targeted pressure applied to any news organization for unclear reasons."
The recent history of Musk needling the Times on Twitter and the fact that the paper's engagement is unaffected on Facebook and other outlets makes other explanations harder to believe.

Notable
Musk's social media network has tinkered with bans and disruptions to links. After blocking links to the newsletter platform Substack, quietly reversed the move following protests from Substack writers.
X's entry into the subscription business isn't going particularly well: Since rolling out a paid subscription service, the platform has garnered only 40,000 subscribers.